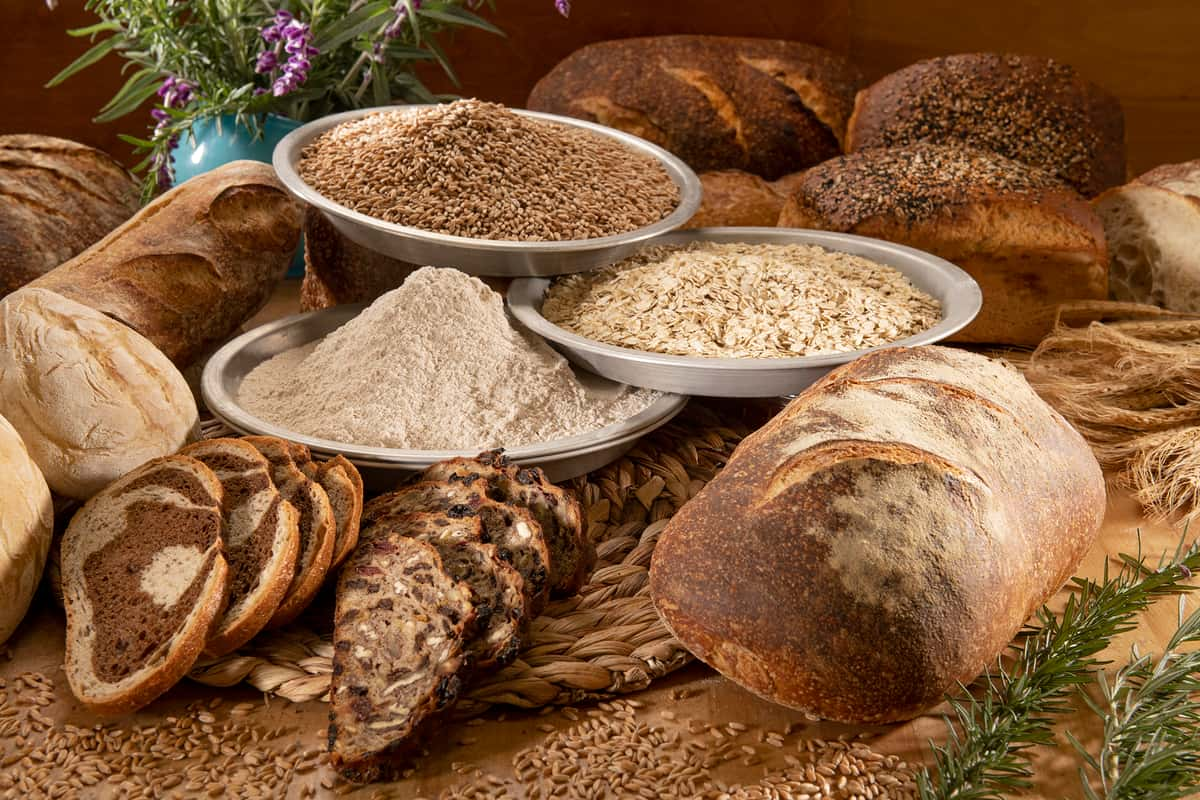 Bowls of whole grains and flours along with baked breads
A Look Inside Urth Caffé's Bakery
The Urth Caffé Bakery offers the highest standards of European quality and purity. Our pastry chefs and bakers use family farm-direct eggs, imported French butter and the finest ancient, wholegrain, and organic grains for exquisite breads and desserts that fit the whole spectrum of healthy diets from the strictest vegan and gluten-free to pure decadence using the creamiest butter.
This dedication to quality has won acclaim for Urth Caffé pies, cakes, desserts, pastries and breads among our guests, many of whom insist on serving Urth's famous Pumpkin Pies at their family holiday celebrations.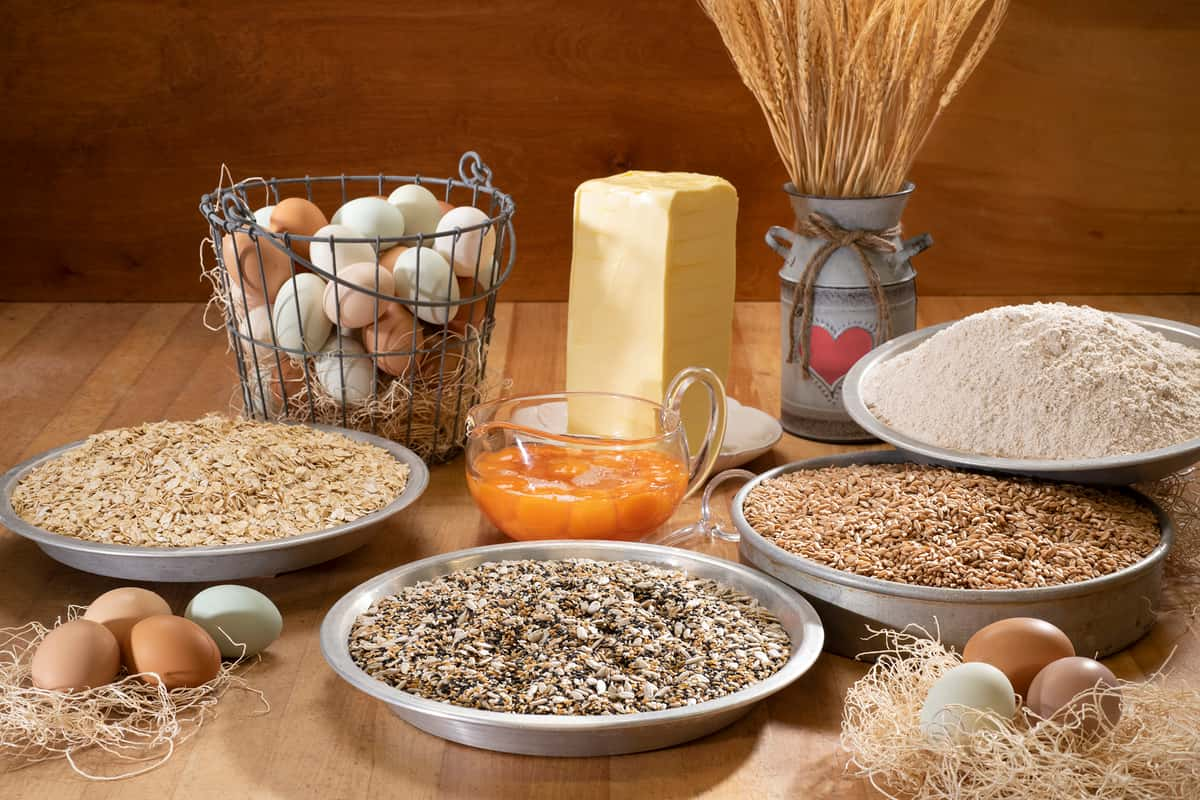 ¤
Urth Caffé chefs and bakers use family farm-direct eggs, imported French butter
and the finest ancient, wholegrain, and organic grains to create out exquisite breads and desserts.
¤
Urth Caffé's Bakery consists of four departments – Artisanal Breads, Bagels and Pizza; Croissants and Morning Pastries, Fine Desserts and Cakes, and Special Custom Decorated Cakes – prepared for all for all Urth Caffé locations every morning fresh from scratch.


¤ Artisanal Breads, Bagels and Pizza ¤
The bread department produces a wonderful selection of artisan breads including the best gluten-free loaves, ancient grain sprout, whole wheat, marbled, country white, rustic rolls, baguette, sourdough batards, olive ciabatta, and the famous dried fruit & nut bread.
Toasted sprouted ancient grain bread is the base of Urth's popular Avocado Toast, topped with ripe Hass avocados, almond cheese, micro cilantro and olive oil. An Urth specialty is offering other bread choices, including brioche or gluten-free bread upon request.
Davide Giova, Urth Caffé Master Baker and Chef, makes Urth bagels in-house in collaboration with Andrew Raab, Vice President of Culinary. Chef Raab is from the East Coast and developed Urth's New York-style bagel recipe that features a slow rising yeast dough and crisping the bagels in our stone deck ovens to create an authentic New York crust and texture. The stone deck ovens are also used to bake Urth Caffe's world famous granola and Urth Crunch gluten-free cereal.
Pizzas are served all day at Urth: The Sunrise Pizza topped with poached farm-fresh eggs, in-house cured pancetta, sausage, and breakfast potatoes; D'Lox with locally cured salmon lox and crème fraiche, and the tasty Huevos Rancheros Pizza. Other pizzas include Pizza Catona with fresh burrata cheese and Parma prosciutto, Butternut Squash Pizza with herbed ricotta cheese, Wild Mushroom, and the completely plant-based Pizza Primavera topped with grilled vegetables.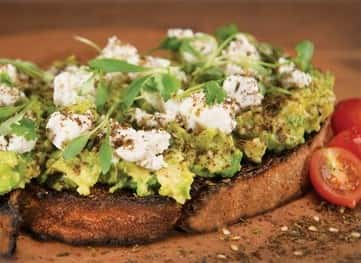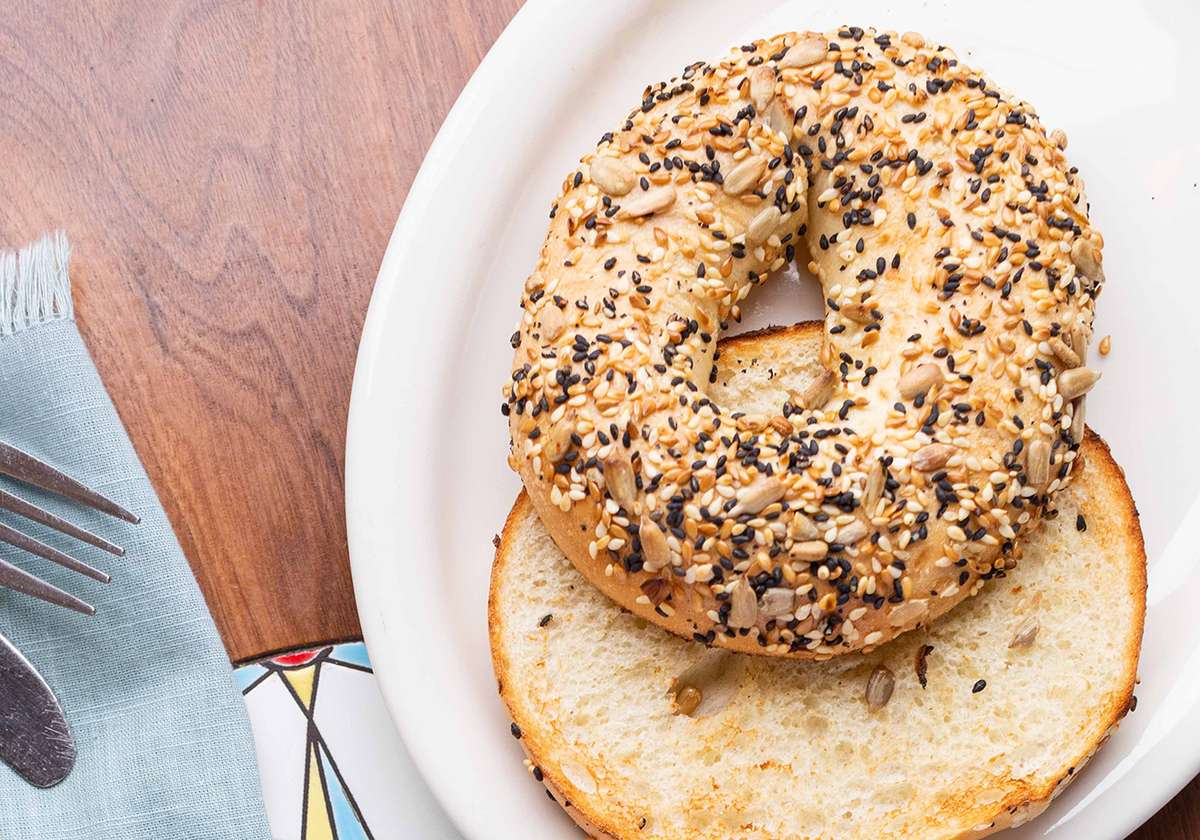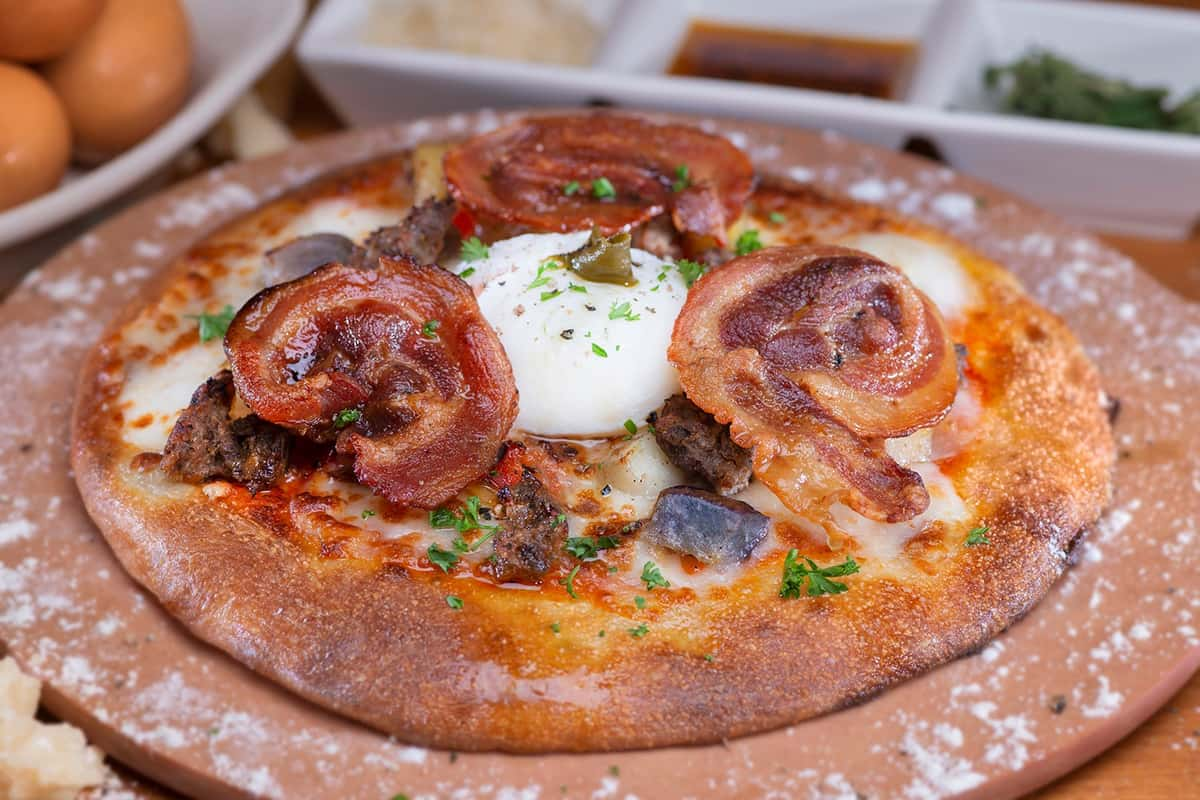 Left, Urth's Avocado Toast starts with toasted sprouted ancient grain bread. Center, the Seeded Bagel.
Right, The Sunrise Pizza with Sausage, pancetta, mozzarella, potatoes, poached egg & brown sage butter.
¤ Croissants & Morning Pastries ¤
The very talented in-house pastry team under Chef Davide's supervision bakes all Urth croissants, pastries and Danish with the best imported French butter, fresh farm-direct eggs, and the finest grains baked in our Italian stone deck ovens for the ultimate flakey, buttery layers. Our pastry team bakes simply the finest buttery croissants – almond, double chocolate, pistachio, and matcha – fruit Danish, cheese Danish, and our famous sticky buns.
Breakfast is not complete without Urth bread pudding made with house-made brioche, regular and gluten-free muffins, and delectable scones.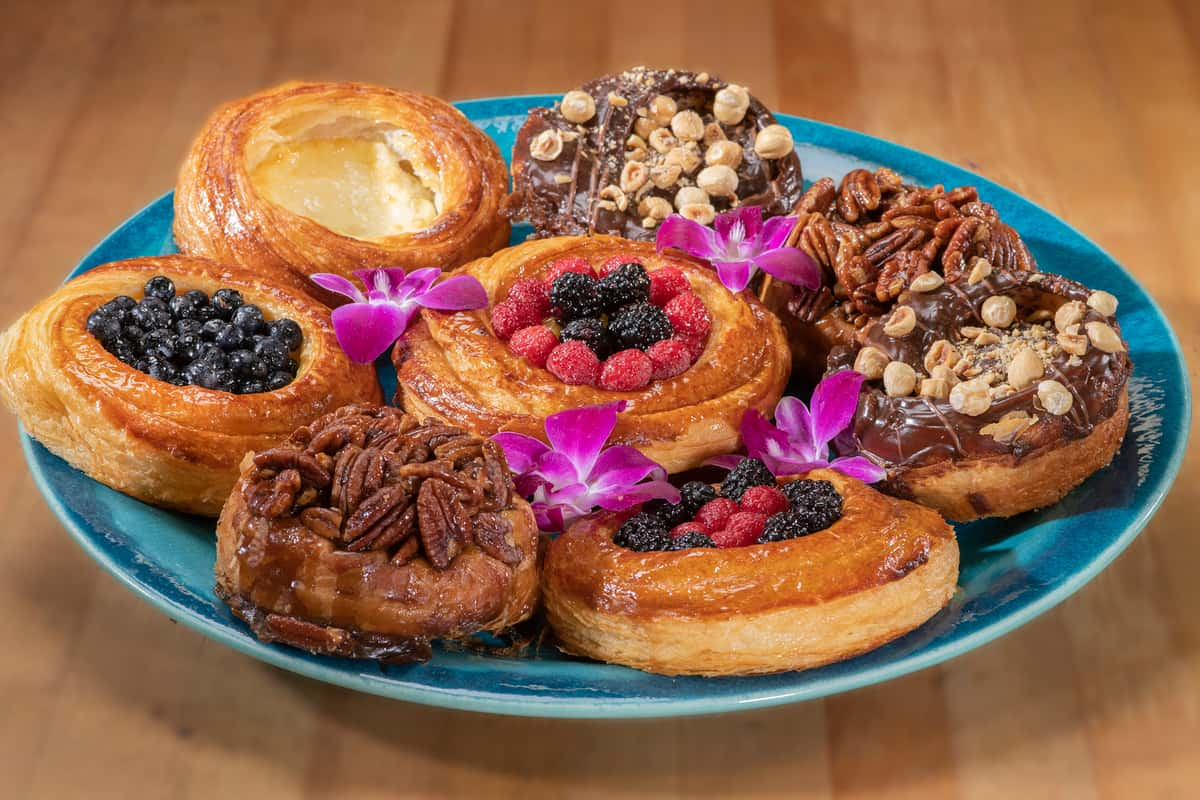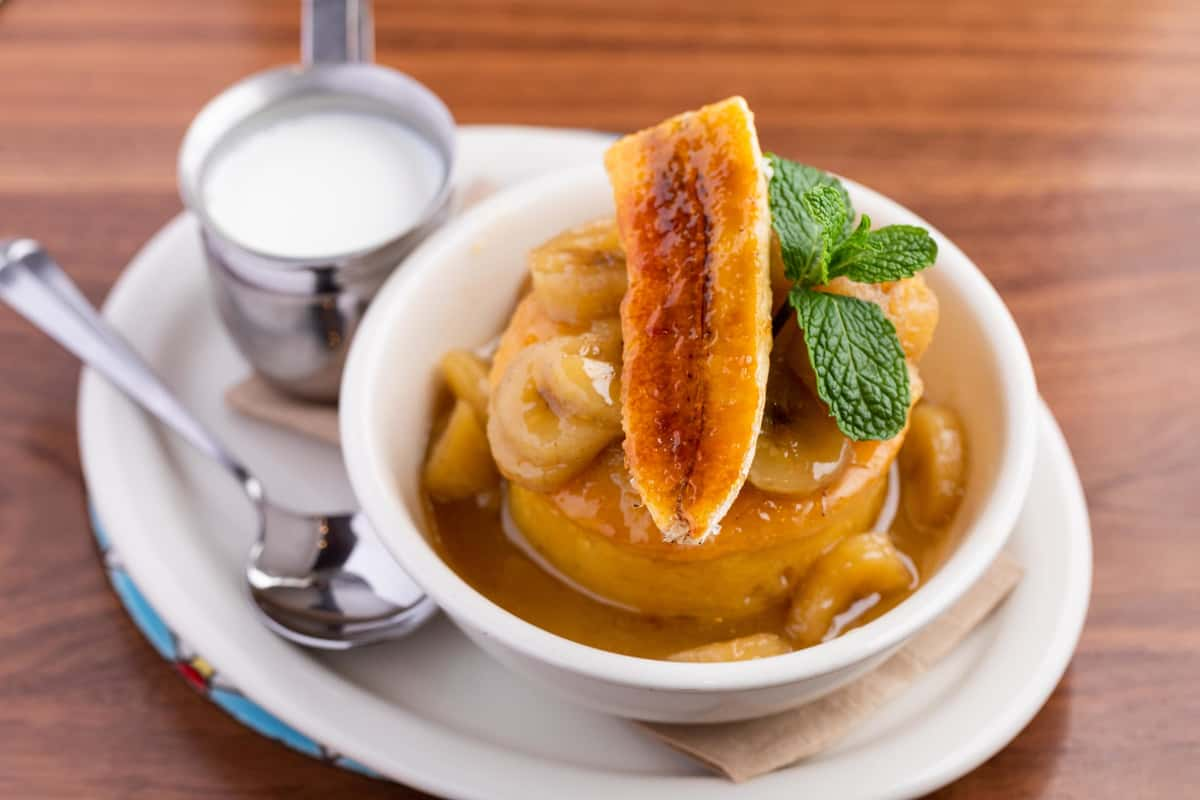 At left, Chocolate Pistachio Croissants, Almond Croissants, Butter Croissants, Double Chocolate Croissants.
Center, a selection of Danishes, Nutella™ Girella and Sticky Buns. Right, Urth Banana Bread Pudding
¤ Fine Desserts & Cakes ¤
Urth's trademark desserts include Fruit Tarts with fresh glazed seasonal fruits, the Urth Napoleon featuring its secret recipe pastry cream, the Tre Latti Cake (Chef Davide's Italian version of Tre Leche Cake) with vanilla sponge cake soaked in three different sweet milks with a layer of Chantilly cream and iced with a caramelized meringue.
Tempting pies include Granny Smith Apple Pie, Old-Fashioned Pecan Pie, Pumpkin Pie, and Banana Cream Pie. Urth's unbelievably rich and creamy cheesecakes are considered the best in LA – New York Cheesecake, Three Layer (Chocolate, Espresso, Vanilla), Blueberry Cheesecake and Oreo Cheesecake.
A slice of Urth's Coconut Royale, Carrot, Chocolate Crown, Flourless Chocolate, Apple Tartin, Berries & Cream and Chocolate Hazelnut cakes are the perfect conclusion to a meal, or a whole cake makes any occasion special.
The Urth Italia™ Tiramisú is arguably the most popular dessert, but Urth Caffé not only offers that traditional espresso-flavored dessert but adds a tea twist with flavorful versions using its exclusive organic Matcha green tea.
Egg- and dairy-free vegan desserts have won their own fans among non-vegan guests who love vegan Chocolate Chunk Pecan Cookie and Oatmeal-Raisin Cookies, the Vegan Chocolate Cake, and the Vegan (and gluten free) Pumpkin Pie.
Pound cakes are perfect with a cup of Urth heirloom, organic coffee. Urth's signature pound cake is the Marble Crumble Coffee Cake made with Urth organic coffee and chocolate swirled through out and topped with buttery crumbles. Other excellent pound cakes include the Chocolate Black Out, Orange Blossom and Coconut.
Craving a little sweet something? Try a Decadent Brownies or Urth's cookies from several biscotti varieties – chocolate dipped, almond, the Sicilian recipe biscotti called "Quadismali" – to classics like Chocolate Chunk Pecan, Oatmeal-Raisin and Triple Chocolate Chunk.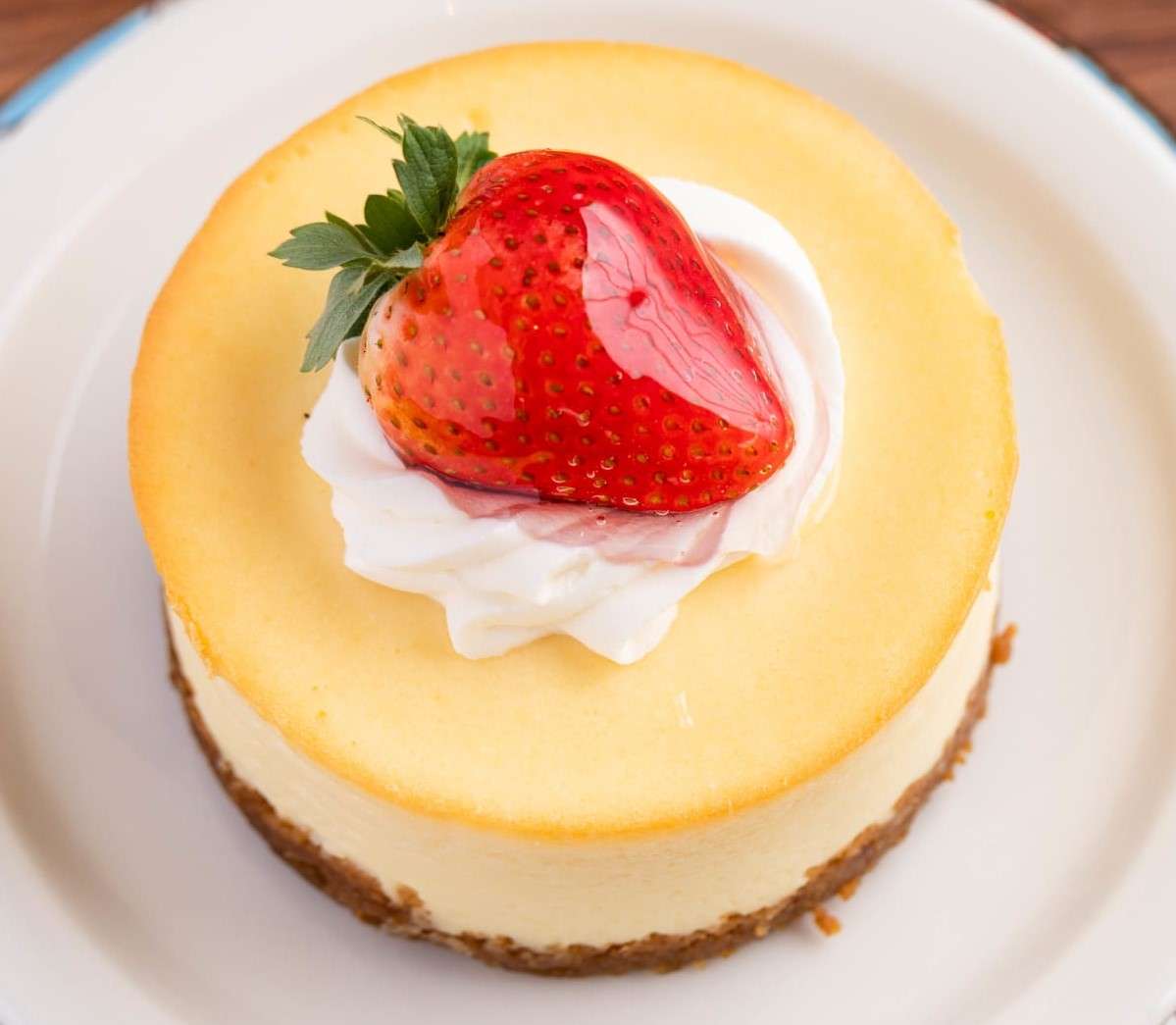 Left, Fruit Tarts. Center, the Urth Napoleon. Right, New York Cheesecake.

¤ Special Custom Decorated Cakes ¤
Chef Davide leads a very talented team of pastry chefs and cake decorators who create beautiful custom wedding, birthday, and special occasion cakes. The team can create almost any flavor or custom decoration using exclusively natural ingredients. A special-order cake requires at least 48 hours lead time.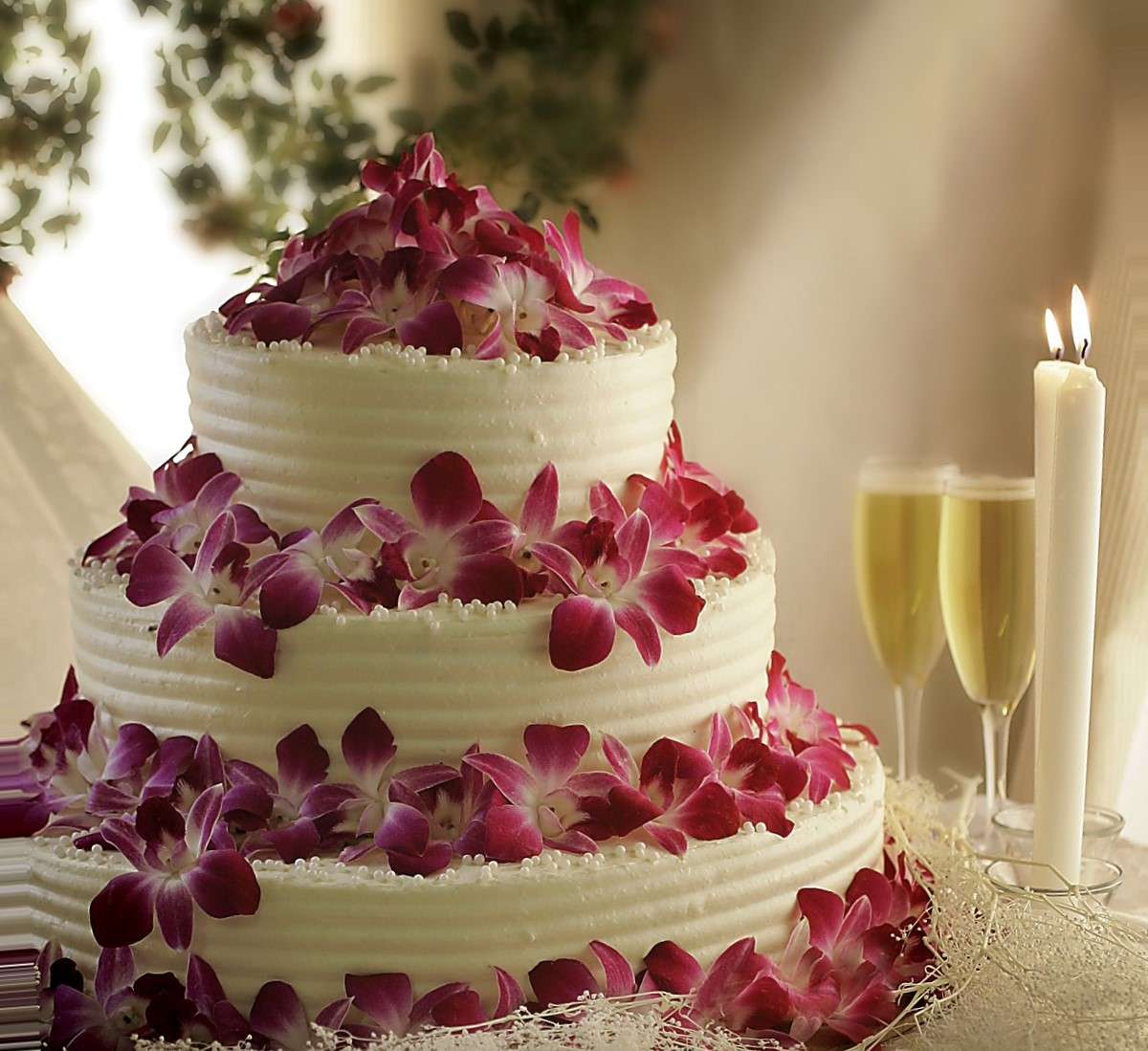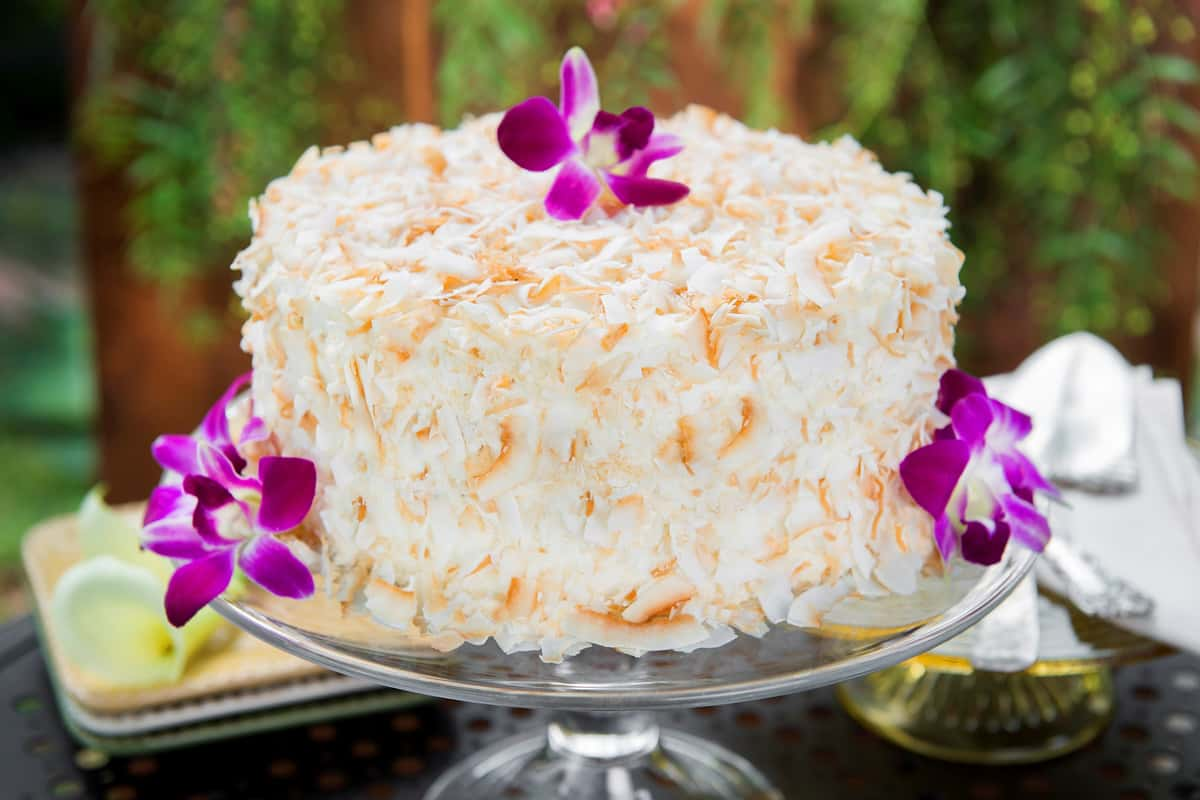 At left, an Urth Wedding Cake. Right, Urth's Coconut Royale Cake.


¤ Seasonal Specialties ¤
Urth Caffé seasonal specialties include the signature Urth Pumpkin Pie and Sweet Potato Pie that have become family traditions for tens of thousands of Angelenos each holiday season. All pies are made fresh to order, a remarkable feat!
Urth's signature Pumpkin Pie is particularly famous beginning with its organic graham cracker crust to the secret recipe, lightly spiced pumpkin filling made from premium pumpkins. The Pumpkin Pie has a perfect balance of sweetness, flavor, spice, homemade graham cracker crust, and generous thickness. Many may try to duplicate the Urth Pumpkin Pie – but nothing beats the original!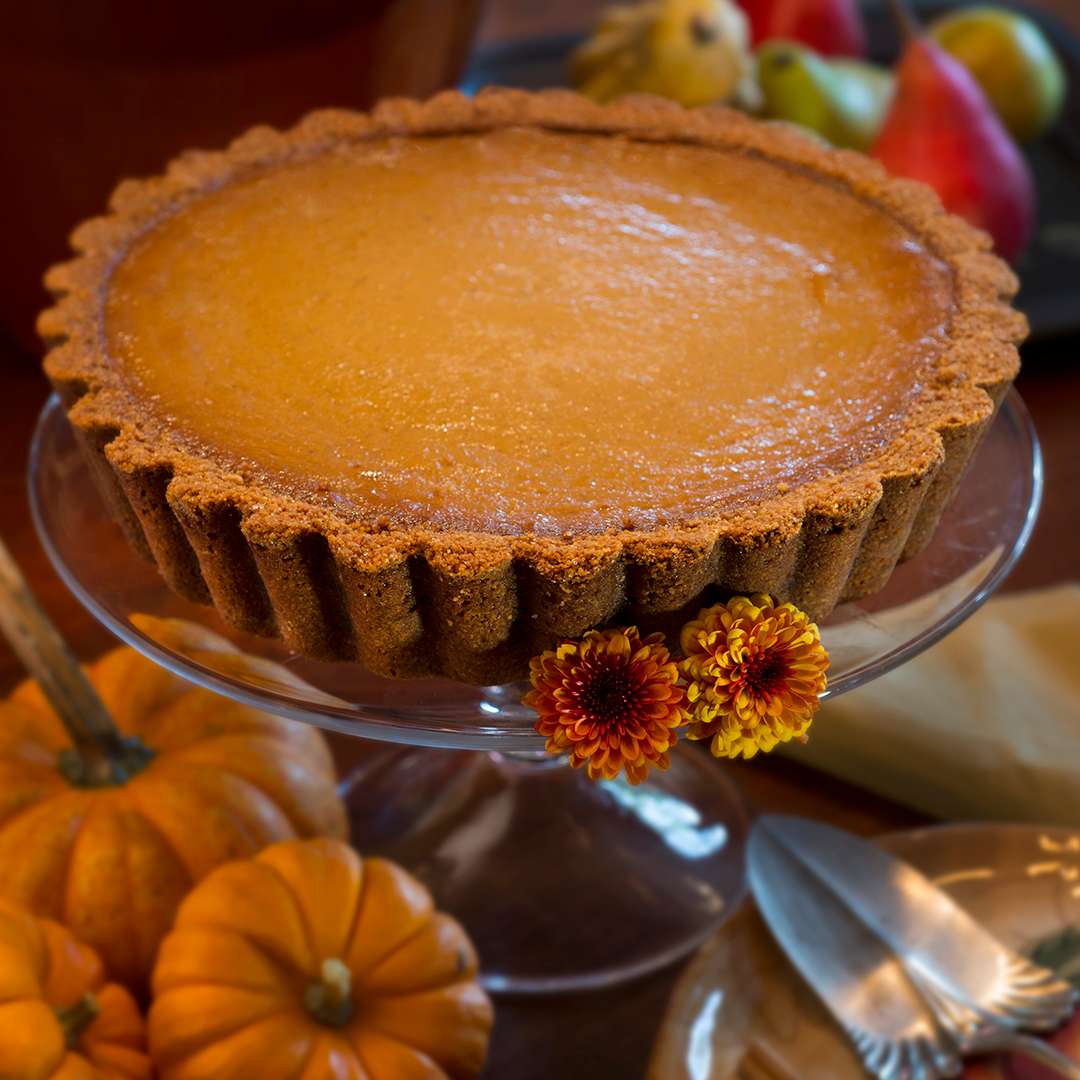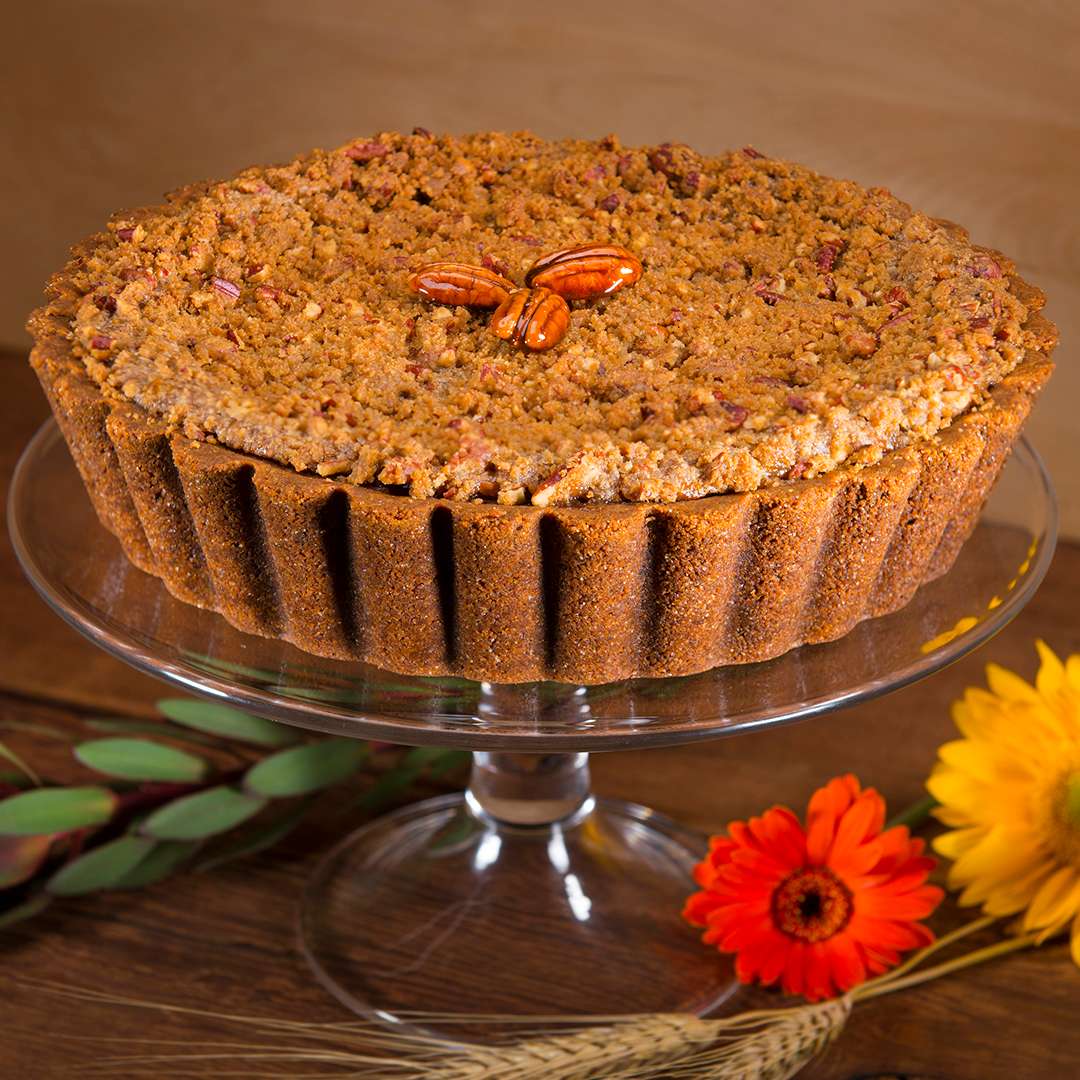 Left, Urth Pumpkin Pie. Right, Urth Sweet Potato Pie.