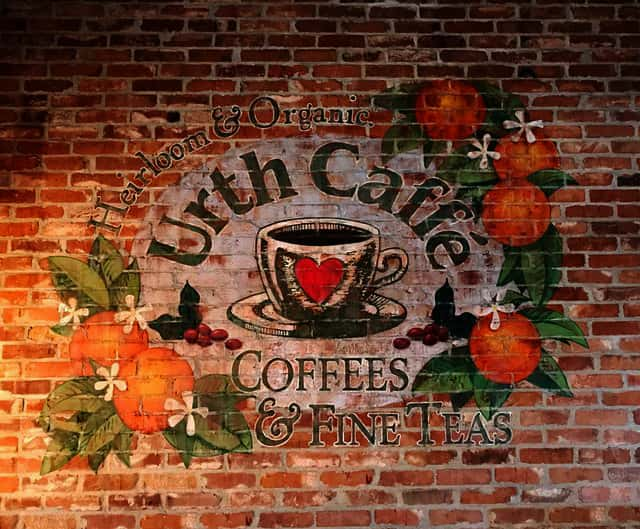 Urth Caffé's World
Urth Caffé Around the World
Not only do Urth Caffé locations in Southern California and Las Vegas attract guests from all over the world, so do locations in Japan and the Gulf Coast Countries of Saudi Arabia and Dubai. "We have been receiving daily requests for Urth Caffé from every continent of the world," said Shallom Berkman, Urth co-founder and owner with his wife, Jilla Berkman.
Urth Caffé at the Wynn: Bringing California Oasis to Las Vegas
Each Urth Caffé is a unique artistic expression by Jilla Berkman, Urth Caffé co-founder and chief designer, who planned the interior décor for the beautiful Wynn Plaza café. Jilla had a masterful vision to bring the Californian outdoor experience inside the Wynn Plaza.
"For the first Urth Caffé inside a plaza, we wanted to bring the outdoor feeling inside," Jilla explained. "It makes the Urth experience very different than the other indoor cafés in Las Vegas. We created a unique design and energy, as we have done with all Urth branches."
Urth Caffé Acquires #1 Ranked Cup of Excellence National Winner: Nicaragua Finca El Polanco
Urth Caffé made the winning bid for the #1 ranked micro-lot coffee of the 2020 Nicaraguan Cup of Excellence national winners auction – Finca El Polanco. We arranged directly with the farm to receive this internationally recognized, award-winning micro-lot. It is being roasted to perfection at the Coffee Roasting Room of Urth Caffé South Bay to highlight the coffee's unique flavor profile.
A Look Inside Urth Caffé's Bakery
The Urth Caffé Bakery offers the highest standards of European quality and purity. Our pastry chefs and bakers use family farm-direct eggs, imported French butter and the finest ancient, wholegrain, and organic grains for exquisite breads and desserts that fit the whole spectrum of healthy diets from the strictest vegan and gluten-free to pure decadence using the creamiest butter.
Meet Urth Caffé Master Baker and Chef Davide Giova
As you take a first bite of a Urth Italia™ Tiramisú – ladyfinger cookies soaked in heirloom, organic Urth Italia™ Espresso, the finest imported mascarpone cream, and the world's best cocoa from Ecuador – thank Davide Giova, Urth Caffé Master Baker and Chef.
Sustainability at Urth Caffé
Urth Caffé works directly with heirloom, organic coffee farmers around the world to utilize a holistic approach with sustainable and biodynamic practices to conserve the forest and the natural habitat for primates, birds, animals and indigenous rainforests.
Meet Urth Caffé's Head Coffee Roast Master Zachary Fogel
Working directly with many of Urth Caffé's own exclusive sources in Africa and South America, Zachary Fogel roasts heirloom, organic, award-winning quality coffees carefully every day at Urth Caffé South Bay in Hawthorne, California. It is his job to uphold Urth's unmatched standards to make sure our beans are second to none and, of course, nothing less than "Urth Worthy."
Spotlight on Urth Caffé DTLA
Established November 19, 2008, Urth Caffé Downtown Los Angeles is a hidden gem and pioneering part of the Arts District. It's hard to believe the original structure was called "The Holland Egg Products" warehouse built in the early 1920s. Find out how Urth Caffé DTLA became what the Los Angeles Times called one of the "most visited" café destinations in Los Angeles for visitors from all over the world.
Is Urth Cuisine Healthy?
Urth Caffé is passionate about serving a health-conscious menu focused on the finest organic, sustainable, and local ingredients, many of which are delivered straight from local family farms each day.
What's behind the world famous Urth Latté Art?
One of the many things that separate Urth coffee and tea lattés from any others in Southern California are the mini works of art fashioned in the foam on top of each cup.
Meet Urth Caffé's Co-Founder and Tea Master Jilla Berkman
Urth Caffé's resident Tea Master is Co-Founder Jilla Berkman, who comes to the task with extensive experience gained growing up on her father's tea estate in the northern mountains of Iran. Today she oversees all in-house blending and scenting of Urth Caffé Fine Teas that are ours exclusively and cannot be found anywhere else on Earth.
Urth Caffé and Uganda's Endangered Mountain Gorillas
Urth Caffé and dedicated coffee farmers in Uganda united to create the Mountain Gorilla Organic Coffee Estate to produce one of the world's finest coffees while helping to protect the home of endangered Mountain Gorillas.
Spotlight on Urth Caffé Melrose
Urth Caffé Melrose, our oldest location, opened in November 1994 nestled in the heart of the famous West Hollywood Design District on Melrose Avenue. The origins of Urth Caffé Melrose began way back when a pre-fab home, made in the Midwest and moved to West Hollywood, was purchased by Al Berkman, the grandfather of the founders of Urth in 1940.