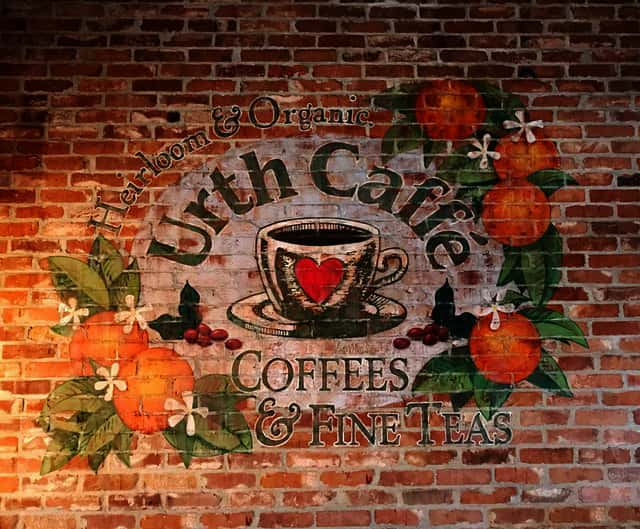 Urth Caffé's World
Valentine Panettone Returns to Urth Caffés
Just in time for Valentine's Day, all Urth Caffés are offering our Valentine Panettone and they're available while supplies last.

Introduced in 2020, the Valentine Panettone was inspired by the traditional Panettone that Urth Caffé offers during Christmas – a fluffy, Italian brioche bread with raisins, candied lemon, and orange peel first introduced in 2018.  

For the Valentine Panettone, Urth Caffé Master Baker and Chef Davide Giova adapted the traditional recipe by adding the best chocolate in the world (produced in Ecuador), candied orange, raisins and vanilla.
Heirloom, Organic Coffee from Its Birthplace: Ethiopia
Urth Caffé Coffee Roast Master Zachary Fogel was standing at his computer drinking a cup of our Rainforest™ and thought, "This is delicious. This coffee rules. People should drink this!"  
He's sharing a new batch of Rainforest™ with Urth Caffé's heirloom, organic coffee lovers thanks to a shipment of coffee beans from Worka Chelbesa, a community in coffee's birthplace, Ethiopia. 
Worka Chelbesa is located in the region of Ethiopia famous for its high-quality heirloom, organic coffee grown at high altitude – ranging from over 6,000 to over 7,000 feet – a lofty location producing some of the best coffee in the world. 
Wazuka Matcha ~ Urth Caffé's Organic Green Tea Treasure
When guests enjoy a green tea latté or boba at Urth Caffé, they may not know they are sipping one of the highest-grade, organic matcha teas in the world.
Entsu Estate located in Wazuka, Uji District, Japan, produces its ceremonial-grade matcha exclusively for Urth Caffé – it is called Wazuka Cha™.
Drinking fresh matcha is like taking a multivitamin super-food filled with antioxidants, B-complex, Vitamin C, B1, B2, E, beta carotene, iron, calcium, and amino acids for a healthy body.
Traffic Jam Began Journey to Urth Caffé Laguna Beach
Sitting in a typical summer traffic jam on Pacific Coast Highway in Laguna Beach led Urth Caffé Co-Founders Shallom and Jilla Berkman to their first historical restoration project. They were stuck in front of The Cottage, a longtime dining favorite for locals and visitors enjoying lovely Laguna Beach.
"We only do one Urth Caffé at a time. We look for very, very special spots," Shallom told the Orange County Register. "If we can't find them, we don't do it." 
They found a very special spot in Laguna Beach and named it Urth Caffé at The Cottage.
Taste Brazil's Best Coffee at Urth Caffé
When Urth Caffé guests enjoy lattés made with Urth Italia Espresso™ – a rich and strong, medium dark roast espresso – they may not know it is a blend of coffees from Eastern Africa, Indonesian, Central and South America.

One organic South American coffee – from Fazenda Cachoeira Farm – is what Urth Caffé Roast Master Zachary Fogel considers "The best Brazilian coffee that I've come across."

Brazil La Fazenda Cachoeira coffee – one of the finest beans in the world for espresso – offers flavors of milk chocolate and hazelnut with a rich, thick, red crema.

"We love this coffee and the story behind it and are proud to work with it year after year!" he continued
Urth Caffé – Your Pumpkin Paradise!
Now that Labor Day is past, Urth Caffé is your destination for everything pumpkin-flavored! 

Urth Caffé is world famous for our Pumpkin Pie, a deep-deep-dish delight with a secret recipe, lightly spiced pumpkin filling in a crust of crushed, house-made organic graham crackers baked year-round in stone ovens at its Urth South Bay Bakery in Hawthorne, California.

Our Pumpkin Pie has inspired many seasonal favorites: Pumpkin Cheesecake, Pumpkin Pie Latté and Pumpkin Chai Latté (both available over ice and blended ice with or without boba), Pumpkin Pancakes.
The Goats That Saved the Gorillas
The grateful coffee farmers of the Urth Caffé Mountain Gorilla Coffee Estate in the Virunga Mountains of Uganda just received the much needed gift of 30 goats to help with their courageous stewardship of the land and preservation of the last remaining Mountain Gorillas' habitat.

This was made possible through collections and donations from Urth Caffé Japan and Urth Caffé Southern California.

Both male goats and female goats will be so welcome at the farms where they will not only be bred but also will help the coffee farmers and their families in many ways.
It's Worth The Wait!
Today's coffee and café chains are filled with automation and short-cuts designed for speed, efficiency and far too often only to meet corporate profitability goals.

At Urth Caffé no short cuts are taken. "The Urth Way" is a dedication to an old school, careful approach to serve excellence without automation or short cuts of any kind.

This approach requires a team and culture dedicated to doing it right. "The Urth Way" may take a bit longer, but it is worth the wait!
The Return to Urth Caffé's South Bay Origins
Little do guests visiting Urth Caffé South Bay realize how important it is to Jilla and Shallom Berkman, Urth Caffé's founders.

That's because the café is a homecoming for the couple. They established the very first Urth Caffé on Highland Avenue near Rosecrans Avenue in Manhattan Beach in 1991. 

The story of Urth Caffe began in that little, 300-square foot store-front, and it's where Urth would go on to becoming America's first exclusively certified organic, heirloom coffee and tea house. It has since literally "changed our world" for the better from replanting rain forests to protecting the Mountain Gorilla habitat half a world away. So while we can all enjoy the amazing food and drinks at Urth locations, we also "sense" a much deeper connection.
The Art of Espresso
Espresso is not only a passion at Urth Caffé, it is an obsession!
That is what Urth Caffé's founders learned in the early 1990s when they visited coffee bars throughout Italy. In a sense, espresso is an entire approach to coffee cuisine, involving not only roasting style and brewing method, but grind and grinder, a technique of heating and frothing milk, a traditional menu of drinks. In the largest sense of all, espresso is an atmosphere or mystique: The espresso machine is the spiritual heart and aesthetic centerpiece of great coffee places, cafés and coffeehouses of the world.
Urth Caffé Orange: Preserving 19th Century Landmark for the 21st Century
Imagine peeling an orange to reveal the sweet treasure inside.

Urth Caffé did just that - peeled back layers of history to reveal architectural treasures in an 1888 building – before it opened its café at 100 W. Chapman Ave., the west entrance to Old Towne Orange's central plaza in January 2019.

For that effort, the California Preservation Foundation awarded Urth Caffé the 2020 Preservation Design for Restoration.
Urth Caffé Around the World
Not only do Urth Caffé locations in Southern California and Las Vegas attract guests from all over the world, so do locations in Japan and the Gulf Coast Countries of Saudi Arabia and Dubai. "We have been receiving daily requests for Urth Caffé from every continent of the world," said Shallom Berkman, Urth co-founder and owner with his wife, Jilla Berkman.
Urth Caffé at the Wynn: Bringing California Oasis to Las Vegas
Each Urth Caffé is a unique artistic expression by Jilla Berkman, Urth Caffé co-founder and chief designer, who planned the interior décor for the beautiful Wynn Plaza café. Jilla had a masterful vision to bring the Californian outdoor experience inside the Wynn Plaza.
"For the first Urth Caffé inside a plaza, we wanted to bring the outdoor feeling inside," Jilla explained. "It makes the Urth experience very different than the other indoor cafés in Las Vegas. We created a unique design and energy, as we have done with all Urth branches."
Urth Caffé Acquires #1 Ranked Cup of Excellence National Winner: Nicaragua Finca El Polanco
Urth Caffé made the winning bid for the #1 ranked micro-lot coffee of the 2020 Nicaraguan Cup of Excellence national winners auction – Finca El Polanco. We arranged directly with the farm to receive this internationally recognized, award-winning micro-lot. It is being roasted to perfection at the Coffee Roasting Room of Urth Caffé South Bay to highlight the coffee's unique flavor profile.
A Look Inside Urth Caffé's Bakery
The Urth Caffé Bakery offers the highest standards of European quality and purity. Our pastry chefs and bakers use family farm-direct eggs, imported French butter and the finest ancient, wholegrain, and organic grains for exquisite breads and desserts that fit the whole spectrum of healthy diets from the strictest vegan and gluten-free to pure decadence using the creamiest butter.
Meet Urth Caffé Master Baker and Chef Davide Giova
As you take a first bite of a Urth Italia™ Tiramisú – ladyfinger cookies soaked in heirloom, organic Urth Italia™ Espresso, the finest imported mascarpone cream, and the world's best cocoa from Ecuador – thank Davide Giova, Urth Caffé Master Baker and Chef.
Sustainability at Urth Caffé
Urth Caffé works directly with heirloom, organic coffee farmers around the world to utilize a holistic approach with sustainable and biodynamic practices to conserve the forest and the natural habitat for primates, birds, animals and indigenous rainforests.
Meet Urth Caffé's Head Coffee Roast Master Zachary Fogel
Working directly with many of Urth Caffé's own exclusive sources in Africa and South America, Zachary Fogel roasts heirloom, organic, award-winning quality coffees carefully every day at Urth Caffé South Bay in Hawthorne, California. It is his job to uphold Urth's unmatched standards to make sure our beans are second to none and, of course, nothing less than "Urth Worthy."
Spotlight on Urth Caffé DTLA
Established November 19, 2008, Urth Caffé Downtown Los Angeles is a hidden gem and pioneering part of the Arts District. It's hard to believe the original structure was called "The Holland Egg Products" warehouse built in the early 1920s. Find out how Urth Caffé DTLA became what the Los Angeles Times called one of the "most visited" café destinations in Los Angeles for visitors from all over the world.
Is Urth Caffé Healthy?
Urth Caffé is passionate about serving a health-conscious menu focused on the finest organic, sustainable, and local ingredients, many of which are delivered straight from local family farms each day.
What's behind the world famous Urth Latté Art?
One of the many things that separate Urth coffee and tea lattés from any others in Southern California are the mini works of art fashioned in the foam on top of each cup.
Meet Urth Caffé's Co-Founder and Tea Master Jilla Berkman
Urth Caffé's resident Tea Master is Co-Founder Jilla Berkman, who comes to the task with extensive experience gained growing up on her father's tea estate in the northern mountains of Iran. Today she oversees all in-house blending and scenting of Urth Caffé Fine Teas that are ours exclusively and cannot be found anywhere else on Earth.
Urth Caffé and Uganda's Endangered Mountain Gorillas
Urth Caffé and dedicated coffee farmers in Uganda united to create the Mountain Gorilla Organic Coffee Estate to produce one of the world's finest coffees while helping to protect the home of endangered Mountain Gorillas.
Spotlight on Urth Caffé Melrose
Urth Caffé Melrose, our oldest location, opened in November 1994 nestled in the heart of the famous West Hollywood Design District on Melrose Avenue. The origins of Urth Caffé Melrose began way back when a pre-fab home, made in the Midwest and moved to West Hollywood, was purchased by Al Berkman, the grandfather of the founders of Urth in 1940.