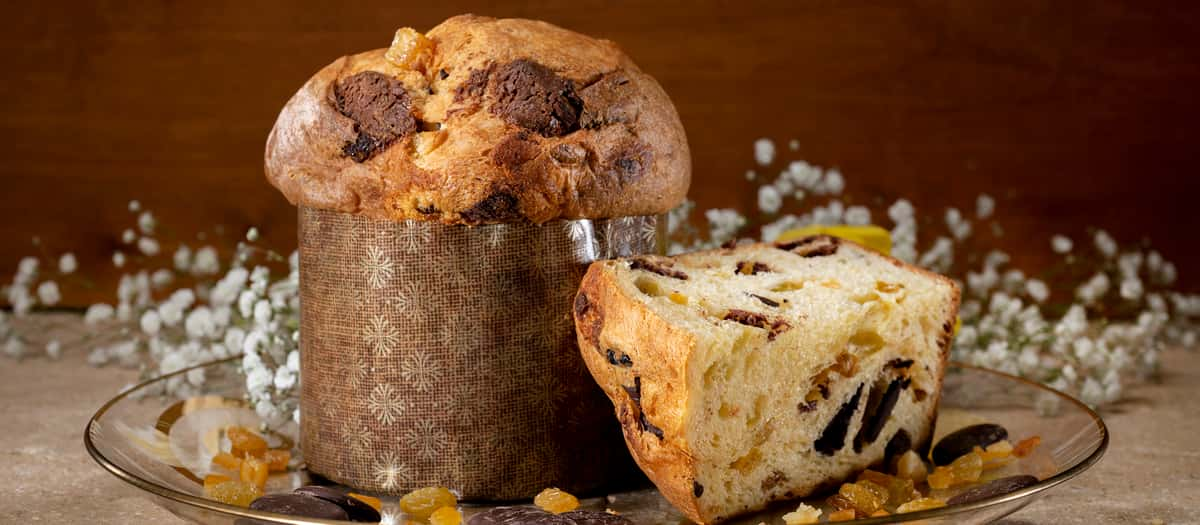 Valentine Panettone Returns to Urth Caffés
Valentine Panettone Returns to Urth Caffés
Just in time for Valentine's Day, all Urth Caffés are offering our Valentine Panettone and they're available while supplies last.

Introduced in 2020, the Valentine Panettone was inspired by the traditional Panettone that Urth Caffé offers during Christmas – a fluffy, Italian brioche bread with raisins, candied lemon, and orange peel first introduced in 2018.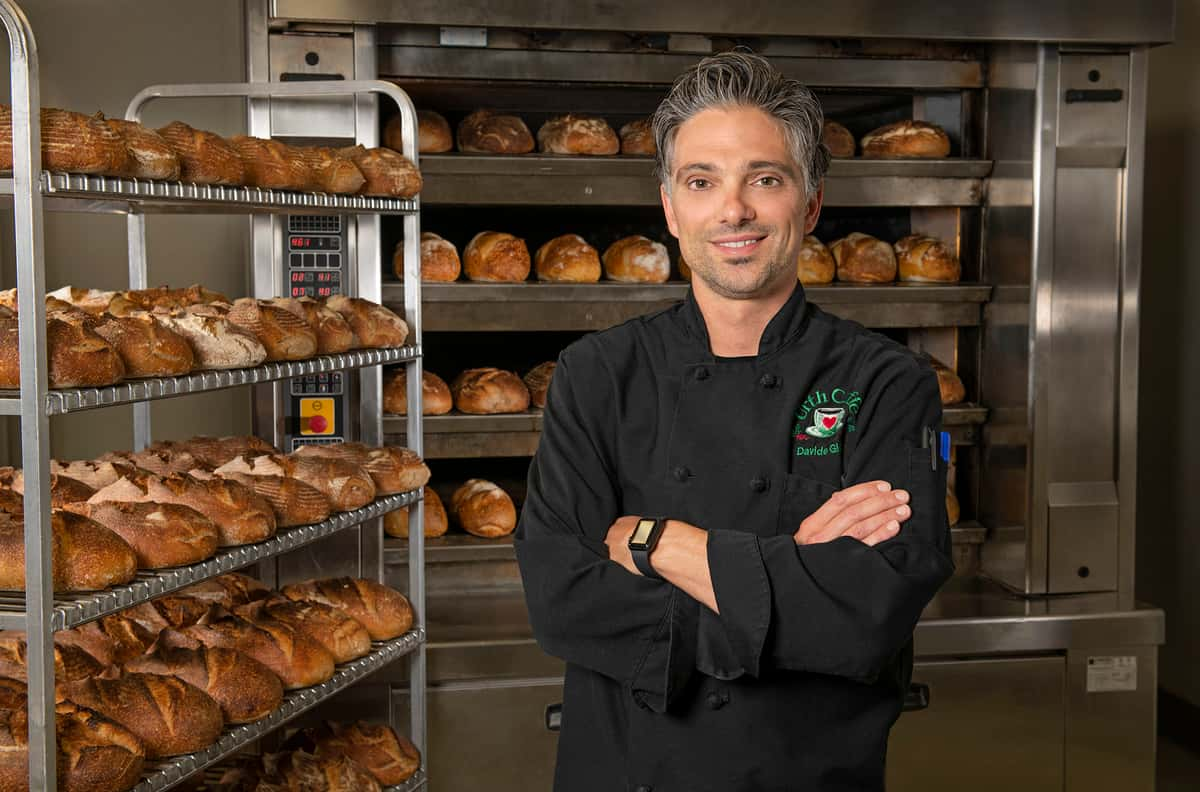 Davide Giova, Urth Caffé Master Baker and Chef,
in the bakery at Urth Caffé South Bay located in Hawthorne, Calif.
For the Valentine Panettone, Urth Caffé Master Baker and Chef Davide Giova adapted the traditional recipe by adding the best chocolate in the world (produced in Ecuador), candied orange, raisins and vanilla.
Davide grew up in Pegognaga, in northwestern Italy, where he watched his mother, grandmother and aunts preparing meals from scratch – fresh pasta, sauces, desserts – for the whole family.
"They inspired me to try culinary school," Davide said. "I was passionate about it and wanted to learn about it all, learn about different places, cooking, baking . . . making bread."

"I learned how to make Panettone when I was still living in Italia at a local pasticceria (bakery)," he explained. "I also attended a masterclass from maestro Rolando Morandin where I learned how to produce the panettone and the Pandoro (a traditional Italian sweet bread originating in Verona)."

He learned how to produce the most important thing for a panettone – the lievito madre (mother yeast or sourdough) to achieve outstanding flavor and fermentation.

Davide honed his culinary skills in some of the finest restaurants in Italy before coming to America as a pastry chef and baker for the legendary Santa Monica restaurant Valentino that closed in late 2018.

Davide brought all of that experience to making panettone in the traditional way for Urth Caffé.

Panettone Origins


The early origins of Panettone are found in the ancient Roman Empire with a special rising-dough bread recipe that used honey. It doesn't resemble today's panettone, but early Romans are responsible for the principles behind the bread. This knowledge was passed down through ages until it ended up in the city of Milan.

At the beginning of the 1900s two Milanese bakers discovered the hidden potential of Panettone. They both wanted to make tons of it and send it all over Italy. Angelo Motta is considered the innovator, and his special tall shape is the one we still see today. His secret to success was letting the bread rise three times, for almost an entire 24-hour day.

Another baker, Gioacchino Alemagna, discovered this method and created his own brand – leading to some competition that became the foundation of Italian Panettone history. Many Italian immigrants brought Panettone to places in South America like Brazil and Argentina.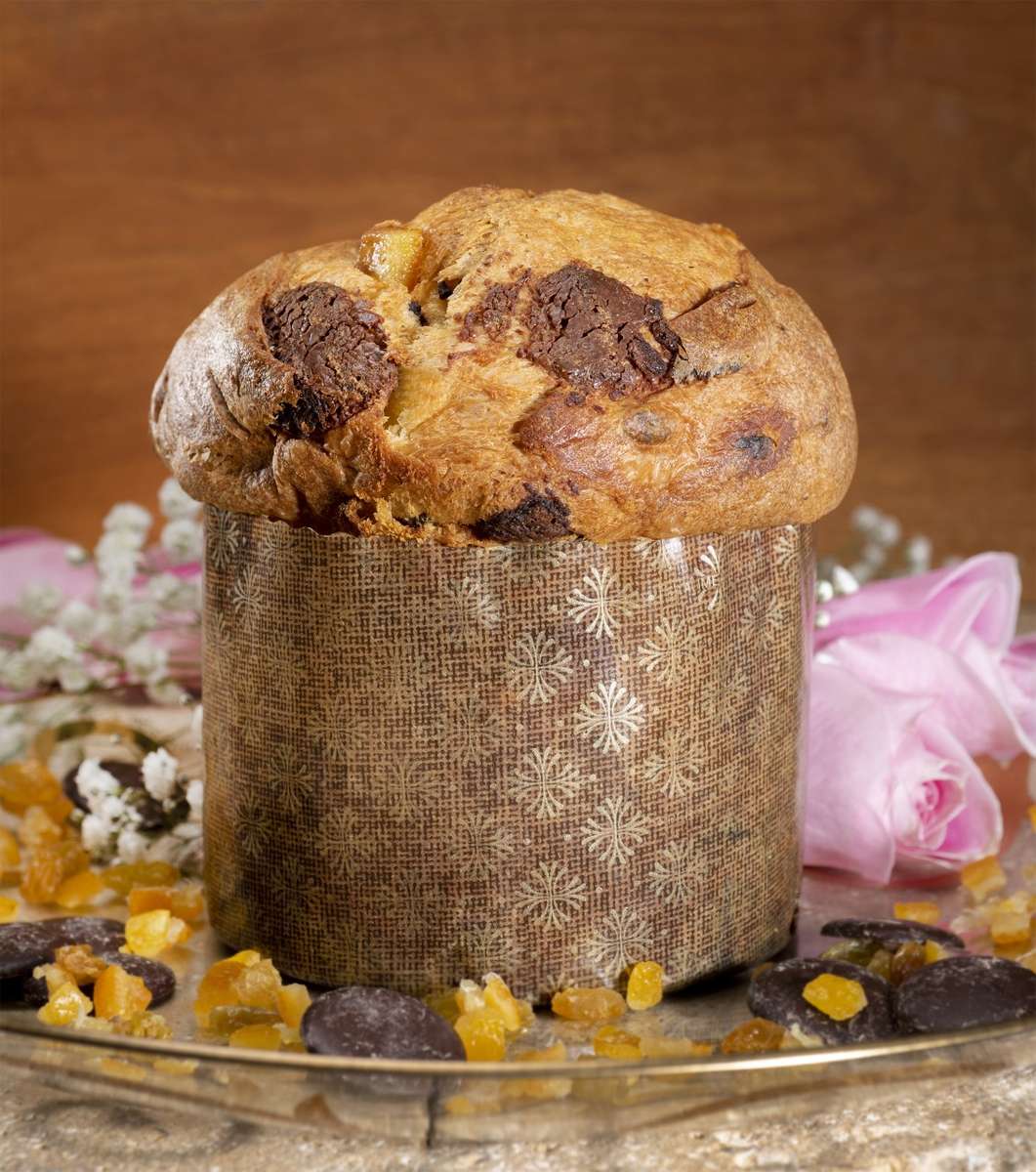 Show some love with Urth's Valentine Panettone.

Making Urth Caffé Panettone


It takes about a week to develop the flavor and strain of the lievito madre (mother dough) by refreshing it every day by mixing it with fresh, high-protein Manitoba flour.

The day you want to start making the panettone, you need to build up more strain on the lievito madre by fermenting it and refreshing it for three times with 4-hour fermentation time.

The First Dough begins the process by mixing most of the ingredients and fermenting for 14-16 hours overnight at about 80 F temperature.

The rest of the ingredients – candied fruit, raisins, chocolate – are added to the First Dough to produce the Second Dough. Urth's Christmas Panettone is a traditional Panettone Milanese with candied orange and cedro (citron), raisins, vanilla, the best quality butter and eggs.

The Second Dough is divided into portions that are shaped and put into Panettone brown and gold wrapper molds to ferment for about 9 hours that are then baked for about 45 minutes. As soon they come out of the oven the loaves must hang upside-down for a few hours to prevent them from collapsing into their centers. Then they are put in cellophane bags to deliver for sale at Urth Caffés.
How to Serve, Enjoy Urth Caffé Panettone
There are two schools of thought about how to slice a Panettone – both recommend slicing it from top to bottom, like you would slice a cake. The first says to remove the paper mold before slicing, the other says to keep the paper mold on before slicing.

"I like to eat Panettone every day in the morning with a caffé macchiato or cappuccino," Davide said, pointing out the traditional way to eat Panettone in Italy is as a dessert for the Christmas celebrations with a glass of spumante or prosecco.

Since panettone is like a brioche, some people use it for a flavorful French toast, too.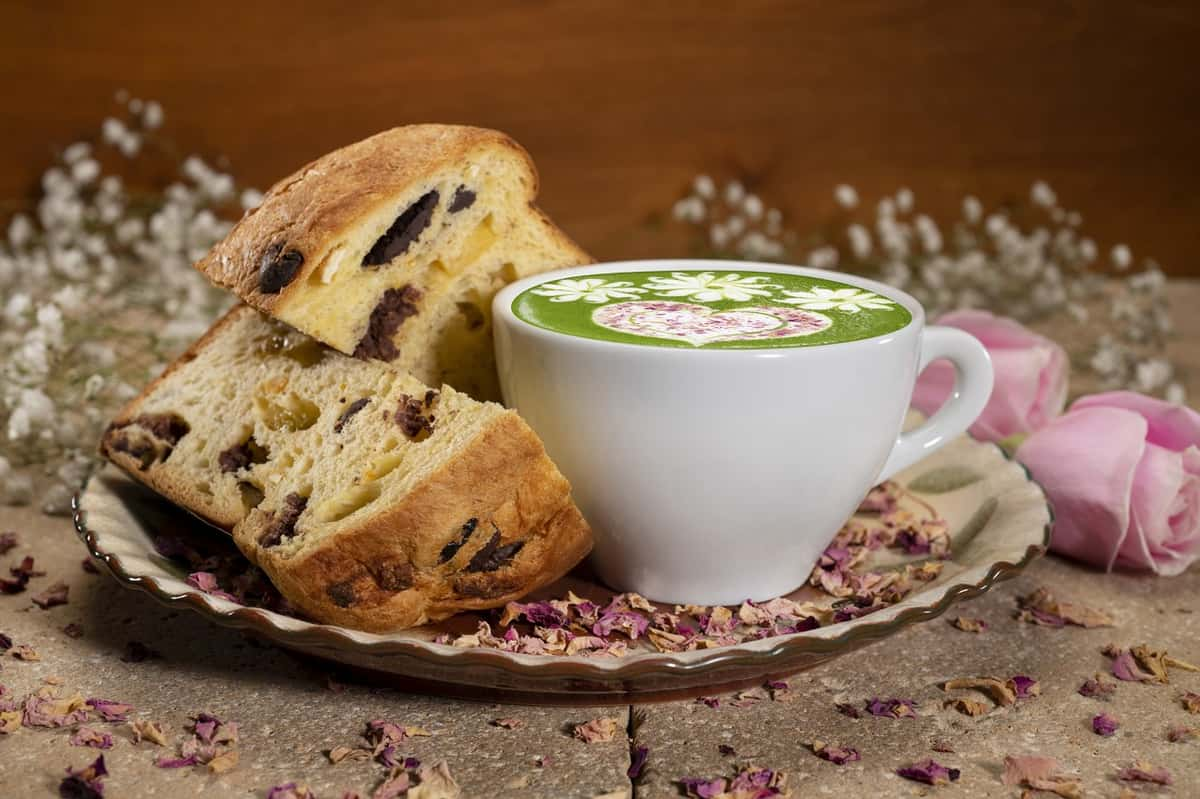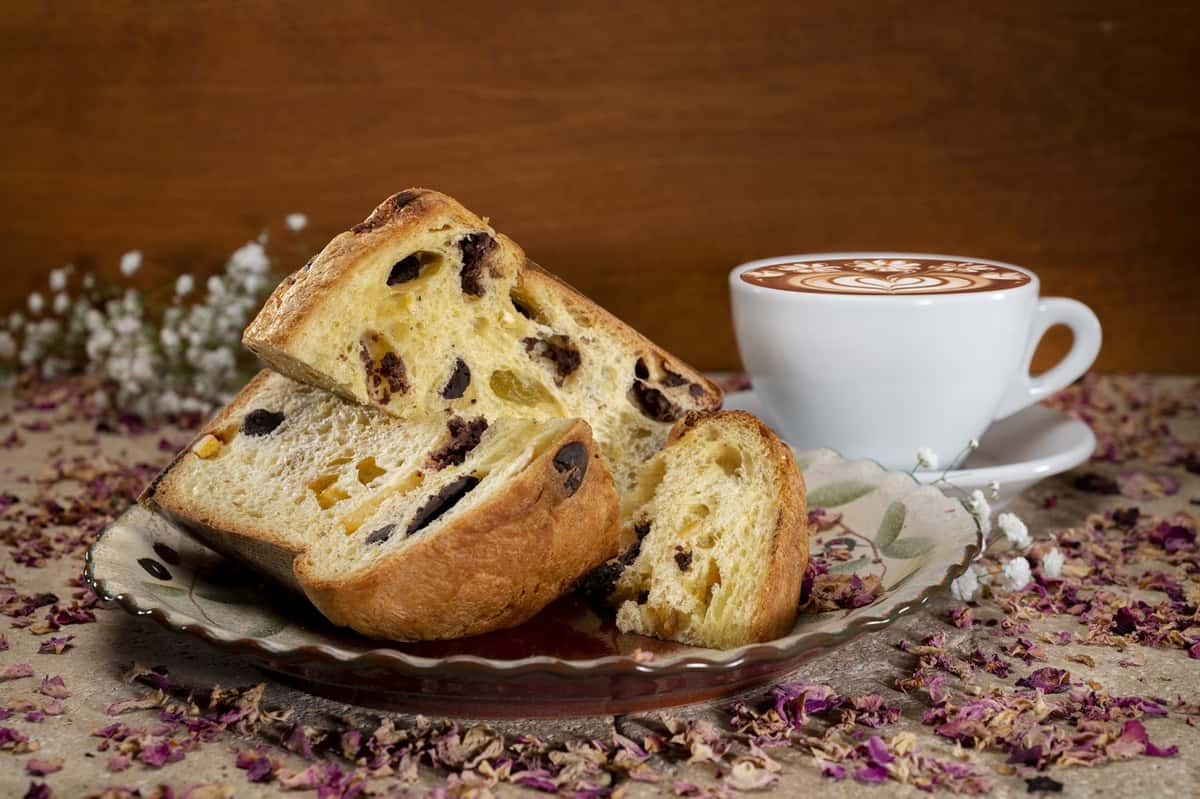 Urth's Valentine Panettone goes so well with our Green Rose Latté and signature Spanish Latté.