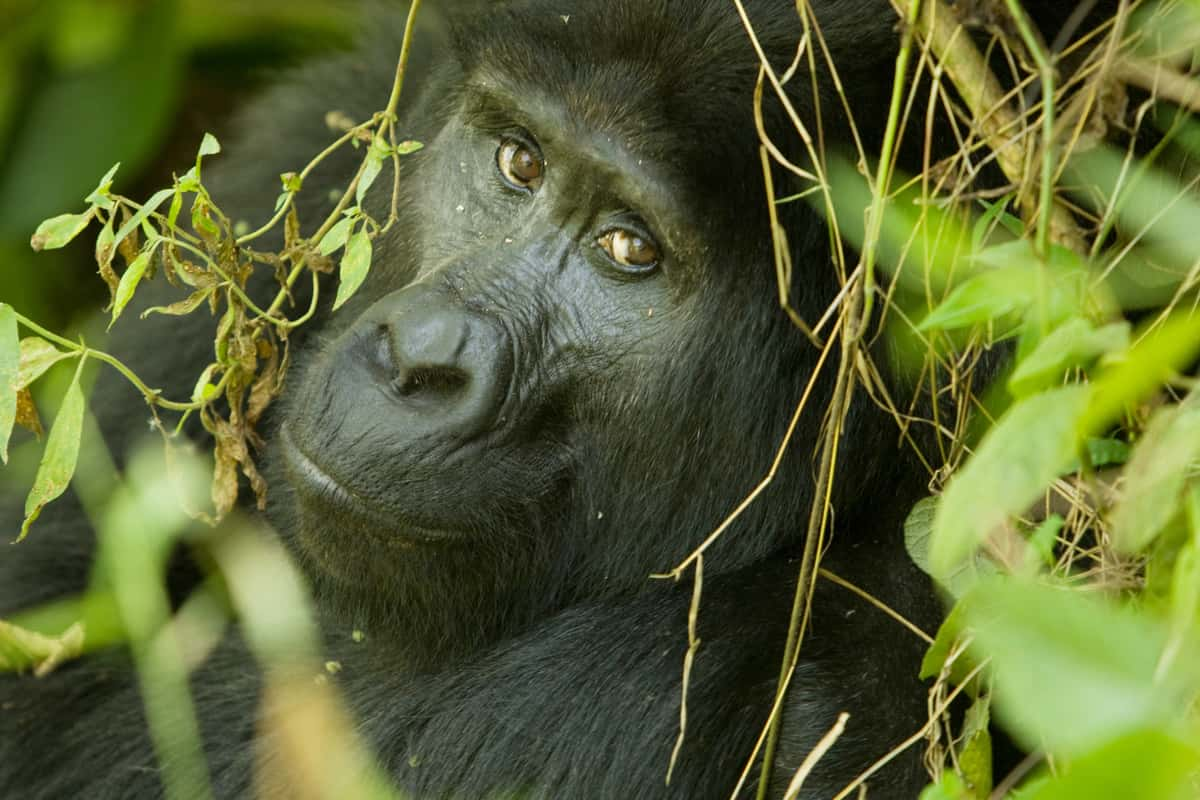 Urth Caffé and Uganda's Endangered Mountain Gorillas
Urth Caffé and Uganda's Endangered Mountain Gorillas
Deep in the Afromontane forests of Uganda in East Africa, at 9,000 feet above sea level, volcanic rocks and soil make one of the most fertile spots on Earth where pure heirloom bourbon coffee trees are grown at the highest altitude producing remarkably rich coffees.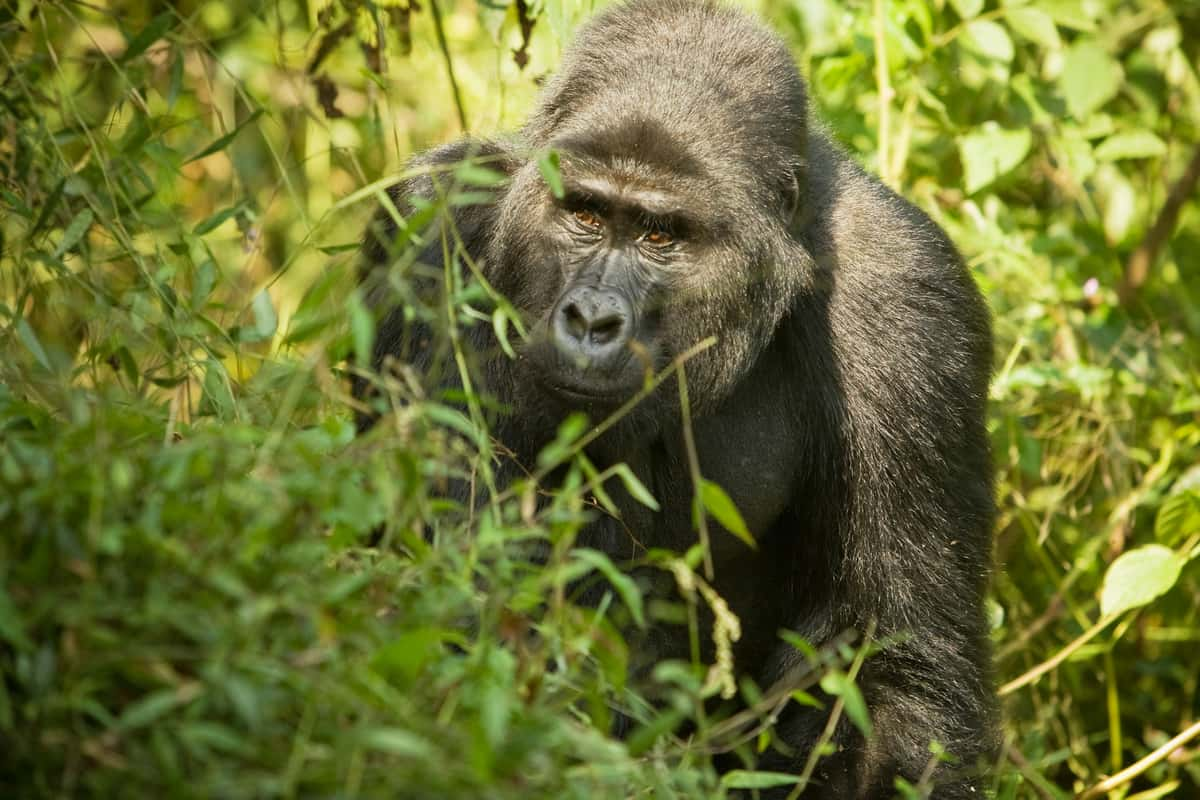 Above the volcanic slopes lives the world's most endangered ape, The Mountain Gorilla. These gentle creatures have been the victims of massive poaching and have never survived captivity to date. The Mountain Gorilla population was just 480 in 2010; today World Wildlife Fund estimates there are over 1,000.
Since 2004, Urth Caffé has had the great privilege to make expeditions every year to Uganda to visit the Mountain Gorillas and to meet with local farmers who live in their midst.
After his own encounters with the gentle Mountain Gorillas, Urth Caffé Co-Owner Shallom Berkman was determined those farmers should protect their habitats.
"They (the gorillas) open your heart in a strange way that make you more motivated to protect these majestic creatures," he recalled. Berkman is seen below, just a few feet away from a watchful male Silverback Gorilla.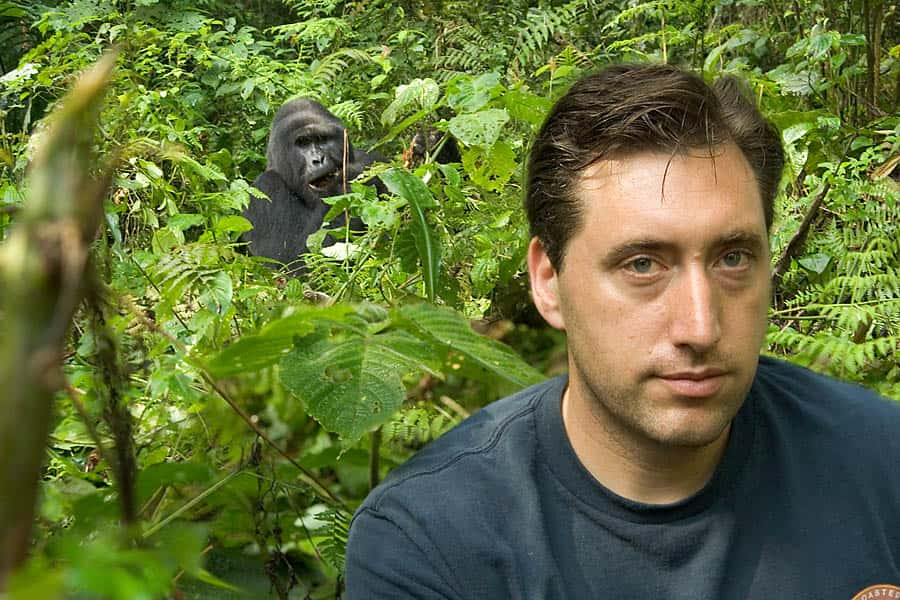 Through Urth's alliance and long-term commitment to these dedicated farmers investing in solar power systems, rainwater collection systems, tools, dairy cows, livestock, and coffee processing equipment – our friends have founded the Mountain Gorilla Organic Coffee Estate – one of the world's finest coffee estates.
By generating income through growing heirloom, organic coffee with sustainable agriculture, these small holder farming communities can be supported while protecting the habitat for the Mountain Gorillas.
When guests purchase Mountain Gorilla Coffee or Baby Gorilla Coffee, they are tasting the highest grown coffee in the world – only available at Urth Caffé .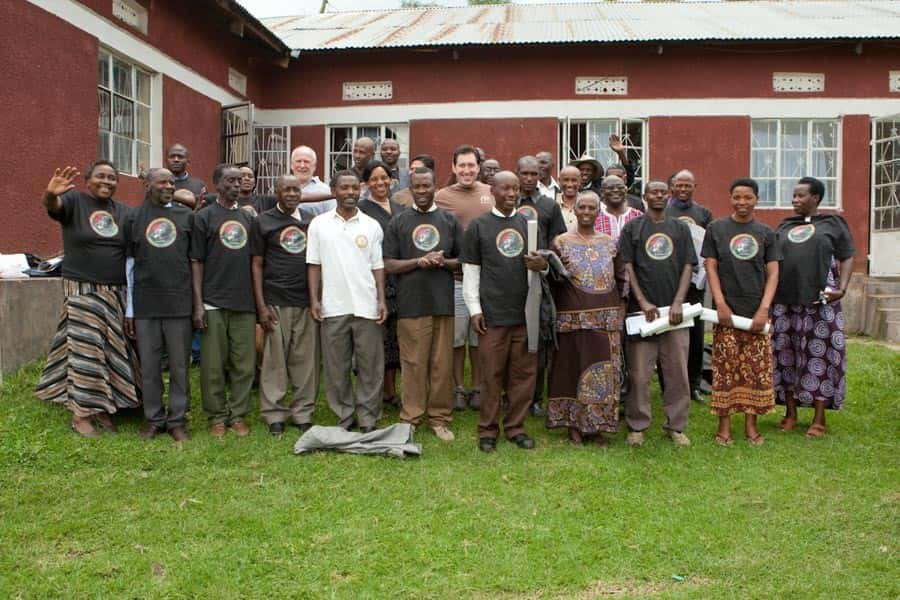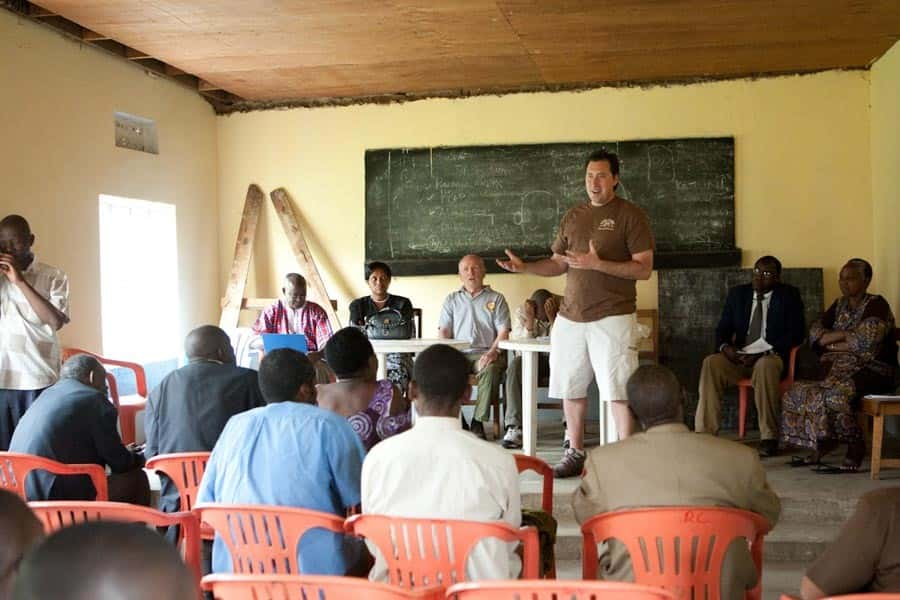 Above at left: This is a group shot the proud leaders of the 40 coffee farms that make up the Urth Caffé Mountain Gorilla Estate, Virunga Mountain Range, South Western Uganda. This organic coffee estate was created exclusively for Urth Caffé in 2004.

Above at right: Urth's Co-Founder Shallom Berkman explains heirloom, organic coffee standards during a meeting with all of the coffee farmers including best organic practices such as making rich organic compost for fertilizer, planting fruit trees and indigenous tree for the necessary, natural shade to protect the habitat of the Mountain Gorillas and allow the heirloom coffee trees to ripen more slowly to the sweetest and most aromatic coffee.
"I promised these hard-working coffee farmers that if they met our high standards, we would pay a premium price that would transform their lives and community for the better," said Berkman. "Now, the farmers receive 10 times the price than what they used to get before joining the Urth Caffé Mountain Gorilla Coffee Project in 2004. I have seen transformational changes from the premiums we paid since then – many farmers have expanded their farms and for the first time ever, they have sent their kids to college."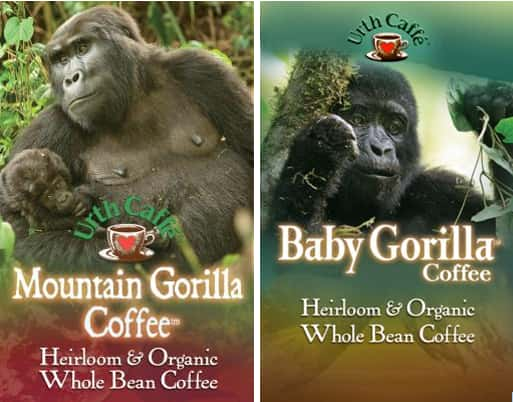 Mountain Gorilla Estate Coffee™
Roast Scale: 3 out of 10 darkness
Urth Caffé Mountain Gorilla™ Coffee Extra Fancy Grade is produced from less than 1% of the entire Mountain Gorilla Organic Coffee Estate crop, triple hand-sorted, from pure heirloom coffee trees. The flavor is completely unique – a floral, herbal, vanilla aroma, sweet acidity, dark cocoa – derived from high altitude, heirloom trees, volcanic soil, and careful organic practices. Order
Baby Gorilla Coffee™
Roast Scale: 3 out of 10 darkness
Baby Gorilla™ blend is comprised solely from the true birthplace of coffee. The exotic flavors of fine micro lot Ethiopian Yirgacheffe combined with the extremely rare Mountain Gorilla Estate Coffee™ from Uganda with its dark, volcanic flavors grown. This coffee is available only at Urth Caffé – thanks to our direct relationship with growers. This exciting blend has a rich, lush body with distinct blueberry, citrus, dry sweetness and chocolate notes. Order