Shot of mosaic tile globe fountain with Urth Caffé and patio in background.
Traffic Jam Began Journey to Urth Caffé Laguna Beach
Sitting in a typical summer traffic jam on Pacific Coast Highway in Laguna Beach led Urth Caffé Co-Founders Shallom and Jilla Berkman to their first historical restoration project.
They were stuck in front of The Cottage, a longtime dining favorite for locals and visitors enjoying lovely Laguna Beach.
"We only do one Urth Caffé at a time. We look for very, very special spots," Shallom told the Orange County Register. "If we can't find them, we don't do it."
Jilla thought it could become the next Urth Caffé – the couple had been looking for a new location for a couple years. The only issue was that The Cottage was still a restaurant.
"We gave them a call … And they jumped at the chance to give it to someone who wanted to bring it back to life," Shallom continued in the Register interview.
Bringing "it back to life" became quite a project, considering the structure started out as a private home in 1917 and was one of a few original buildings in Laguna Beach.
The house served as the home of various early families of Laguna including pioneer real estate developer and civic leader Joe Skidmore. Naming the residence Sans Souci, Skidmore lived there along with his wife Flora and their two children for a few years.
Long Beach residents Howard and LeClaire Planalp owned the property for several years before "officially" relocating to Laguna in 1938. They lived in the bungalow while establishing the Laguna Vista Café. Unfortunately World War II supply shortages brought on the café's closure, but it remained the Planalp family home until the 1950s.
Under new ownership, the site operated roughly seven years as The Pancake Cottage until it was sold once again and reorganized as The Cottage restaurant in 1964. The Cottage served breakfast, lunch and dinner for decades until it closed in 2012.
"The house is the only Craftsman bungalow in the Japo-Swiss tradition in Laguna and remains as one of the best examples inside and out of the Craftsman bungalow style."
The Berkmans saw the potential, Shallom said "But when we found the original pictures, we thought, 'Wow, this is a treasure.' "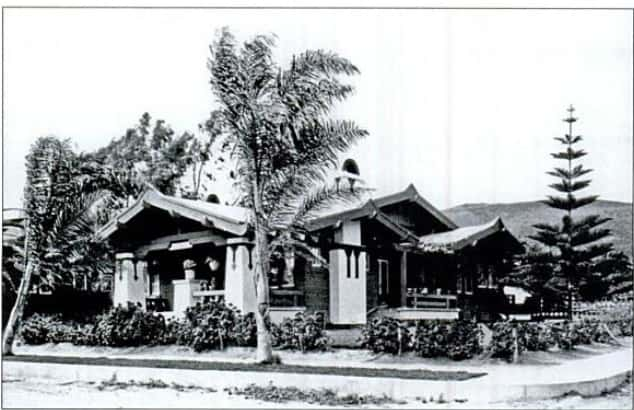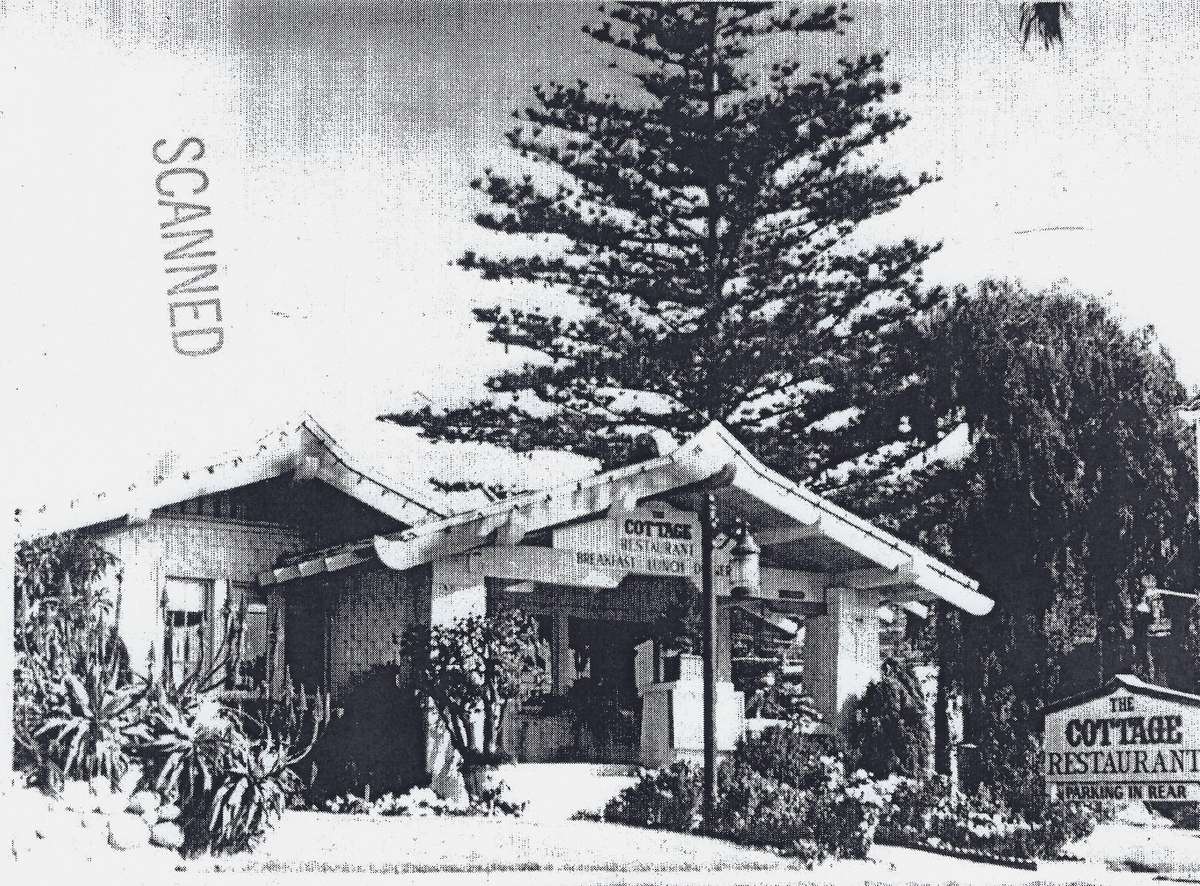 Working with a city-appointed historian and local architect, Todd Skenderian, known for heritage properties work in Laguna Beach, hidden architectural gems were discovered, such as front and side patios that had been covered up, and a set of stairs leading up to the front porch. They were visible in old photos but had been buried in the landscape. They were restored and Urth guests see them every day.
Hints of Japanese and Swiss architecture can be seen at the front porch - the broad, overhanging roof and crossbeams peeking out from the edge resemble a Swiss chalet. Pointed peaks in the roof look like they came from a Japanese pagoda.
Taking a cue from the Japanese architectural elements, the Berkmans added a Zen-like water feature outside – a simple bamboo frame drops water into a 300-year-old stone basin shipped from Japan nestled to left of entry stairs.


In a tender tribute, the new location was named "Urth Caffé at The Cottage."
The Berkmans have been praised by city officials and historians for maintaining the house's original integrity and charm, while opening up an enclosed side room for outdoor dining.
Restoration, Updating for the Future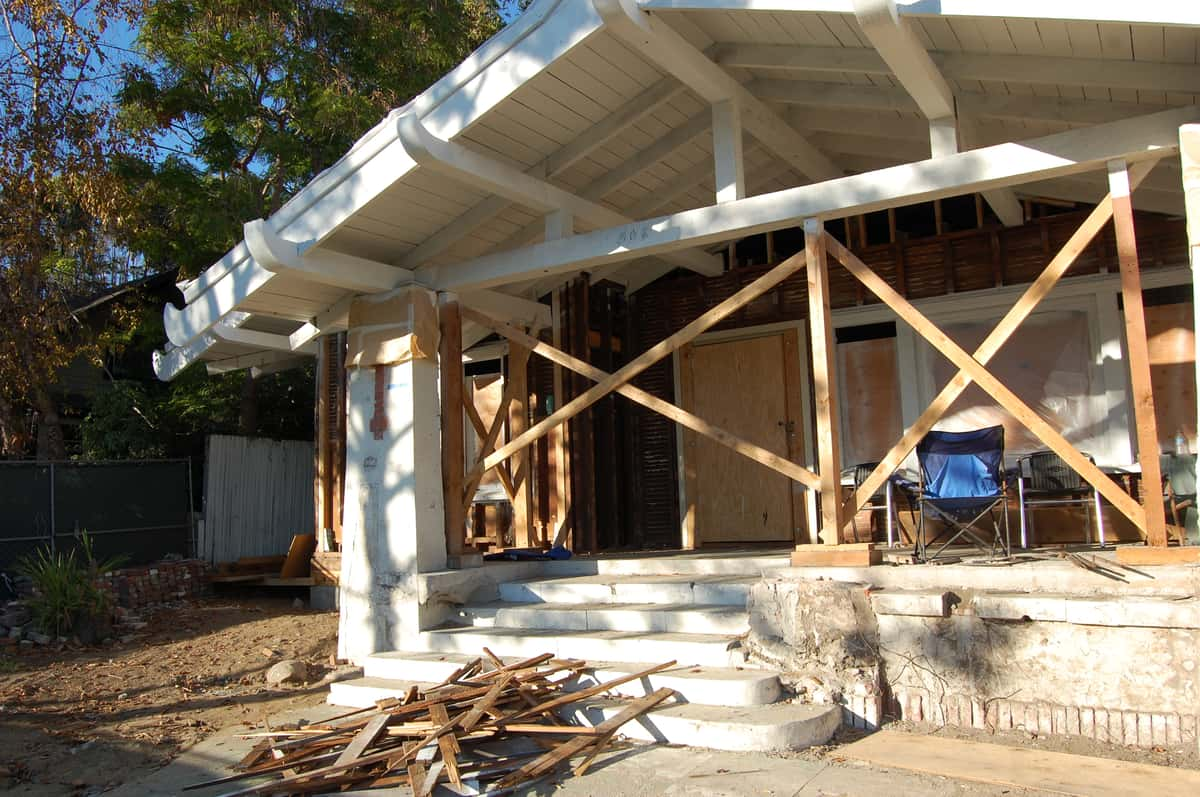 The original cottage structure was reinforced with new beams and new structural foundational shoring to ensure the building is strong for the next 200 years.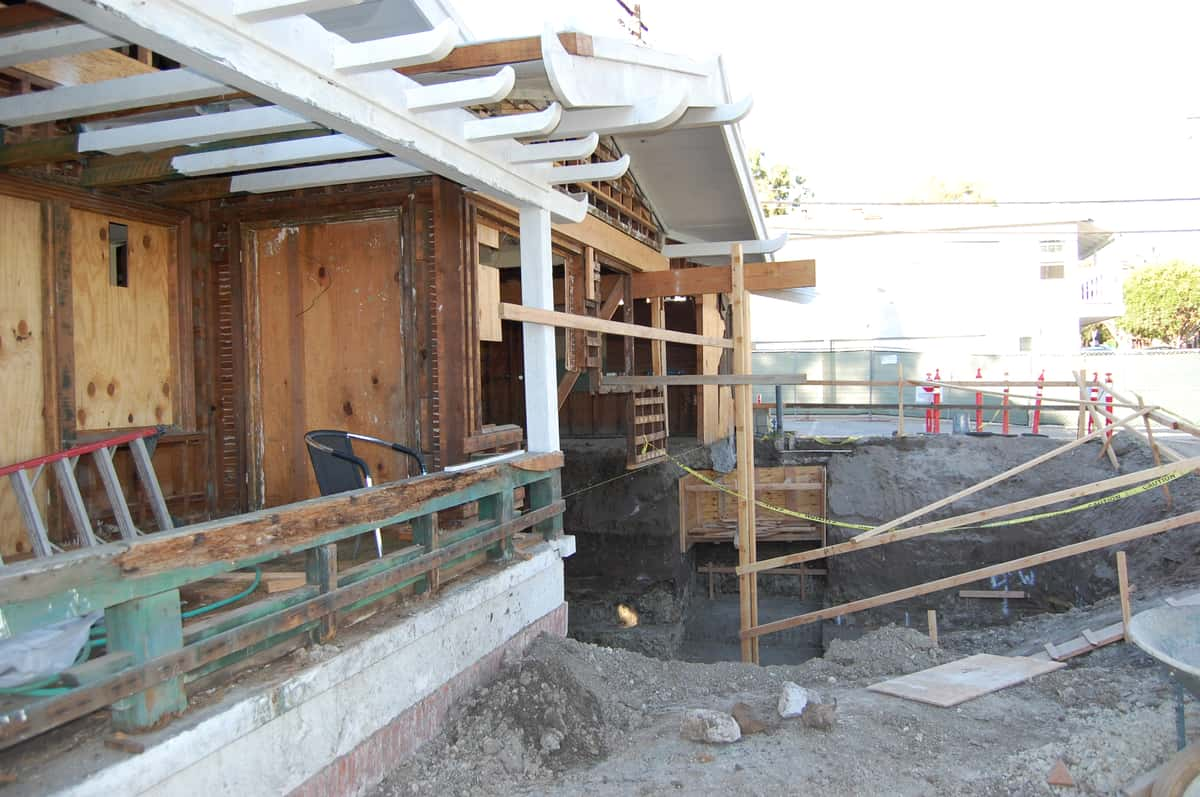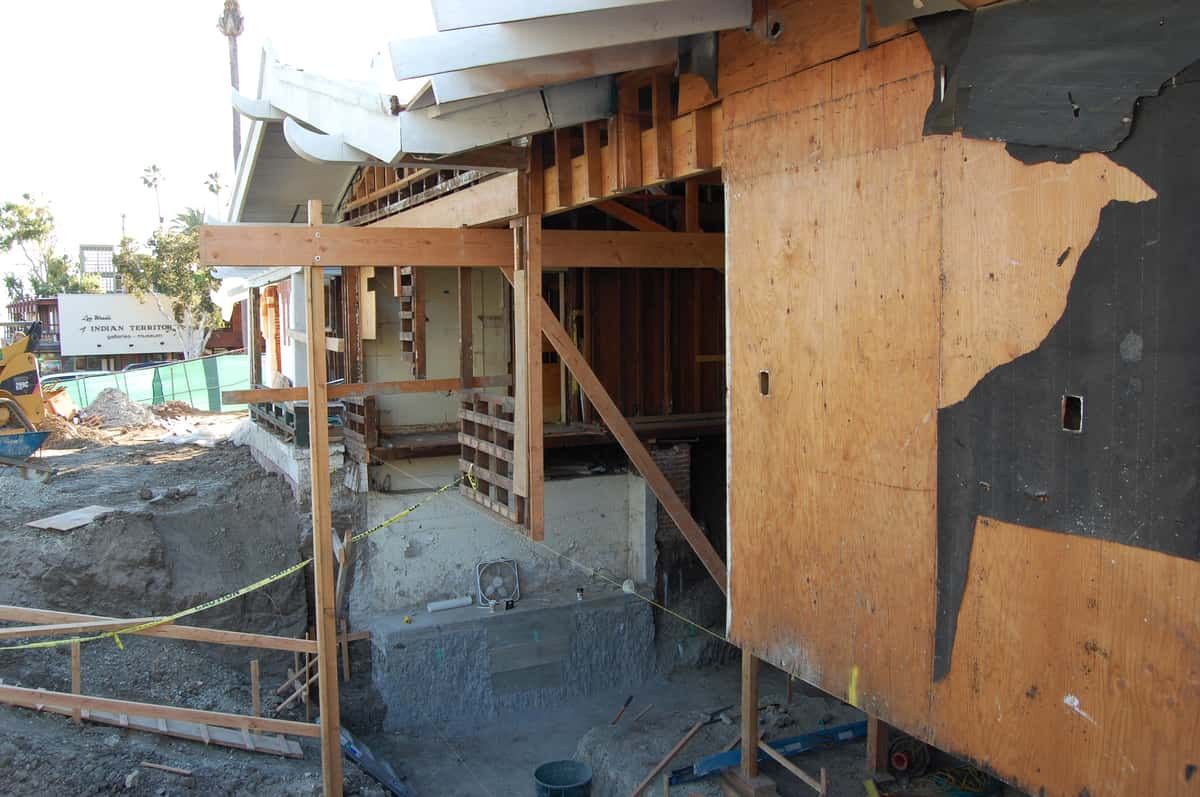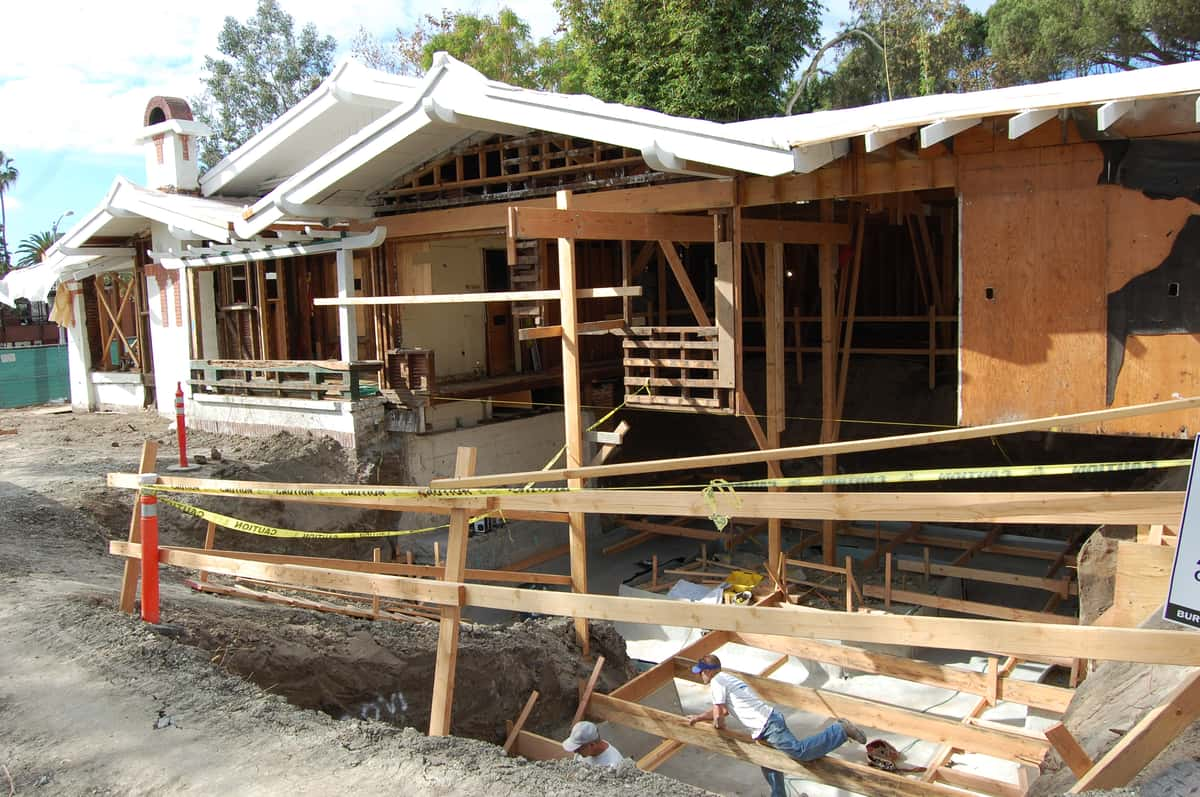 An underground basement was built for storage to preserve the entire original "footprint" of the cottage on the ground floor.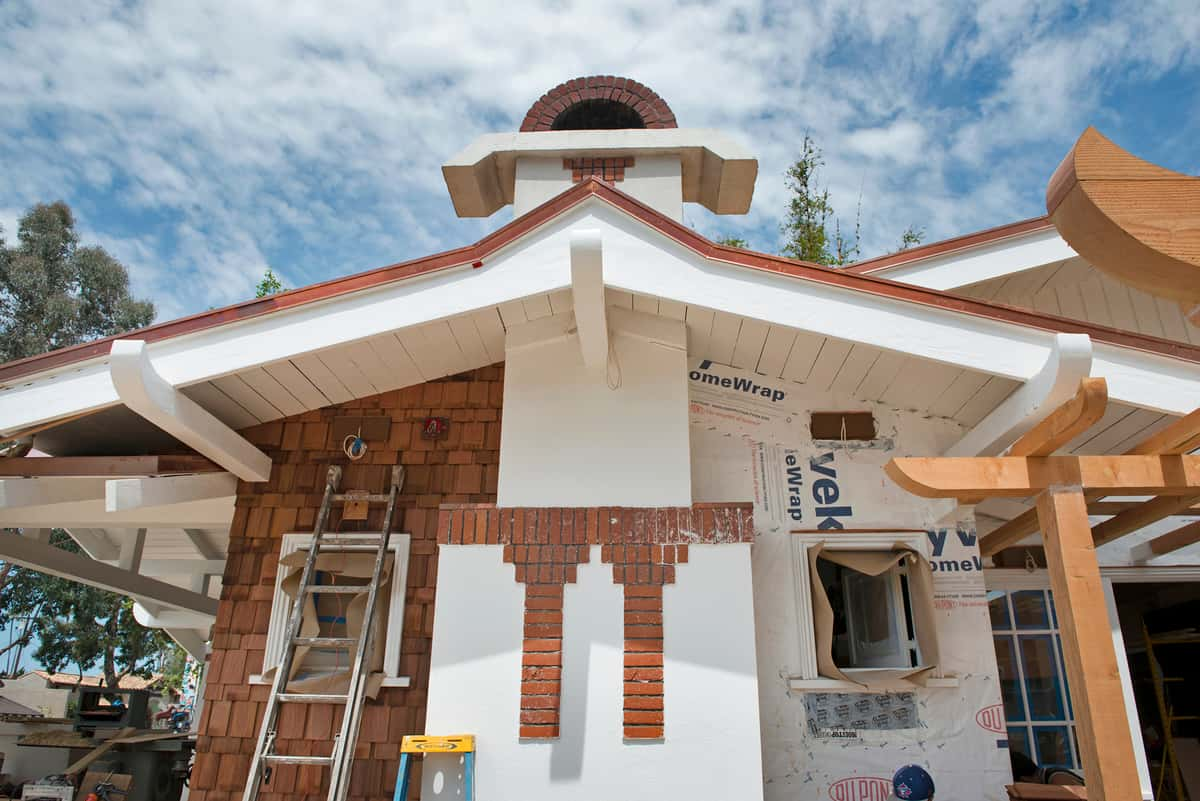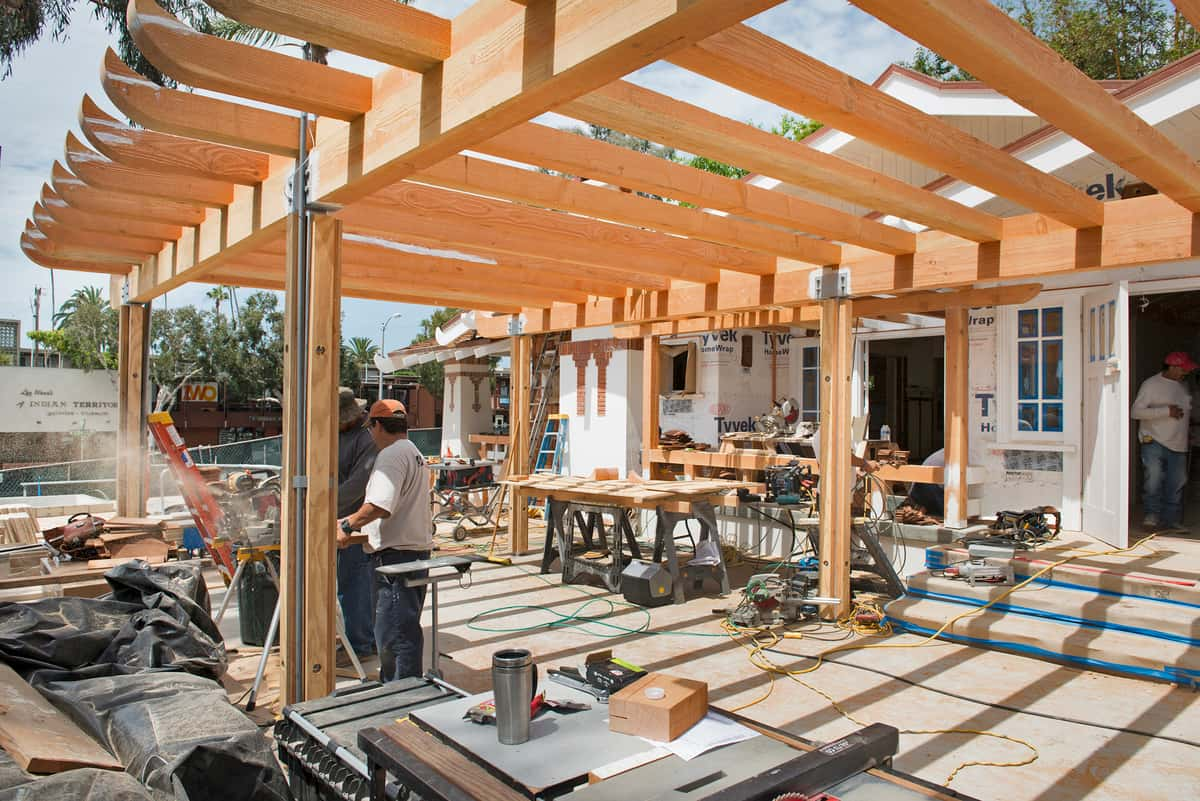 The south facing façade: At left, the chimney located on the south west corner at the front entrance; at right, the middle of the same southern façade also including the back entrance – depicting the new "Japanese-style" trellis of the outdoor patio.
Below: Restoring and adding to the building's original architecture that uniquely combined Japanese and Swiss design elements. There are examples of Japanese architecture throughout Laguna Beach dating back pre-World War II.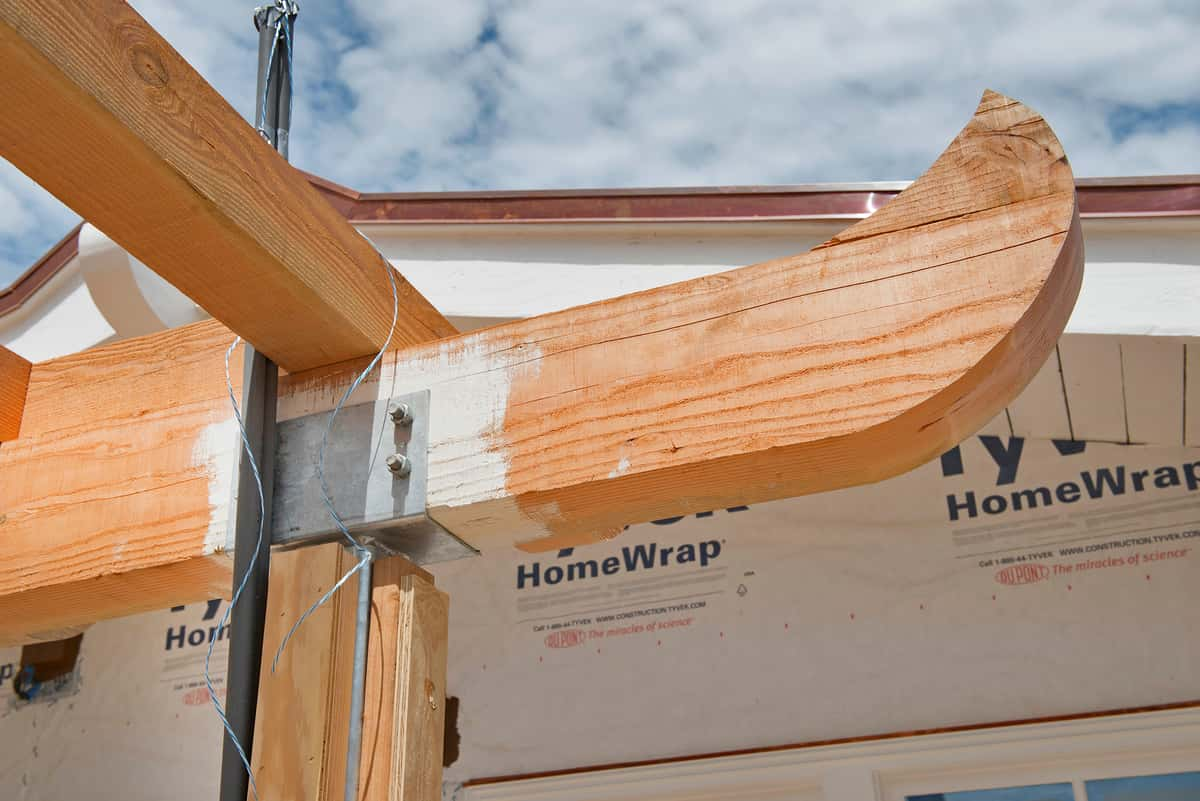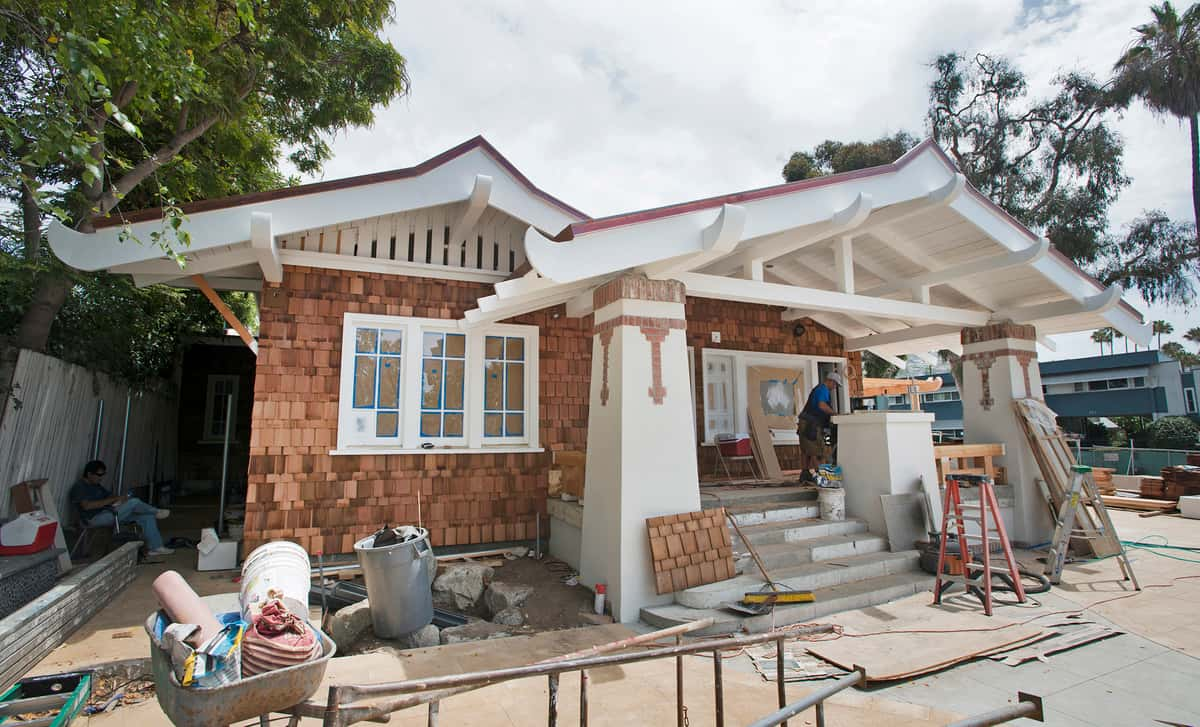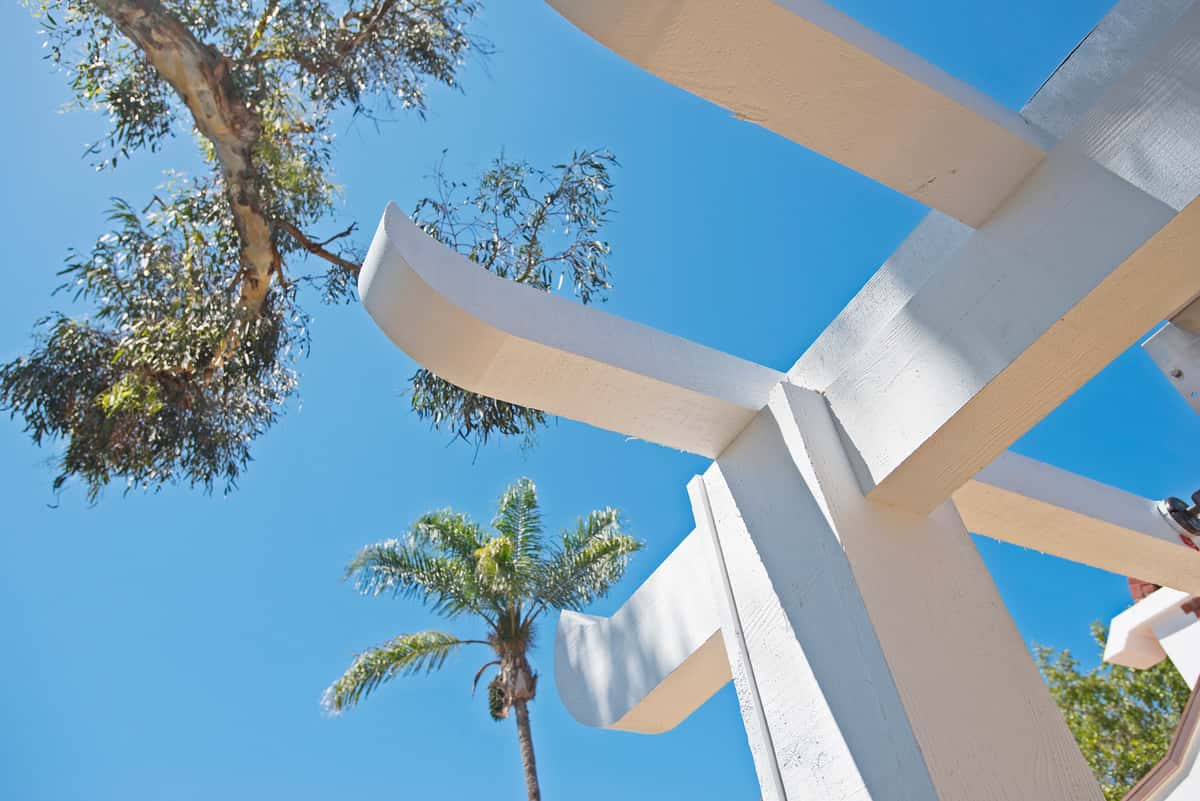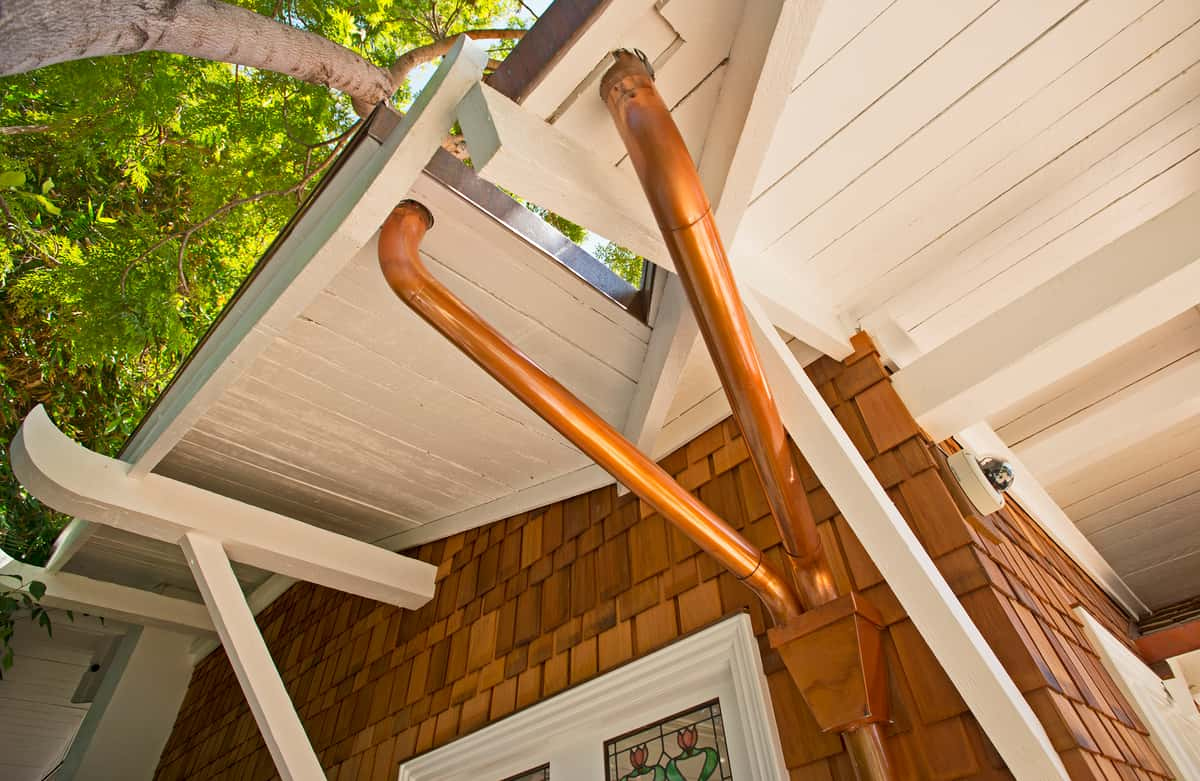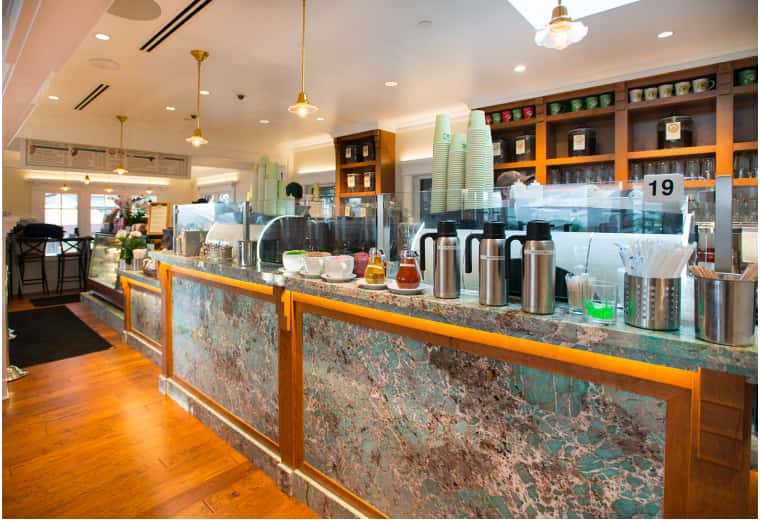 At left, copper pipes provide roof drainage. At right, Jilla Berkman is Urth Caffé chief designer and chooses a different stone to work into the decor. At Urth Laguna Beach, slabs of raw turquoise from Italy were used on countertops, the vintage banquette and the walnut dining tables.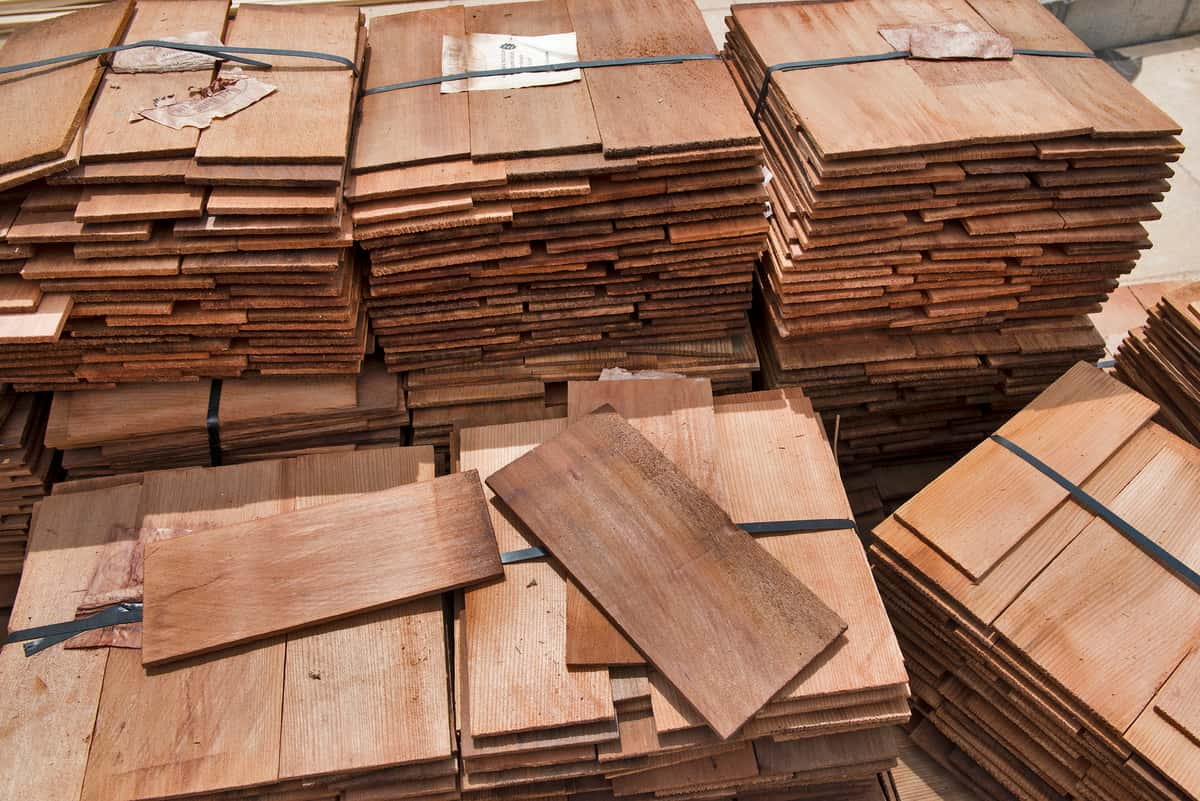 Western Red Cedar shingles from Canada were custom-made and hand-cut for Urth Caffé to match the original wood shingles.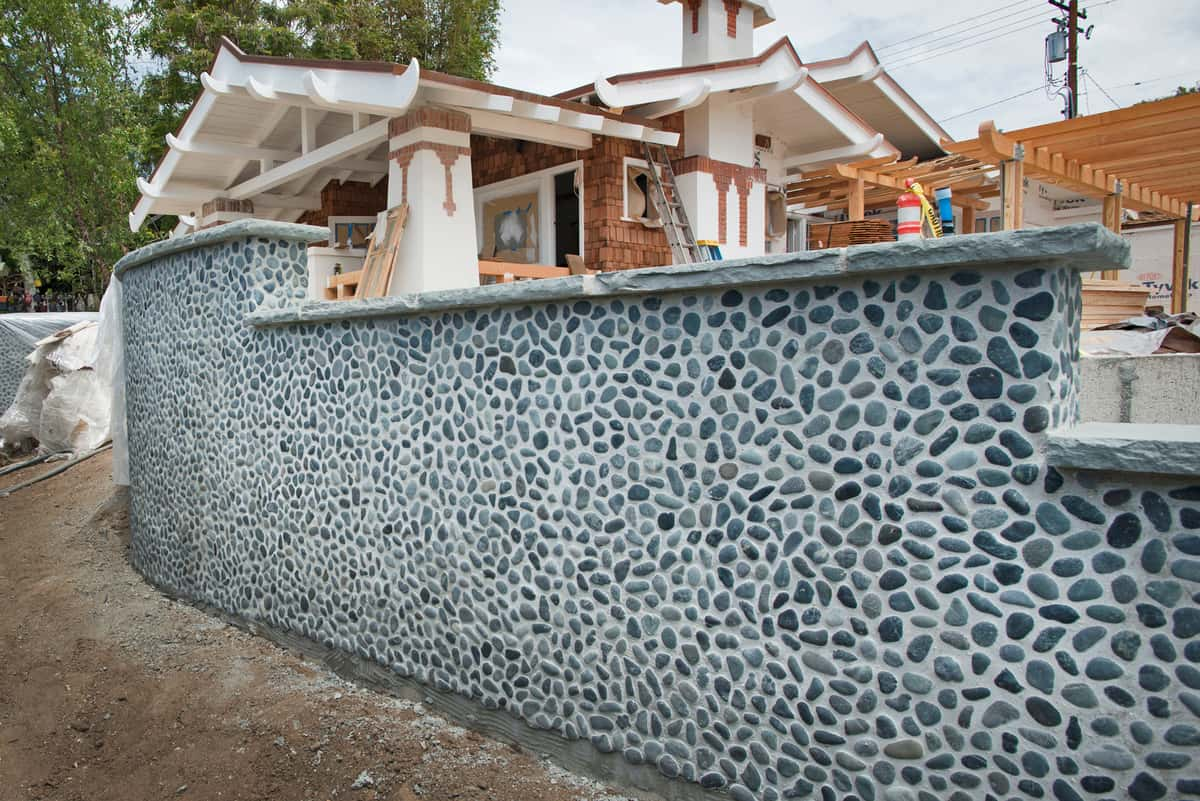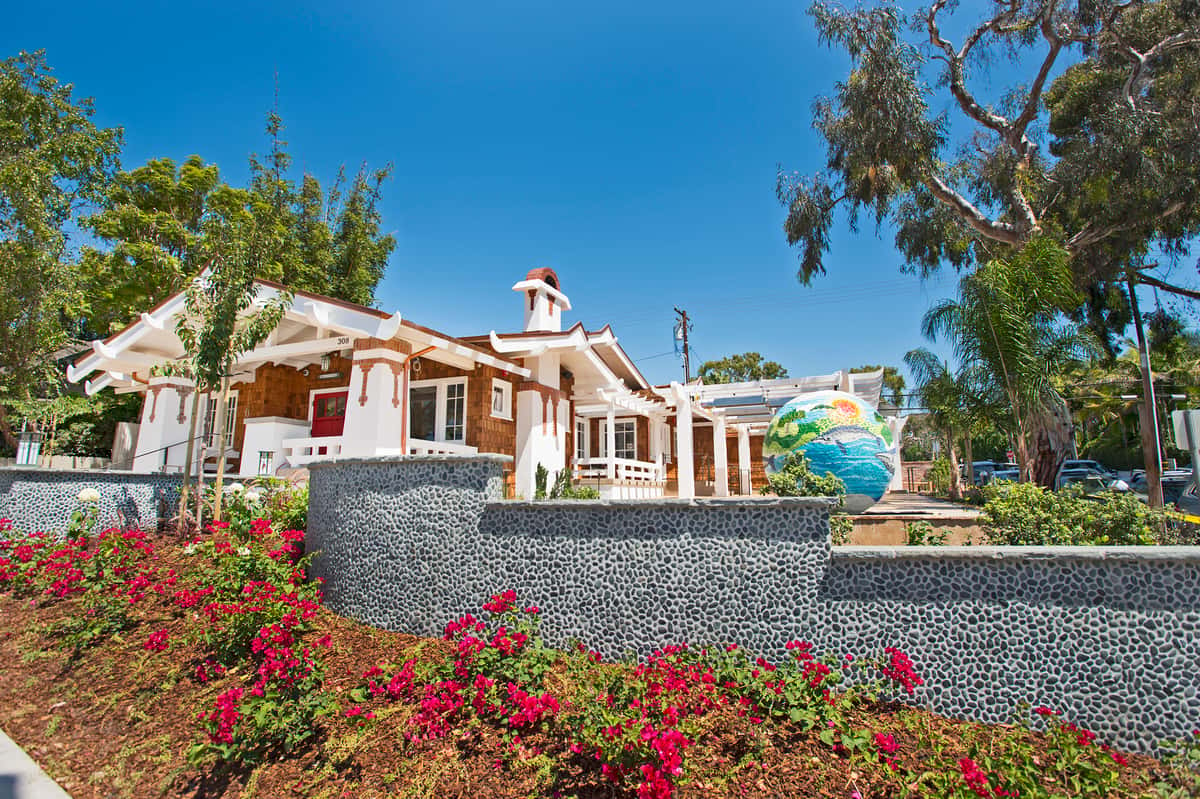 River bed stones used in this wall were chosen and made for Urth by a local Japanese artist named Kohei Owatari, who also created the "Mother Earth" mosaic globe – an original and important Laguna Beach art piece commissioned by Urth Caffé.
The 'Mother Urth Sphere'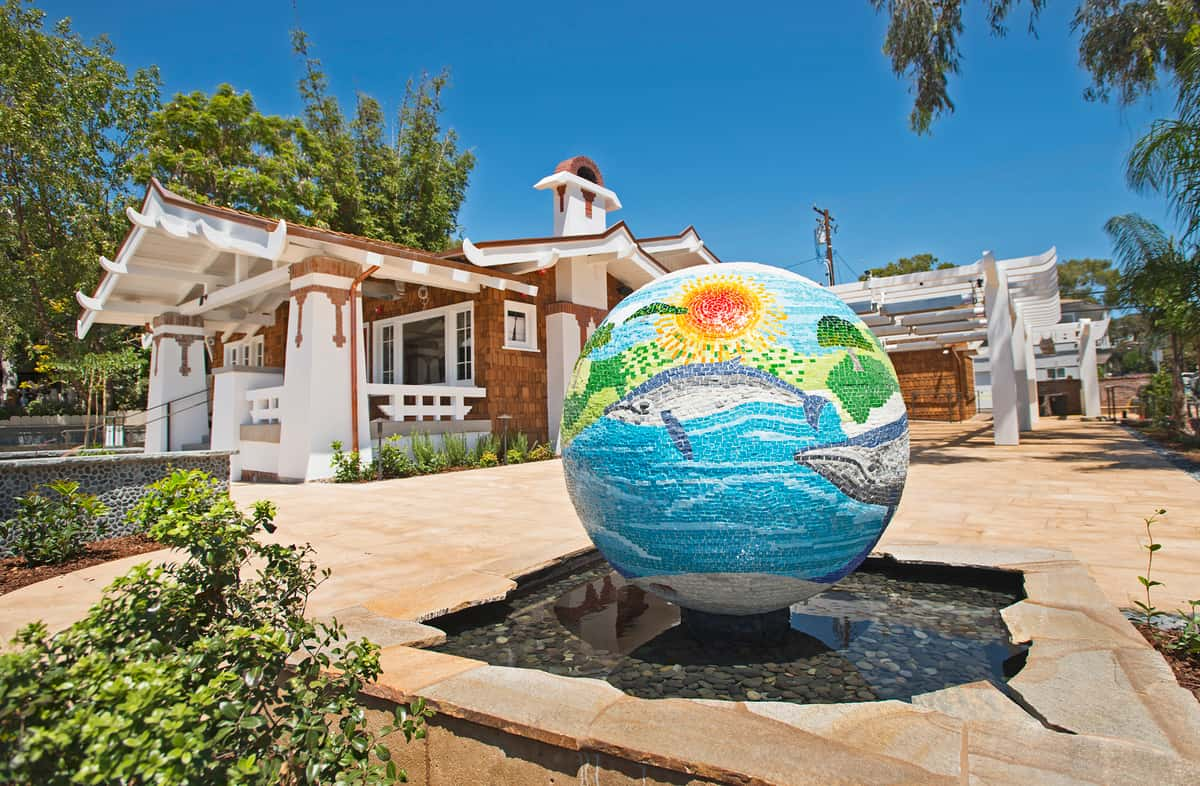 Along with the restored restaurant came a new landmark – the "Mother Urth Sphere" located at the corner of the bustling highway of Aster Street and Pacific Coast Highway.
The sphere – with a diameter of almost 4 feet – is covered in glass tiles imported from Italy along with stone tiles. At 4,500 pounds, it was installed using a large crane to settle it safely into its new home. The project took about six months to complete.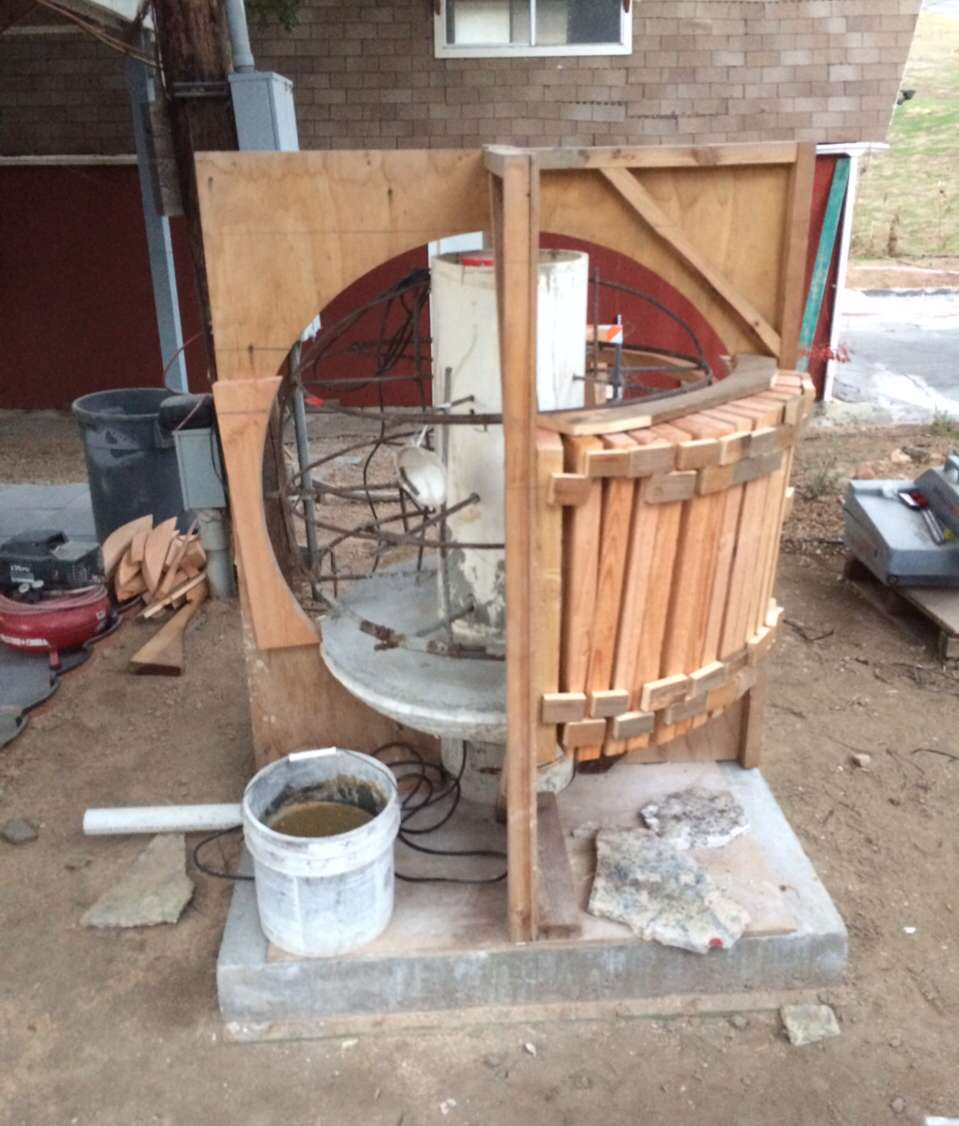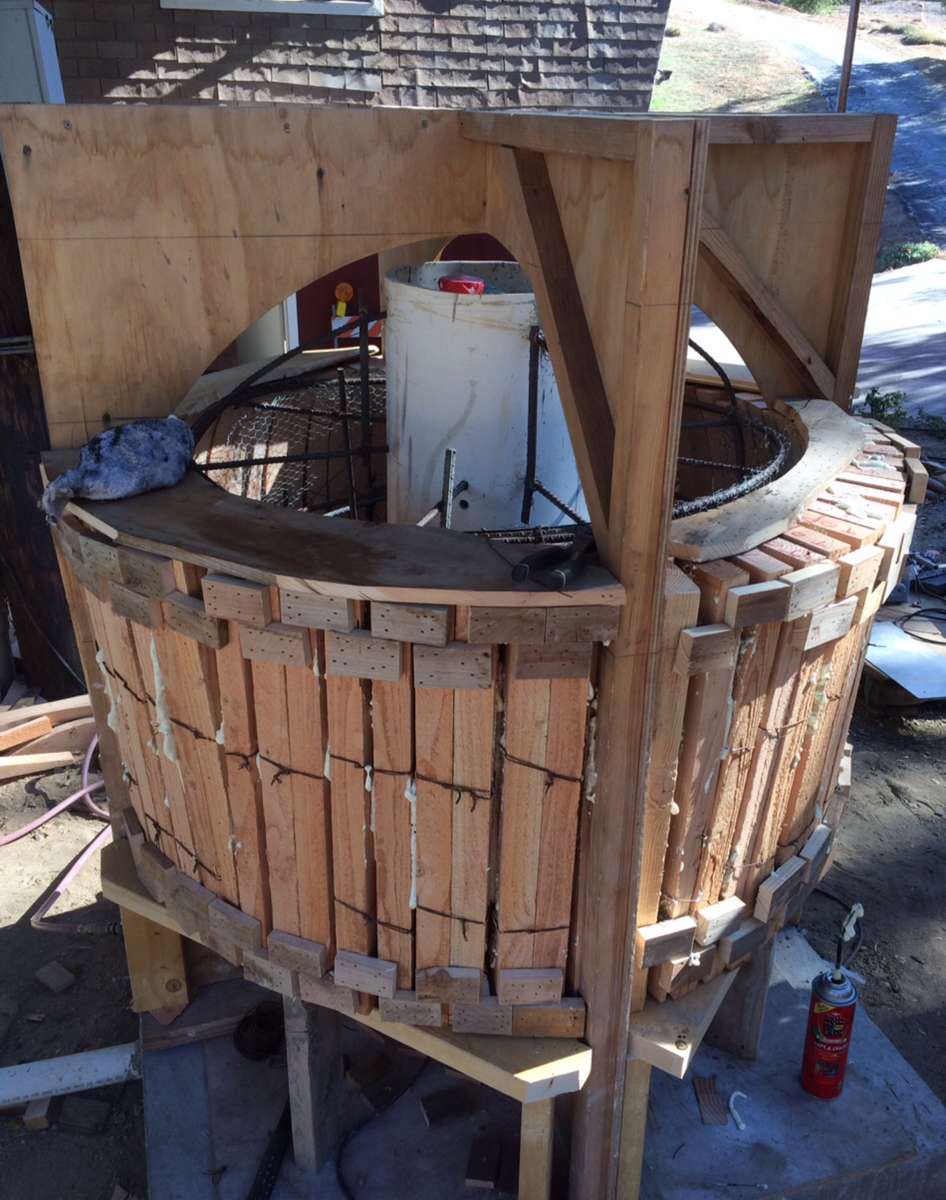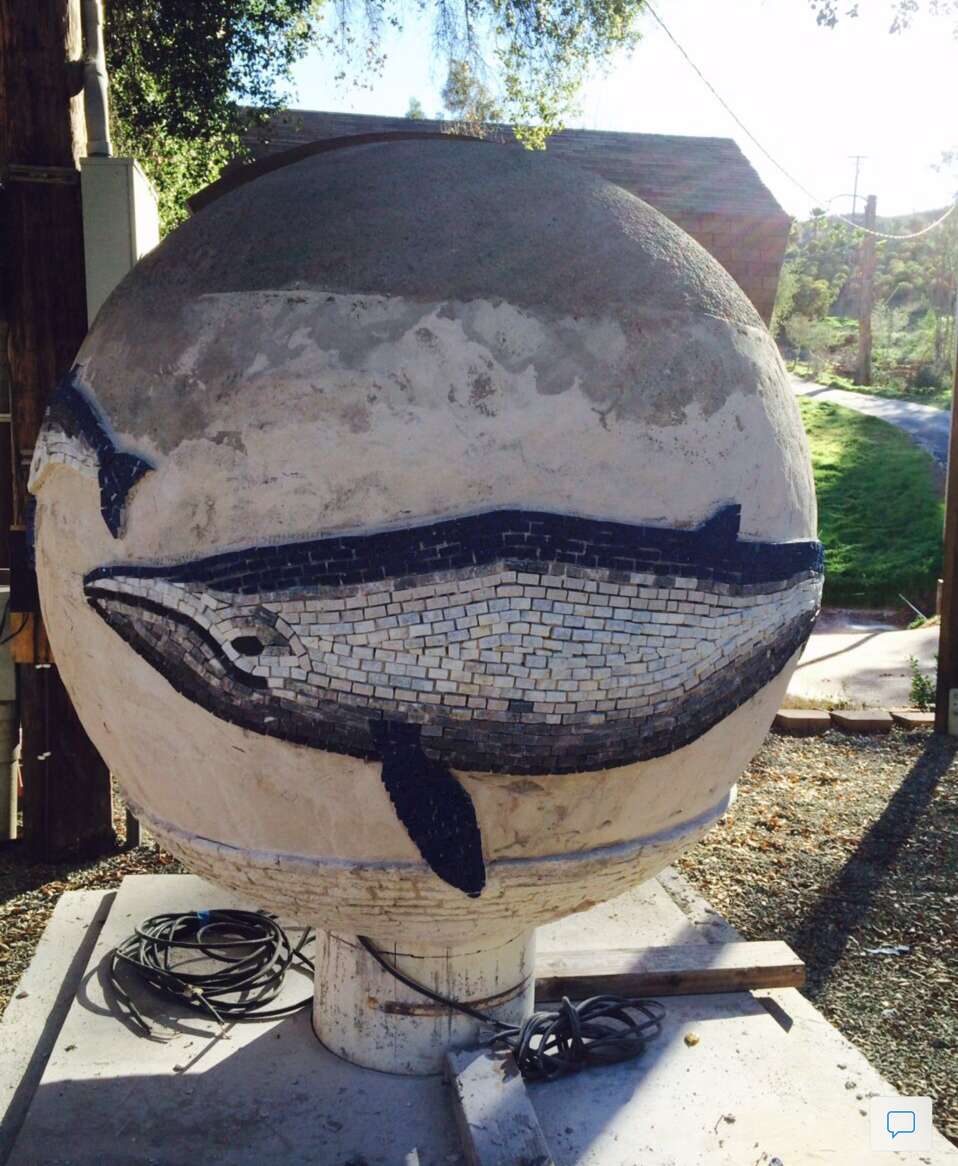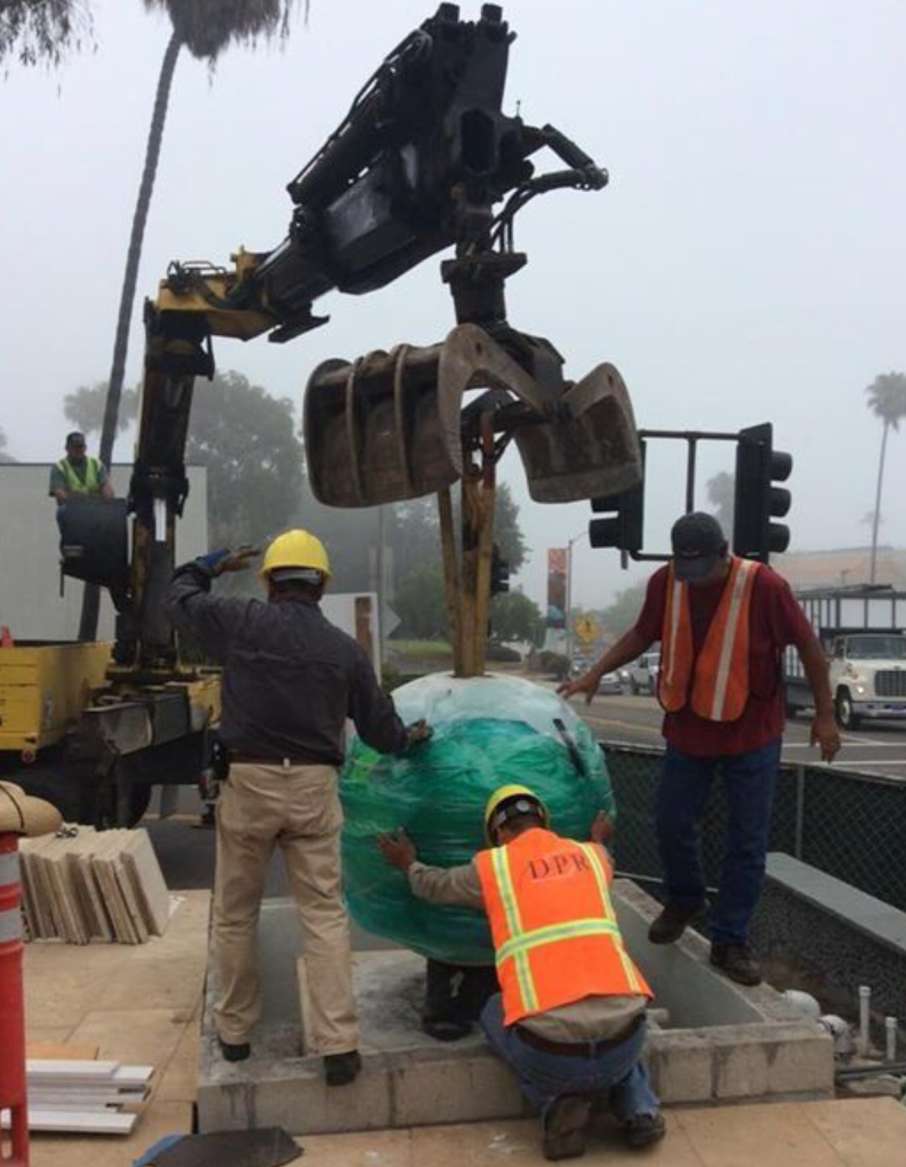 From left to right: Building structure to hold sphere mold, completed structure, tiling begins,
installing completed 4,500 pounds sphere with a large crane
Mother Urth is transformed into a tile mosaic of swimming whales amid blue ocean with green hills, blue sky and a bright yellow-red sun. Water flows around the sphere, cascading with soothing sound for the patio nearby.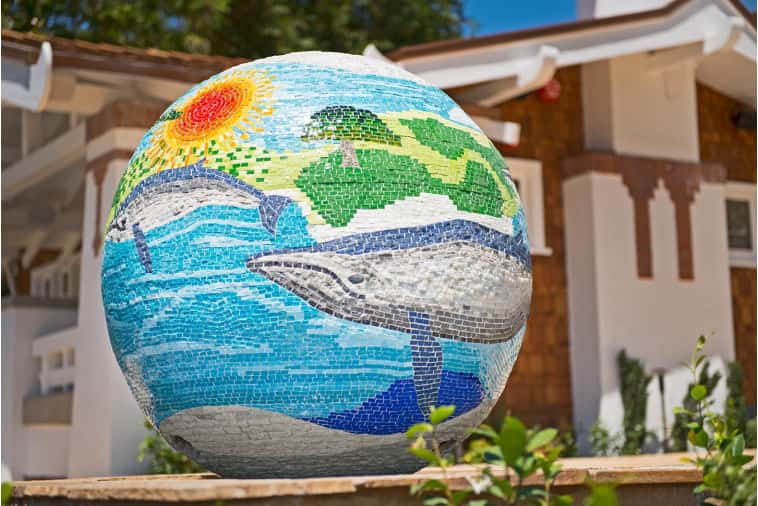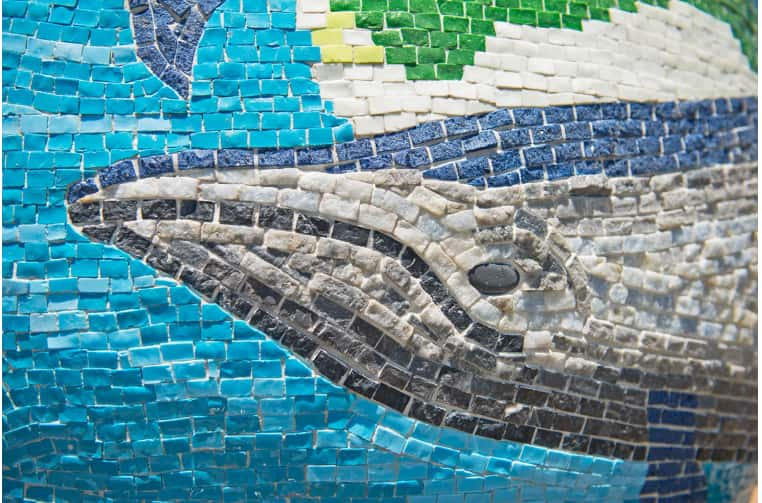 Kohei Owatari designed and built the sphere – a first for the San Diego County Zen garden designer. He worked closely with Urth Caffé co-founder Jilla Berkman, who is also Urth's chief designer.
"She had some rough ideas, and our ideas became reality easily at that time," Owatari recalled.
Now, if anyone is giving directions to Urth Caffé in Laguna Beach, all they need to say is "Go northbound on PCH from the beach and look for the beautiful Mother Urth Sphere on the right. You can't miss it."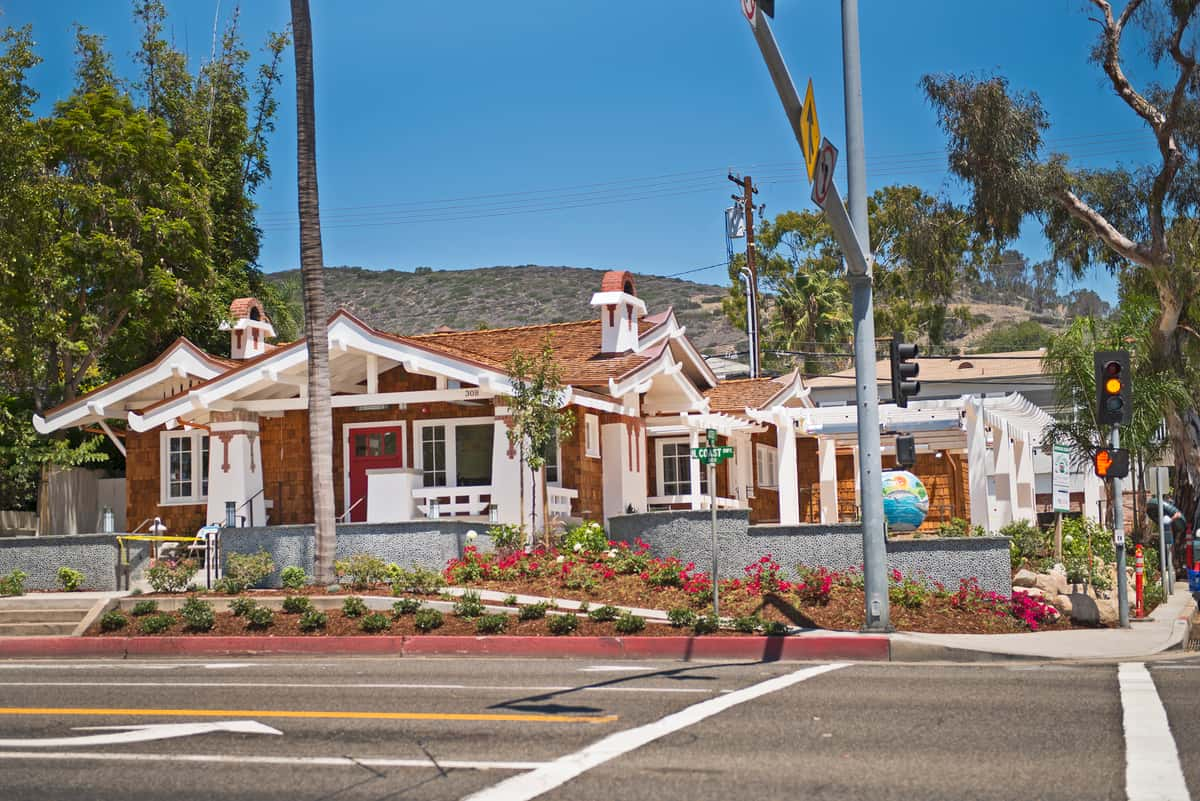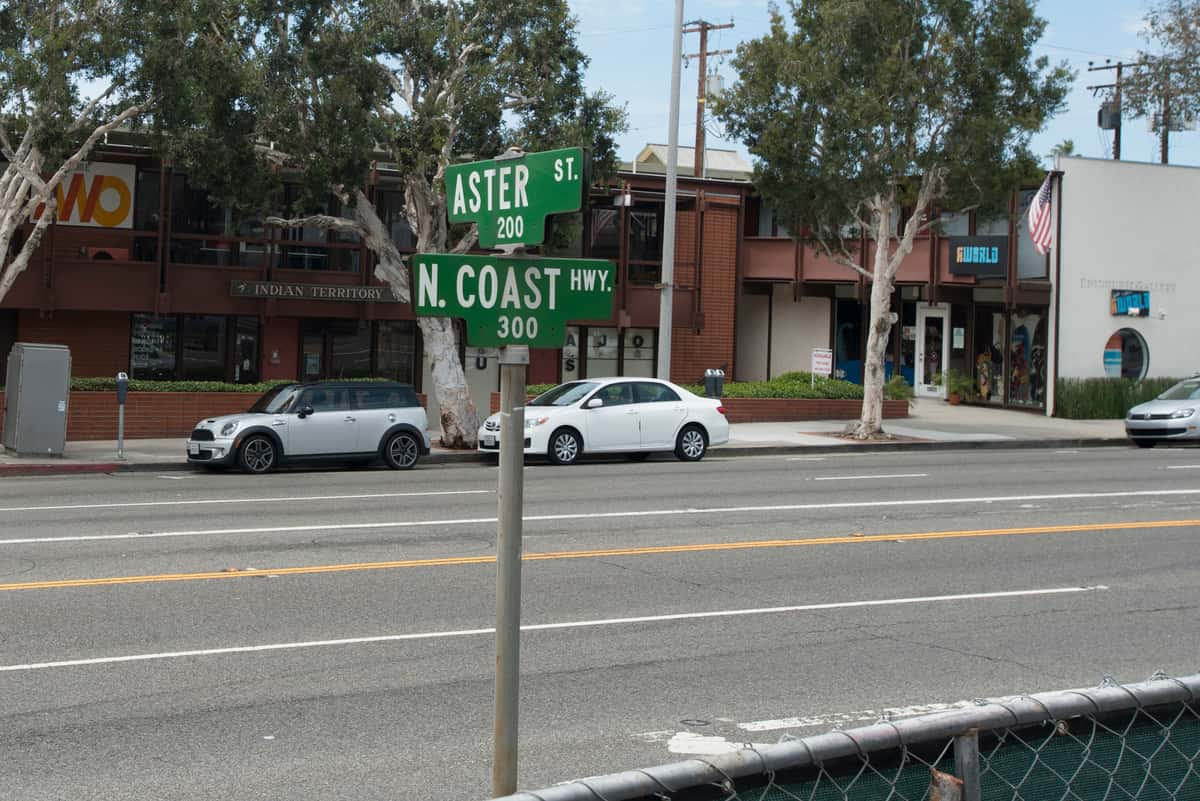 Visitors can look for the Mother Urth Sphere to locate Urth Caffé Laguna Beach at the corner of N. Coast Highway and Aster Street.
When the Berkmans and Skenderian welcomed neighbors within 300 feet of the property at an open house on site to discuss the planned project and answer questions, potential customers wanted to know about the food.
"They wanted to make sure they could get omelets and pancakes," Berkman said.
Just as The Cottage's original Craftsman, Japanese, Swiss architecture inspired the Berkmans, so did its popular menu.
"We wanted to pay homage to The Cottage," Chef Andrew Raab told writer Diana Armitage of the thebestoflagunabeach.com. "It had been such an iconic presence for so many years that it just seemed the right thing to offer classic egg dishes, pancakes and French toast … with an Urth twist."
A big part of that change was updating The Cottage's kitchen to serve an expanded Urth menu to include French toast, organic buttermilk pancakes, gluten-free organic white corn pancakes, and many other classic American breakfast items made with Urth Caffé's signature emphasis on organic, local and seasonal ingredients.
In fact, our Laguna Breakfast originated at Urth Caffé Laguna Beach – serving two eggs any style, Urth potatoes, mixed mushrooms, oven-roasted tomato, bacon, sausage and whole wheat toast.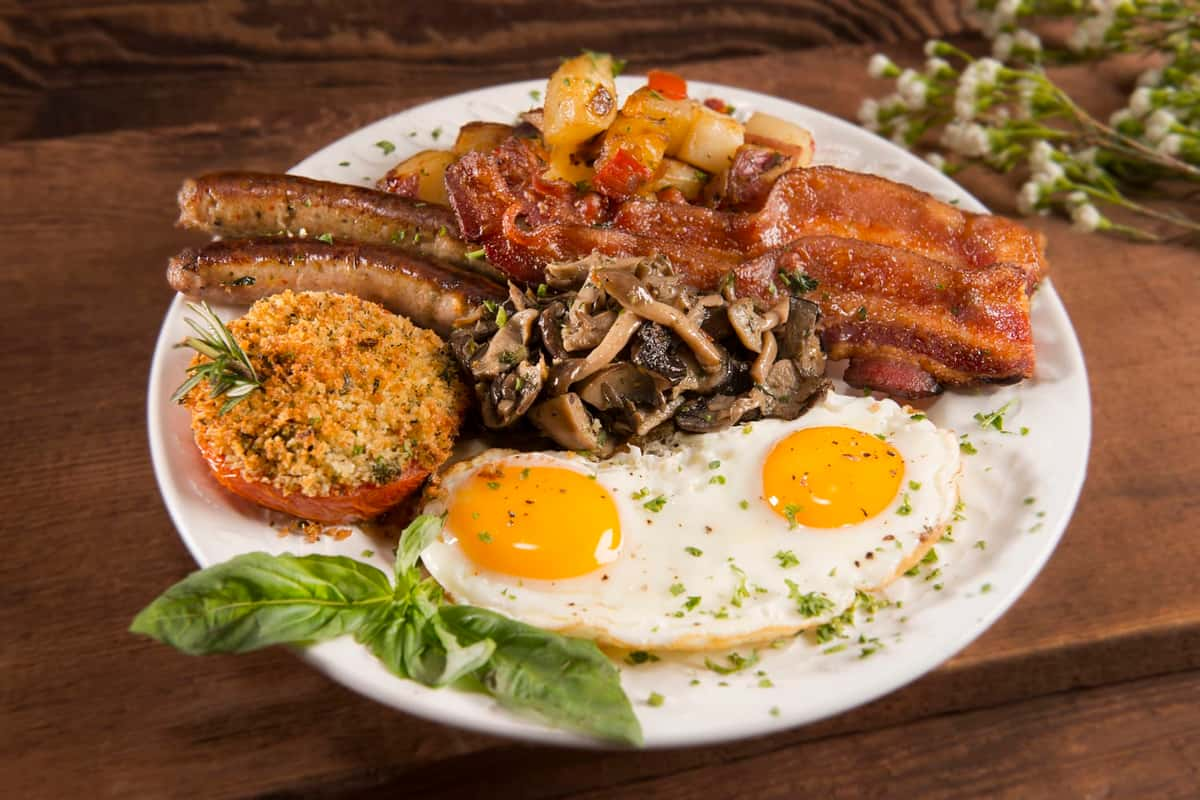 The Laguna Breakfast - two eggs any style, Urth potatoes, mixed mushrooms, oven-roasted tomato,
bacon, sausage and whole wheat toast.
The Laguna Breakfast - two eggs any style, Urth potatoes, mixed mushrooms, oven-roasted tomato, bacon, sausage and whole wheat toast.
That menu, as well as many other breakfast choices, are now served at Urth Caffés Beverly Hills, South Bay, at the Wynn in Las Vegas and Orange.
Urth Caffé Laguna Beach inspired the Berkmans to seek out other historic properties to restore. That effort led to Urth Caffé Orange, located in the heart of Old Towne Orange on the Orange Circle. The building was a real estate office in 1888, a fact revealed as workers removed stucco covering a huge sign advertising "Hemphill & Morse" real estate agents, painted on the exterior wall of the oldest part of the building.
Read more:
"Urth Caffé Orange: Preserving 19th Century Landmark for the 21st Century"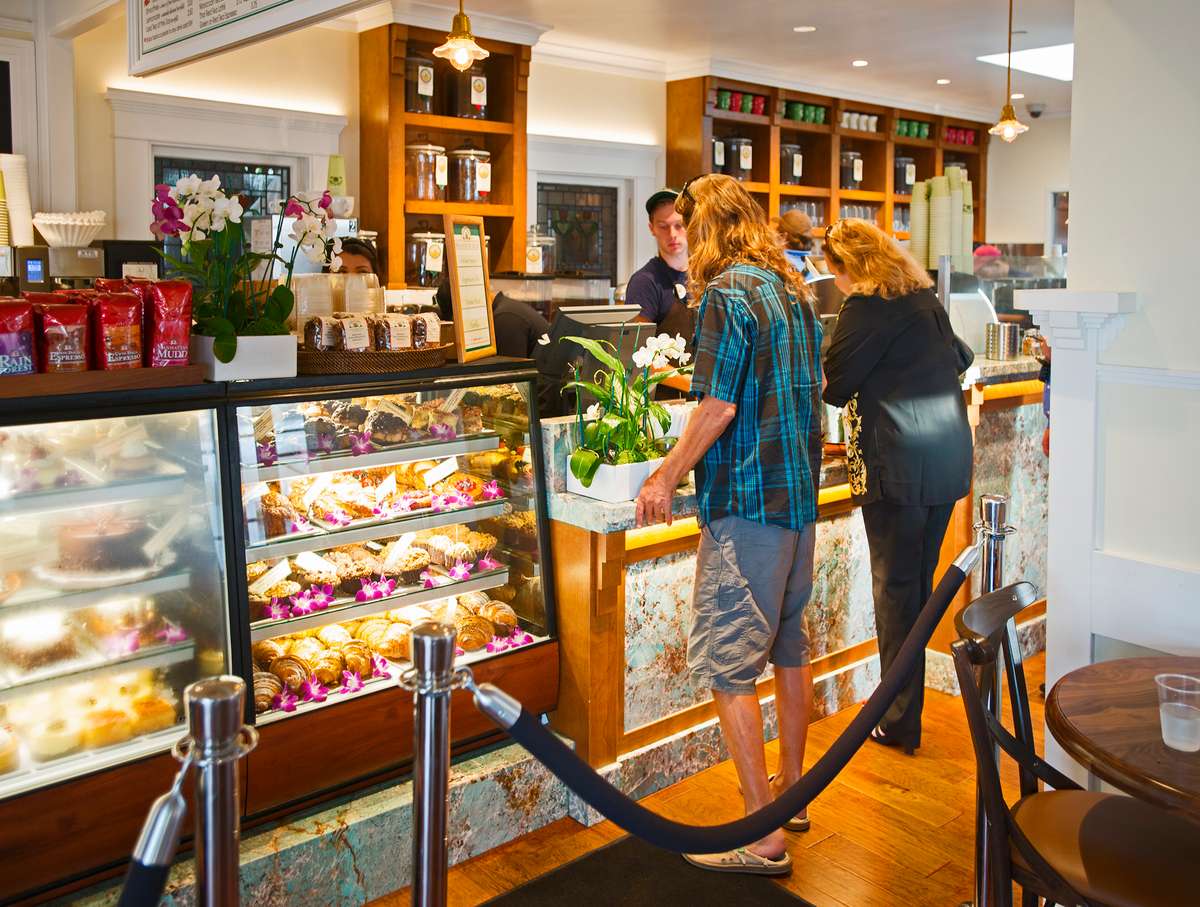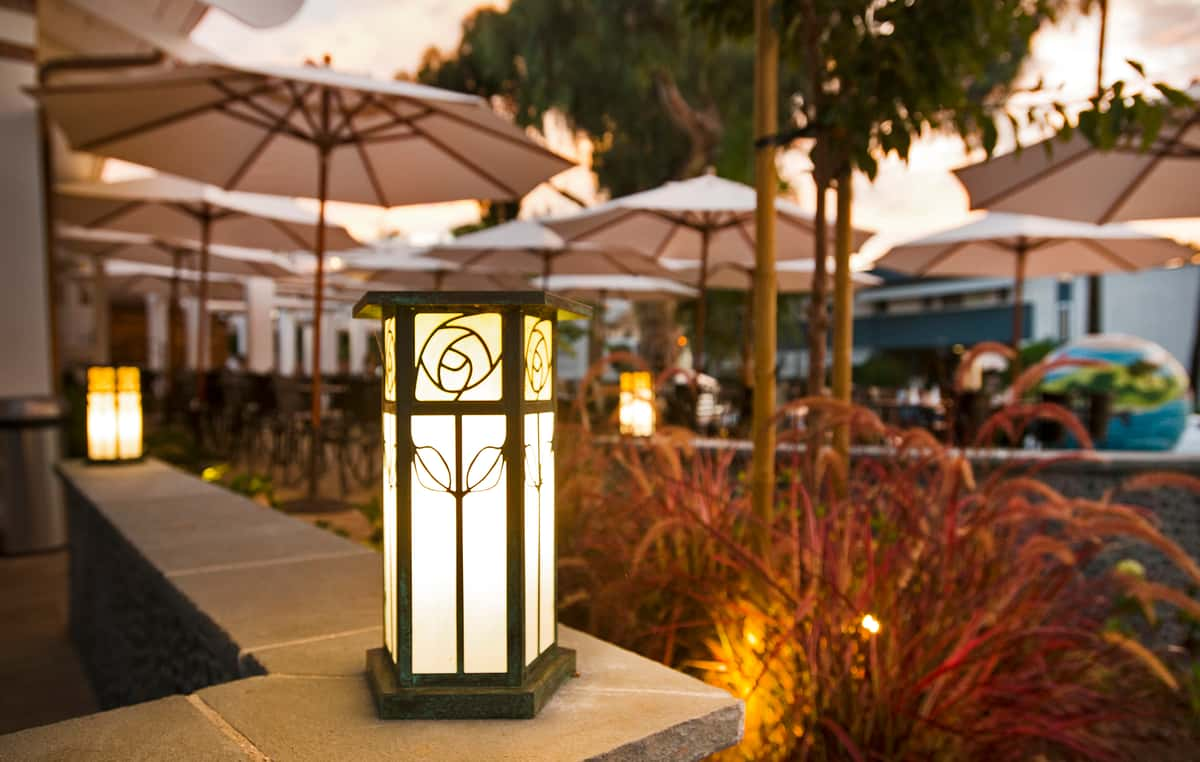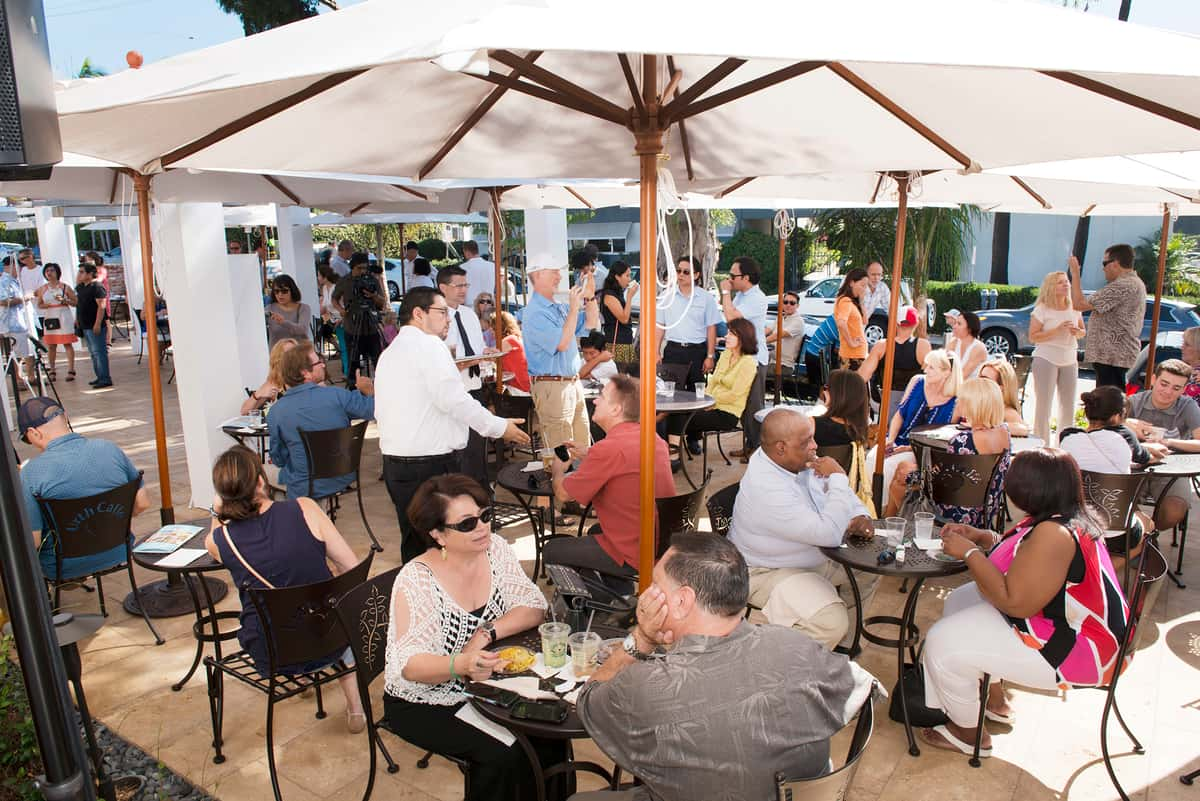 Urth Caffé Laguna Beach
308 N. Pacific Coast Highway
Laguna Beach, CA 92651
(949) 376-8888