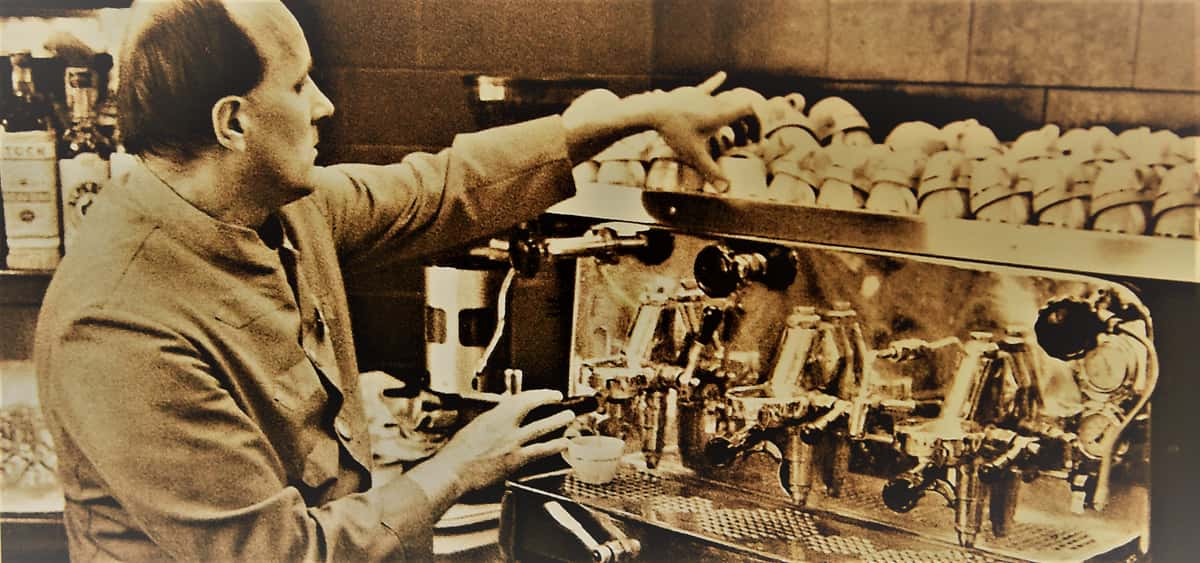 Man makes coffee with an espresso machine
The Art of Espresso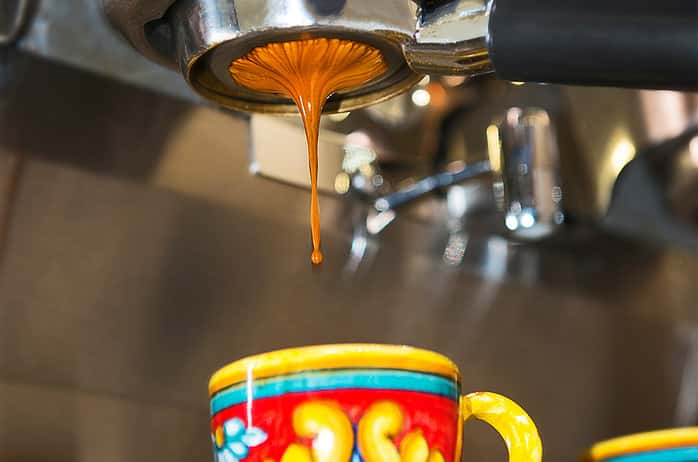 Espresso is pure coffee nectar.
Espresso is not only a passion at Urth Caffé, it is an obsession!
That is what Urth Caffé's founders learned in the early 1990s when they visited coffee bars throughout Italy.
"In a sense, espresso is an entire approach to coffee cuisine, involving not only roasting style and brewing method, but grind and grinder, a technique of heating and frothing milk, a traditional menu of drinks. In the largest sense of all, espresso is an atmosphere or mystique: The espresso machine is the spiritual heart and aesthetic centerpiece of the great coffee places, the cafés and coffeehouses of the world." ~ From "Espresso: The Ultimate Coffee" by Kenneth Davids.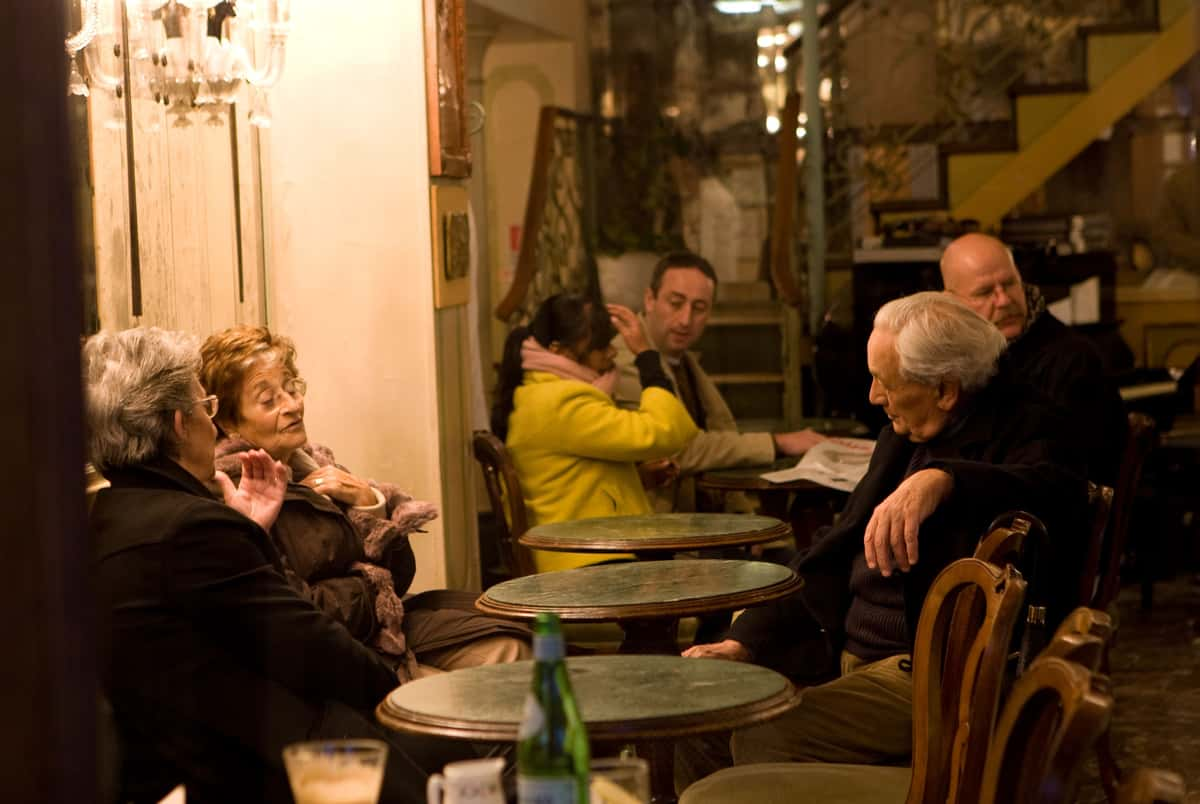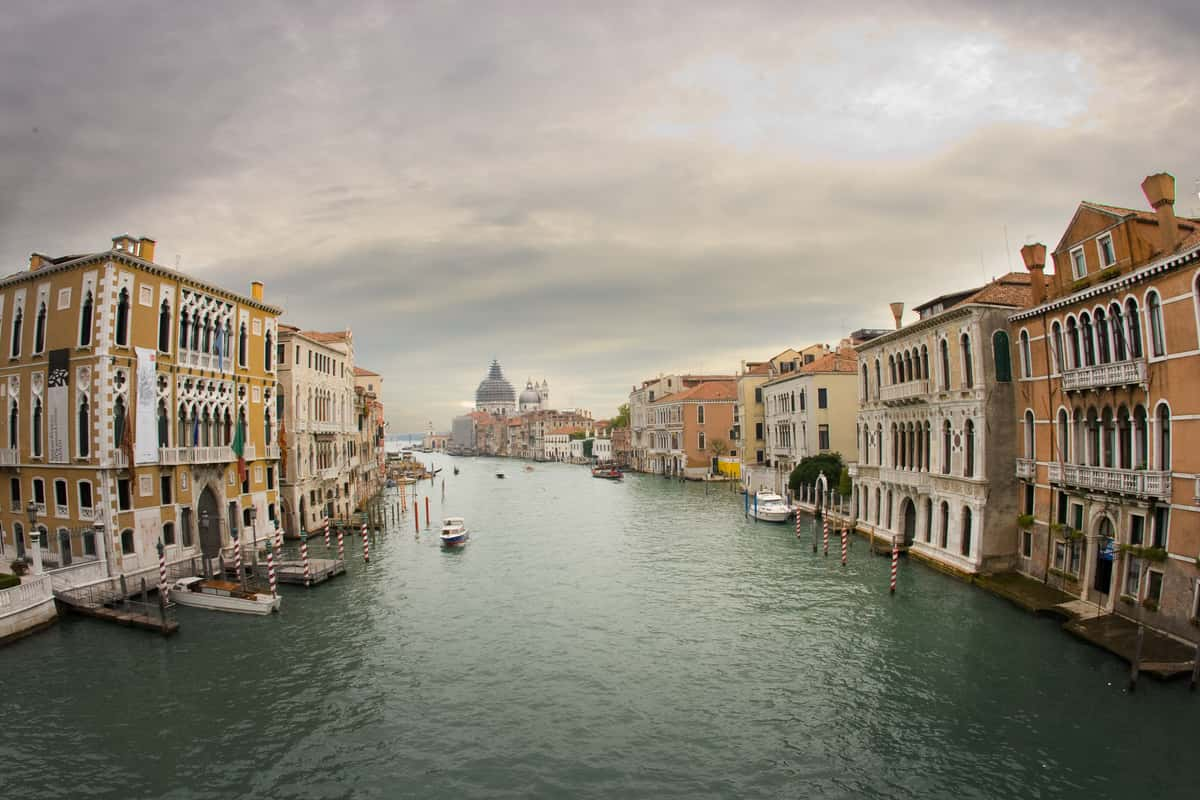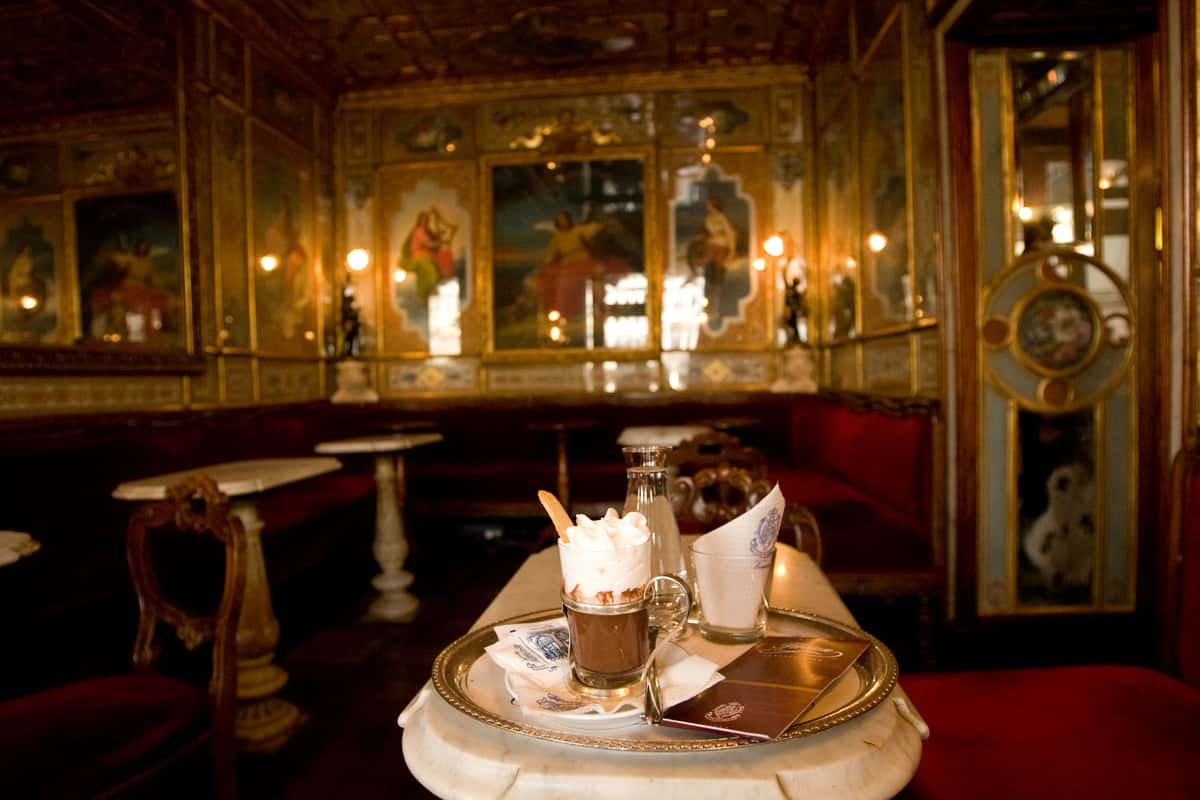 The first espresso machine was invented by Angelo Moriondo of Turin, Italy in 1884. Later in 1901 Milano, Italy, Luigi Bezzerra and Desiderio Pavoni perfected the original espresso machine design as we know it today.
"Fundamentally, espresso machines make coffee as any other brewer does – by steeping ground coffee in hot water. The difference is the pressure applied to the hot water. In normal drip-brewing, the water seeps by gravity through ground coffee, loosely spooned into a filter. In the espresso process, the water is forced under pressure through a very finely ground coffee packed tightly over the filter." ~ From "Espresso: The Ultimate Coffee" by Kenneth Davids.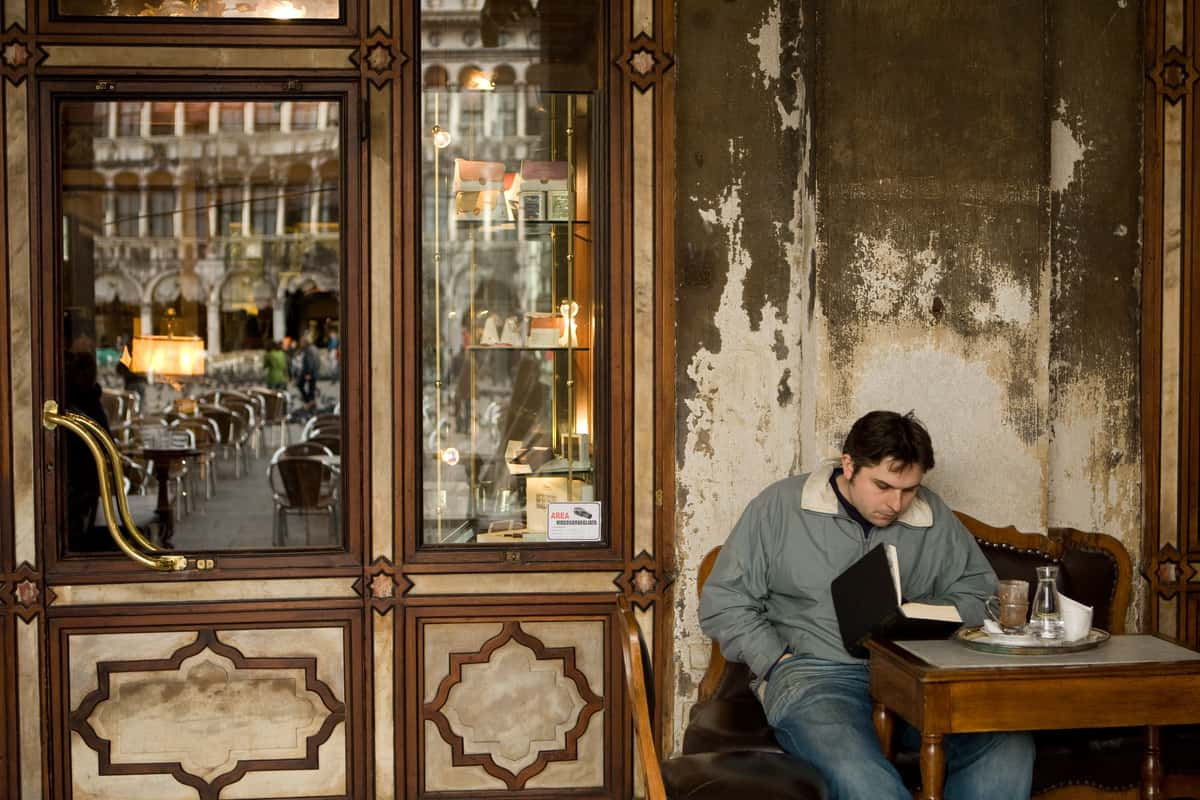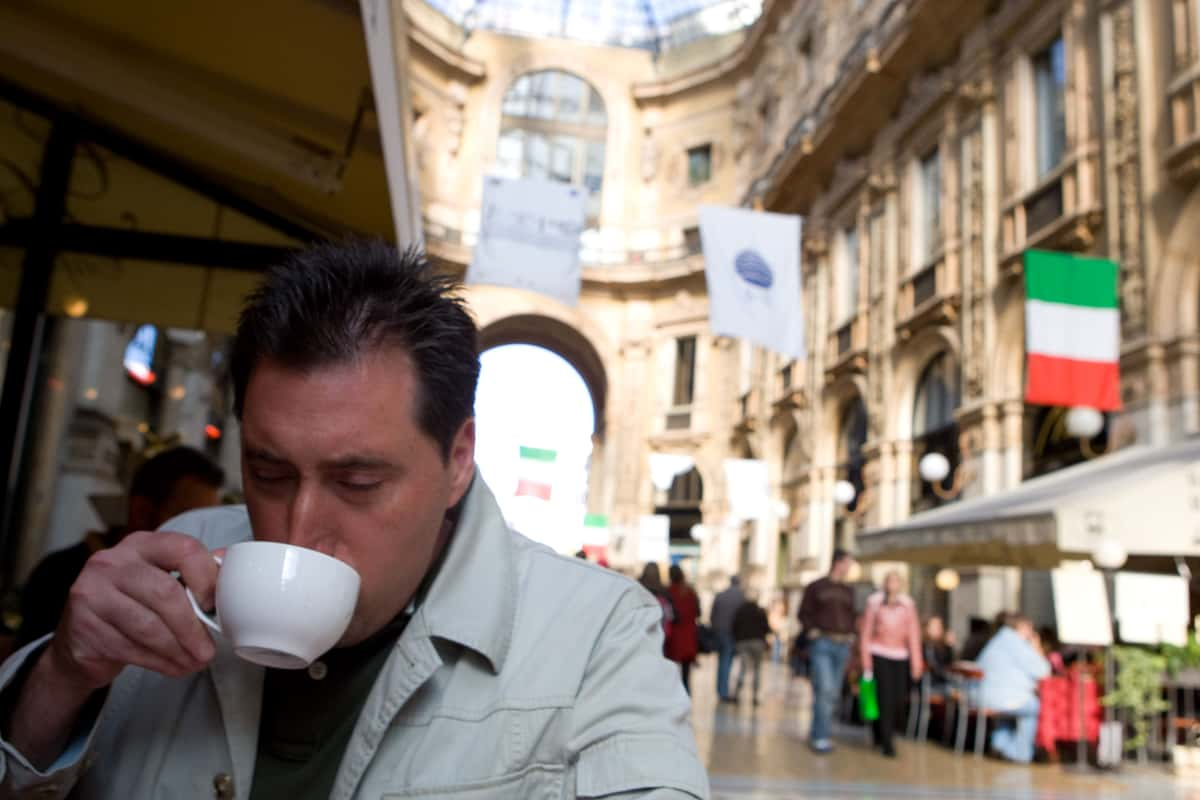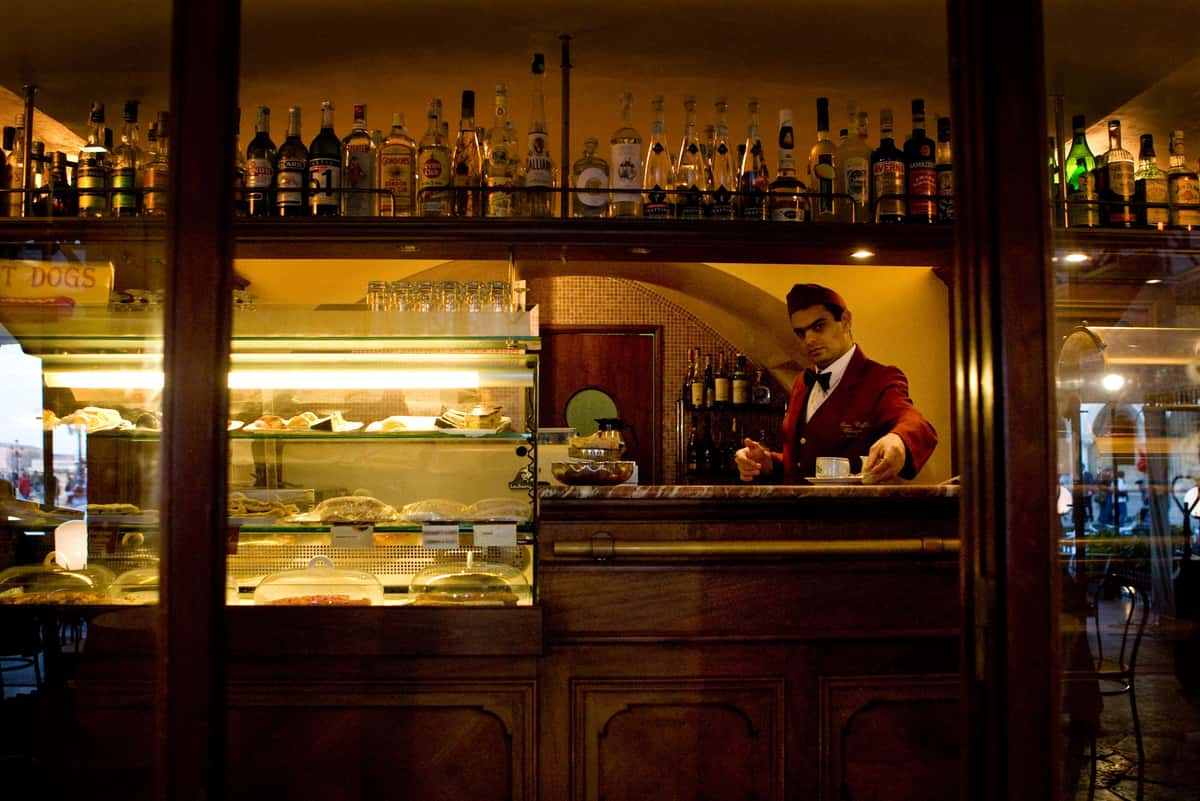 "If hot water and ground coffee stay in contact too long, the more unpleasant chemicals in the coffee are extracted and the more delicate, pleasant aroma and flavor components evaporate. Hence the superiority of the espresso system – the pressurized water makes almost instant contact with every grain of ground coffee and rapidly begins dribbling out into the cup." ~ From "Espresso: The Ultimate Coffee" by Kenneth Davids.
At Urth Caffé, we only roast the highest grown heirloom and organic coffee beans that are carefully sourced in-house to meet our strict standards for our exquisite espresso. Heirloom coffee beans produce the most elegant, luxuriously creamy, and smooth espresso with the lowest amount of acid-content – making Urth espresso the heathiest and easier to digest.
Urth Caffé is one of the few coffee roasters offering a light roast espresso blend – Urth Dolce™ Espresso, and a darker roast espresso blend – Urth Italia™ Espresso.
Guests can choose from either espresso when they order lattés – hot or over ice and blended ice.
Espresso is always ground to order for each guest and carefully crafted by our master baristas. Each shot is timed for the perfect extraction. Each espresso lover may choose the style that suites their tastes best from Urth Dolce™ with delicate and butterscotch-like sweetness or Urth Italia™ with rich, creamy and chocolatey flavors.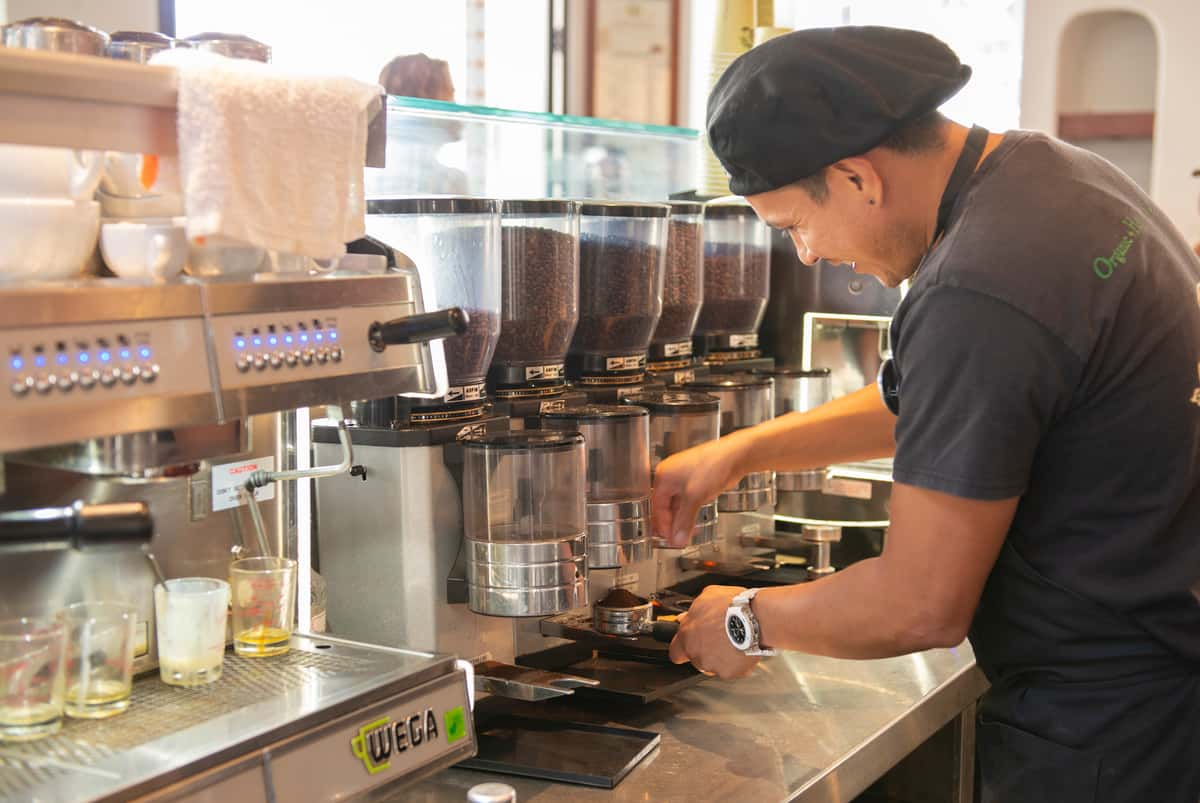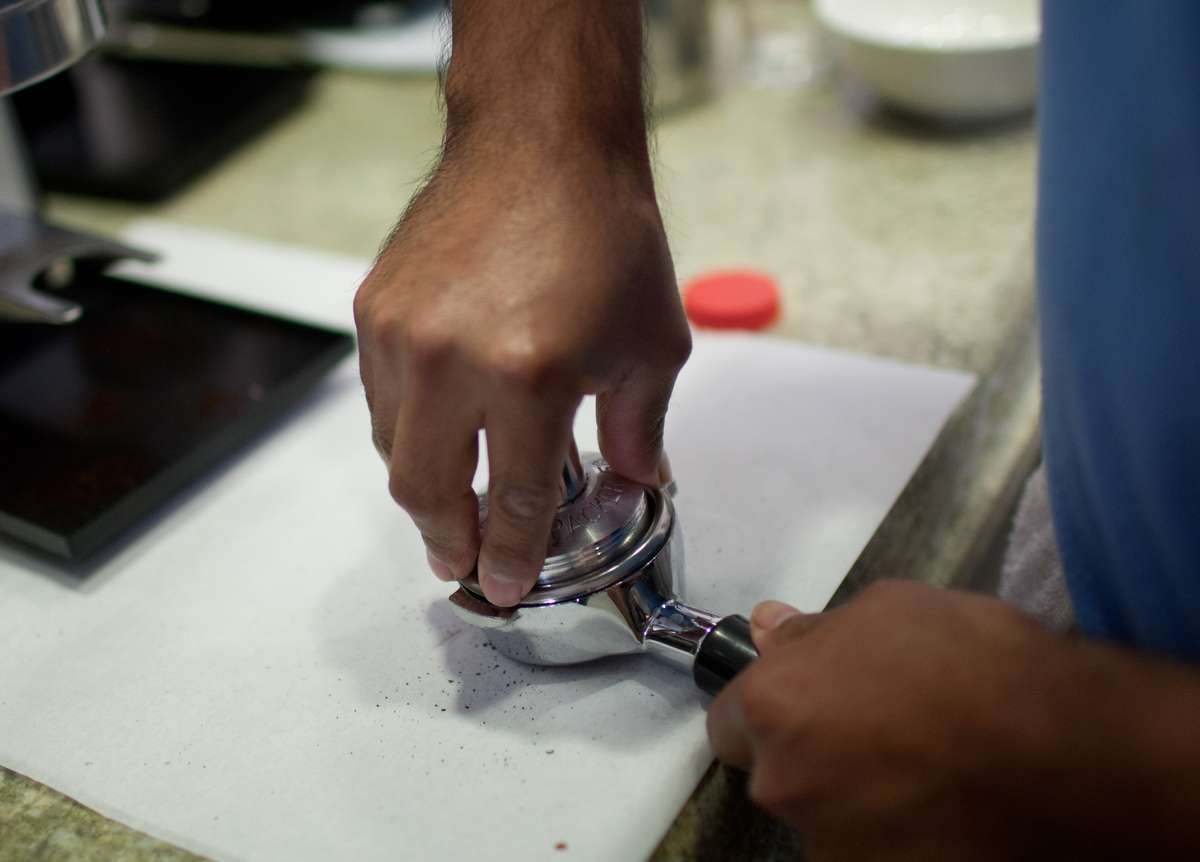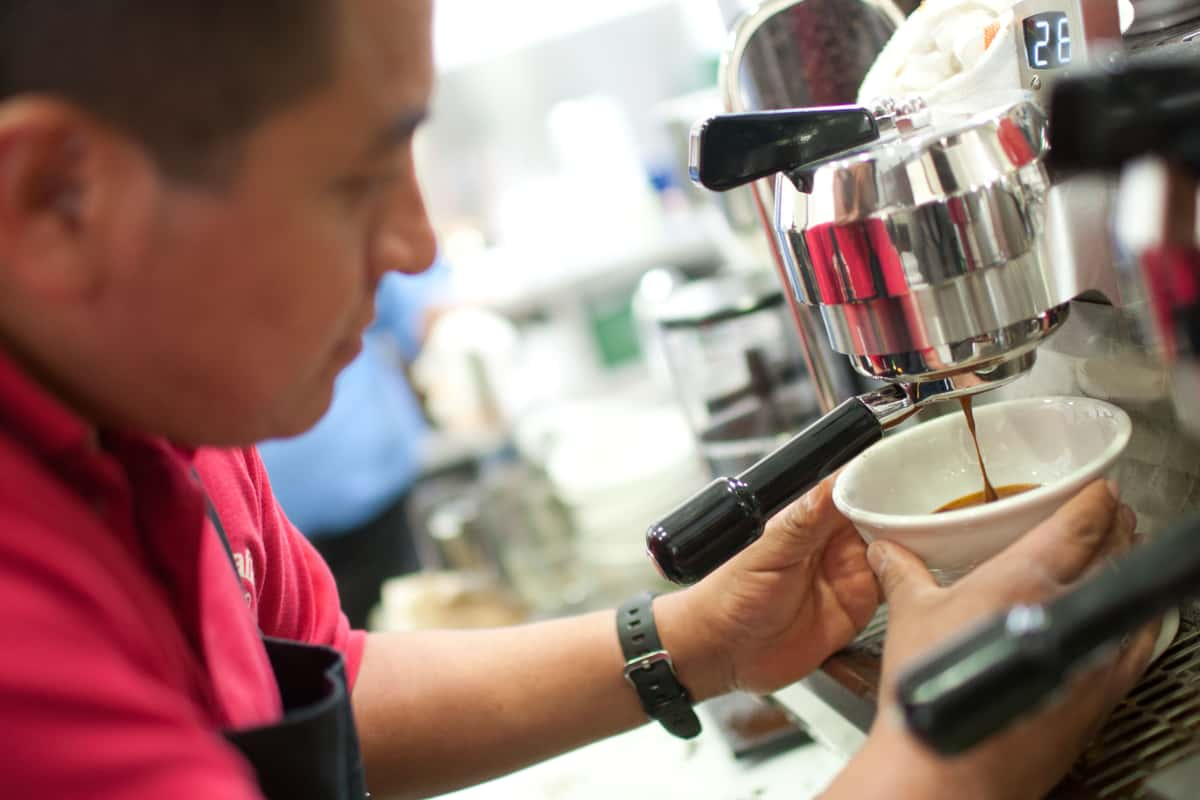 The espresso process: Left – The barista carefully grinds coffee. Center – Barista packs the ground coffee into the filter.
Right – Water is forced under pressure through very finely ground coffee packed tightly over the filter.
Urth Italia™ Espresso
Urth Italia™ Espresso is Urth Caffé's original heirloom and organic signature espresso blend. During the early 1990s, Urth's founders journeyed from Northern Italy to the South tasting literally hundreds of espressos from the most famous coffee bars of Italy in search of inspiration for the Urth Italia™ Espresso blend.
Just like culinary tastes, espresso preferences also differ from region to region. In Northern Italy one will find the lightest roasted espresso blends and in the Southern regions the preference is for darker roasted espresso. In Rome, medium roasts are preferred.
Urth Italia™ Espresso is roasted to a chestnut brown, medium dark roast. This roast fully develops the sugars into a caramel richness producing a deep red crema. Urth Italia is our darker signature Roman style espresso blend with thick, red crema and flavors of hazelnut, cocoa, spice, and a long finish, that lingering flavor you taste on your tongue when you finish an espresso.
The Spanish Latté – our addictive, original latté we invented in 1994 – is made with Urth Italia™ Espresso. Urth Italia™ Espresso was chosen for Spanish Latté because it was full-bodied and rich enough to match the sweetness of the Spanish Latté and allow it to accentuate the naturally occurring flavors of hazelnut, cocoa and spice in the Urth Italia™ Espresso blend.
Urth Dolce™ Espresso
Urth Dolce™ Espresso also was inspired from a coffee research expedition to Milano, Italy. The founders went to the most famous espresso bars and were astonished to discover how light the espresso blends were roasted yet had such a sweet well-developed flavor. This discovery kicked off 14-years of research on how to achieve a well-developed light roast espresso.
Typically, coffee roasted so lightly will taste too acidic, watery, and under-roasted. A breakthrough was finally made with a careful extra-long roast profile along with a health quantity of low acid South American beans that created an amazingly smooth and sweet light roast espresso. Now this has become a very popular part of the espresso culture at Urth Caffé!
Urth Dolce™ Espresso is remarkable for its wonderful sweetness (which can taste almost as sweet as sugar) and its sparkling butterscotch flavor, and it is much milder than our classic Urth Italia Espresso™ blend.
Urth Italia™ Espresso Decaffeinated is also available. This rich, smooth, full-bodied espresso is 99.9% decaffeinated with the chemical‐free Natural Water Process to create the most caffeine‐free espresso of any in the world.
Bags of Urth Italia™ Espresso and Urth Dolce™ Espresso are available at your local Urth Caffé, on the Urth App and "Order Online & Delivery" on www.urthcaffe.com.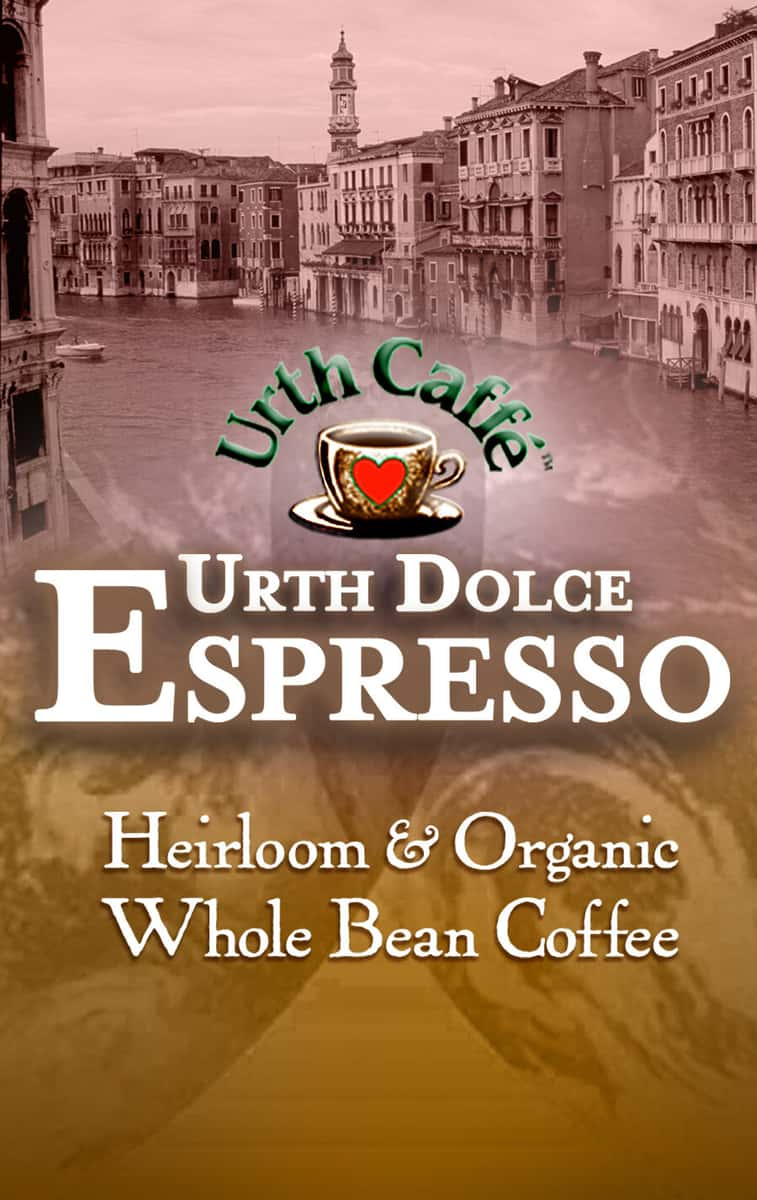 Urth Dolce™ Espresso
Product Details
Region: Eastern Africa, Central and South America
Altitude: 5,000 to 6,300 feet
Variety: Heirloom Cultivar, Typica, and Heirloom Bourbon
Roast Scale: 2 out of 10 darkness
Order through the Urth Store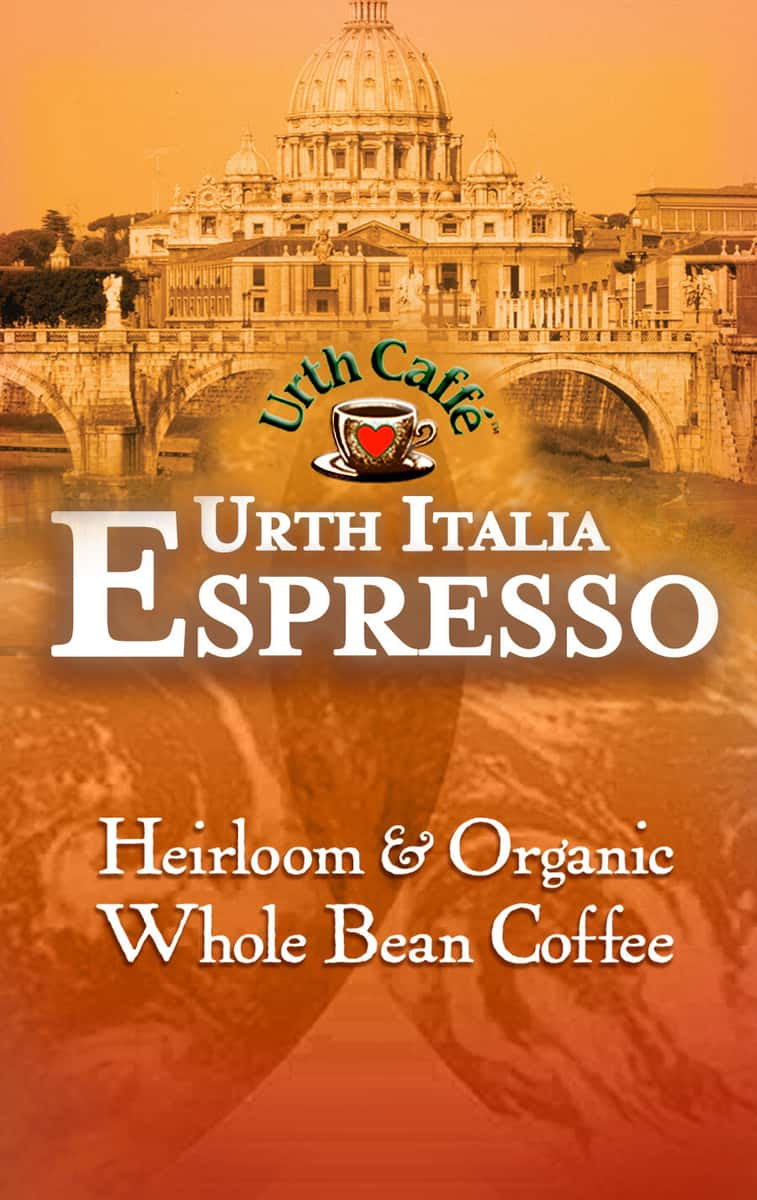 Urth Italia™ Espresso
Product Details
Region: Eastern Africa, Indonesian, Central and South American
Altitude: 4,500 feet to 6,500 feet
Variety: Heirloom Cultivar, Typica, Bourbon, and Caturra
Roast Scale: 5 out of 10 in darkness
Order through the Urth Store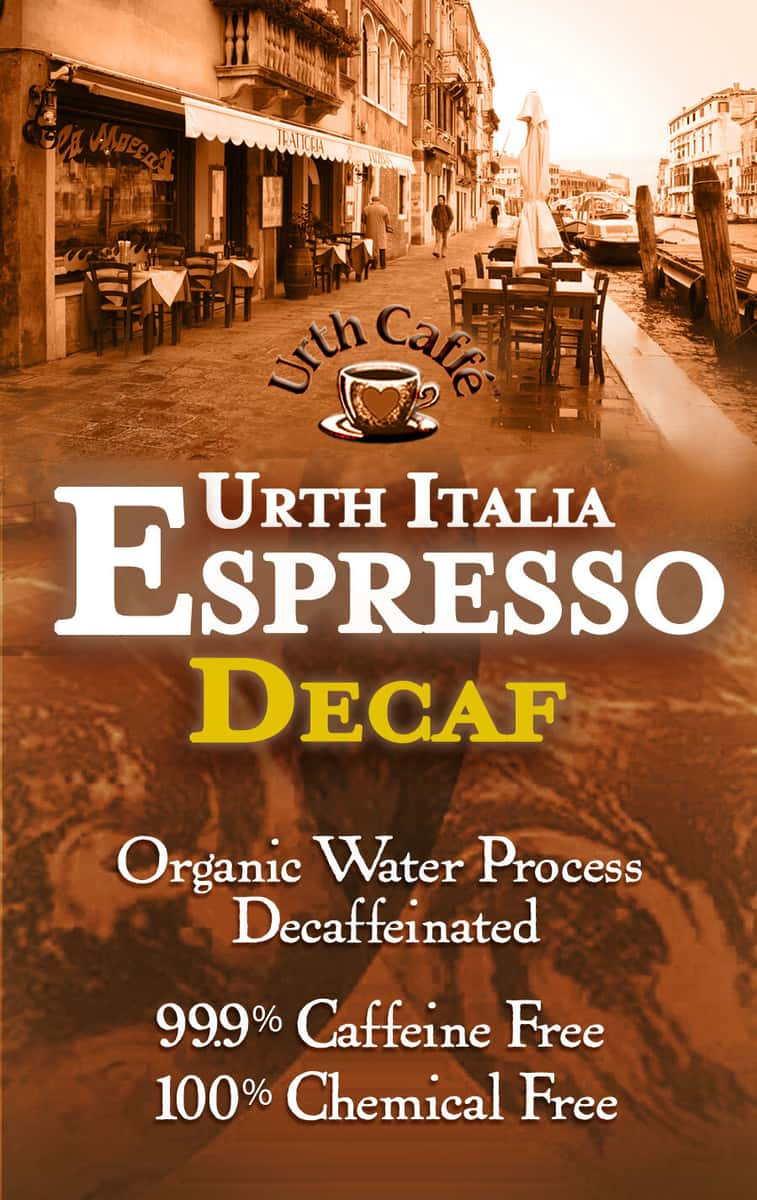 Urth Italia™ Espresso Decaffeinated

Product Details
99.9% Caffeine Free
Region: Eastern Africa, Indonesian
Altitude: 4,500 ft to 6,500 ft
Variety: Typica Roast Scale: 7 out of 10 in darkness
Order through the
Urth Store