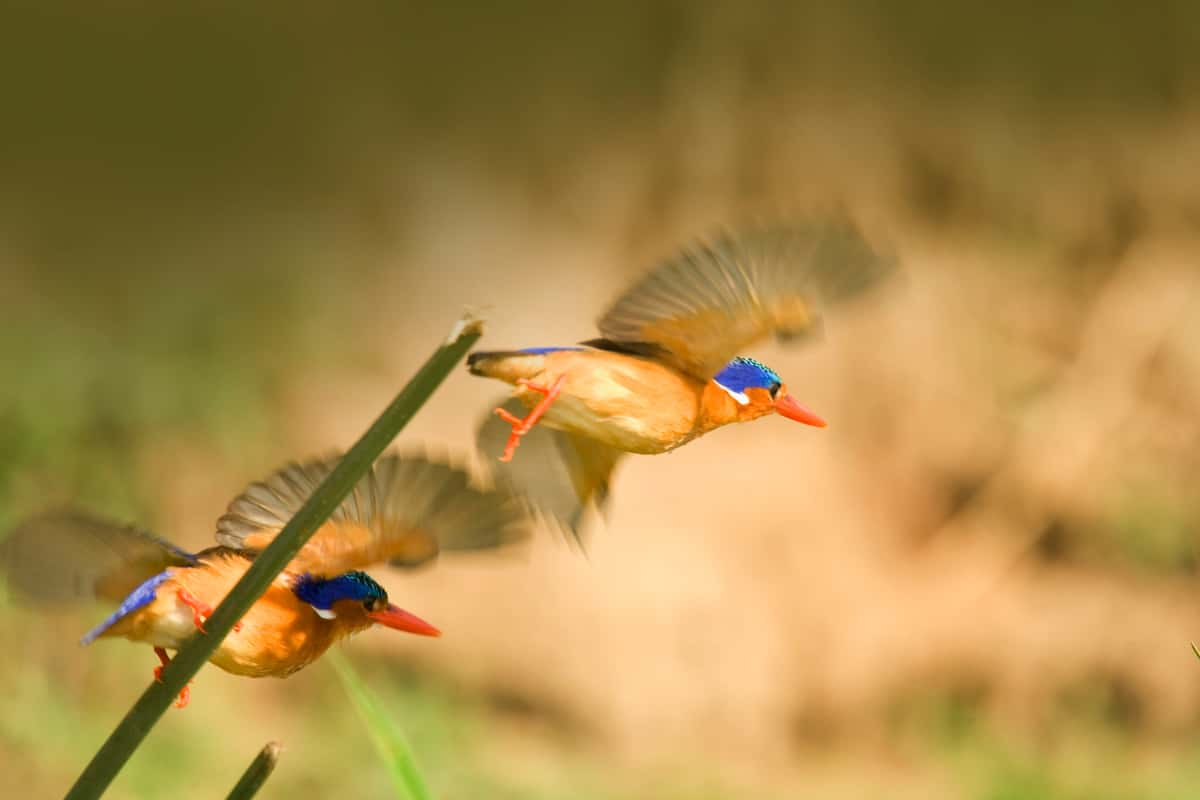 Close-up of brightly colored birds midflight in a jungle.
Sustainability at Urth Caffé
Urth Caffé works directly with heirloom, organic coffee farmers around the world to utilize a holistic approach with sustainable and biodynamic practices including shade grown, renewable soil fertilization, and natural pest control to conserve the forest and the natural habitat for primates, birds, and indigenous rainforests. Urth Caffé standards promote long term sustainability, renewability, and health benefits for all.
Shade-grown and bird-friendly coffee is an essential part of our standards – Urth source farms are situated deep within the dense shade of the rainforest. Only old, non-sun-resistant heirloom variety coffee trees are used; they are known to grow up to twenty feet tall under the canopy of larger trees. Shade-grown coffee takes longer to ripen, creating sweeter and more aromatic coffee and leaves the fragile habitat of songbirds, primates, and other jungle creatures intact.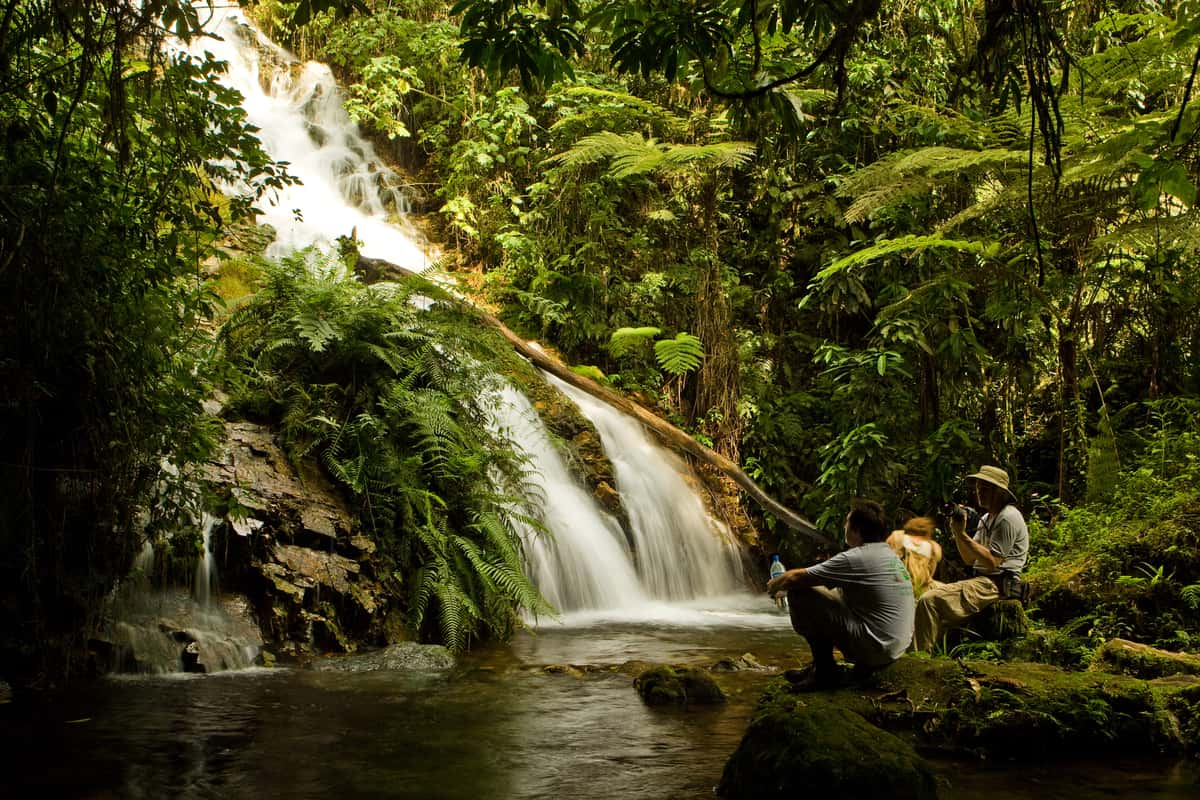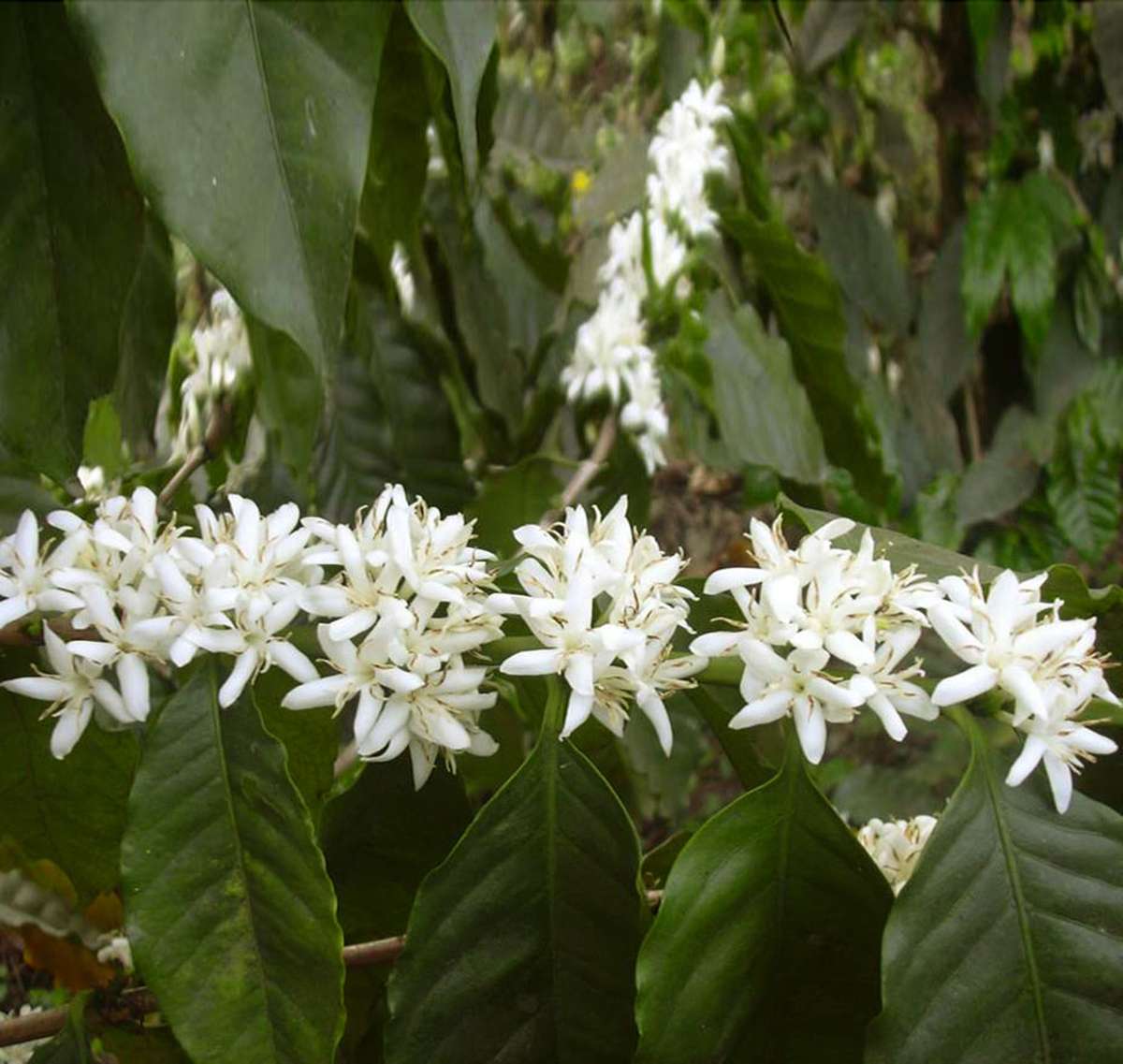 Urth's coffee trees grow up to twenty feet tall under the canopy of larger trees. Their beans take longer to ripen, creating sweeter and more aromatic coffee.
Urth Caffé's sustainable and biodynamic practices utilizing natural methods ensures superior coffee quality and preserves soil longevity. Composting is a key element to sustainable agriculture. The fruit, skins and all organic debris is recycled after processing to make rich, natural fertilizer for future crops. Cross-cropping and intercropping of other kinds of fruits, vegetables and nitrogen replenishing plants within the coffee plantation plays a major role in protecting soil vitality and providing economic diversity for the growers. Many innovative techniques are used for effective, natural pest control such as making coffee alcohol from the coffee cherry fruit and hanging the concoction in glass bottles on each tree. The strong fragrance attracts insects into the bottles from which they never come out!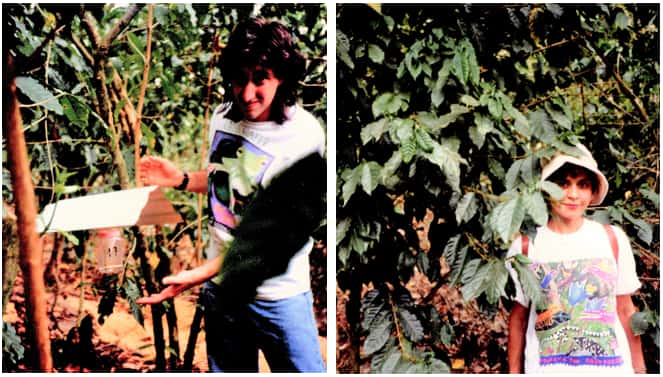 In these 1990 photos, at left, Urth Caffé Co-Founder Shallom Berkman shows a natural method of pest control in Chiapas, Mexico – bottles containing coffee alcohol from the coffee cherry fruit hang on each coffee tree. The strong fragrance attracts insects into the bottles from which they never come out! At right is Co-Founder Jilla Berkman during that visit.
All Urth Caffé coffees must be certified as "organically grown" by reputable third-party inspectors. Certified organic for Urth Caffé means coffee is grown 100% chemical free. Inspectors test soil, leaves, and beans for chemical residue. They audit the shipping of the beans to prevent blending or spraying of beans; and inspect Urth's roasting facility in Hawthorne, California. All Urth coffees are fully inspected, documented, and certified annually.
In contrast, conventionally grown coffee is the heaviest chemically treated food commodity in the world. Types of common pesticides are DDT and malathion. The most common chemical used in coffee production is synthetic petroleum-based fertilizers that slowly destroy the soil's fertility and seep into local water supplies exposing coffee workers and their families; these harmful chemicals have caused birth defects and cancer. Short-term thinking has caused severe soil erosion in coffee-growing regions in some of the most beautiful locations in the world.
Deforestation is another major problem for conventional coffee production. Original, heirloom coffee trees literally do not grow in direct sunlight, but under the shade of dense rainforest canopies. Scientists, in the name of progress, developed GMO, sun-resistant coffee tree hybrids that have come to comprise 70% of the world's coffee production. Coffee farmers are clearing lush rainforests at alarming rates to make room for GMO, sun-resistant coffee trees. The Smithsonian Migratory Bird Center estimates that over 150 species of songbirds have been displaced or have gone extinct due to this deforestation.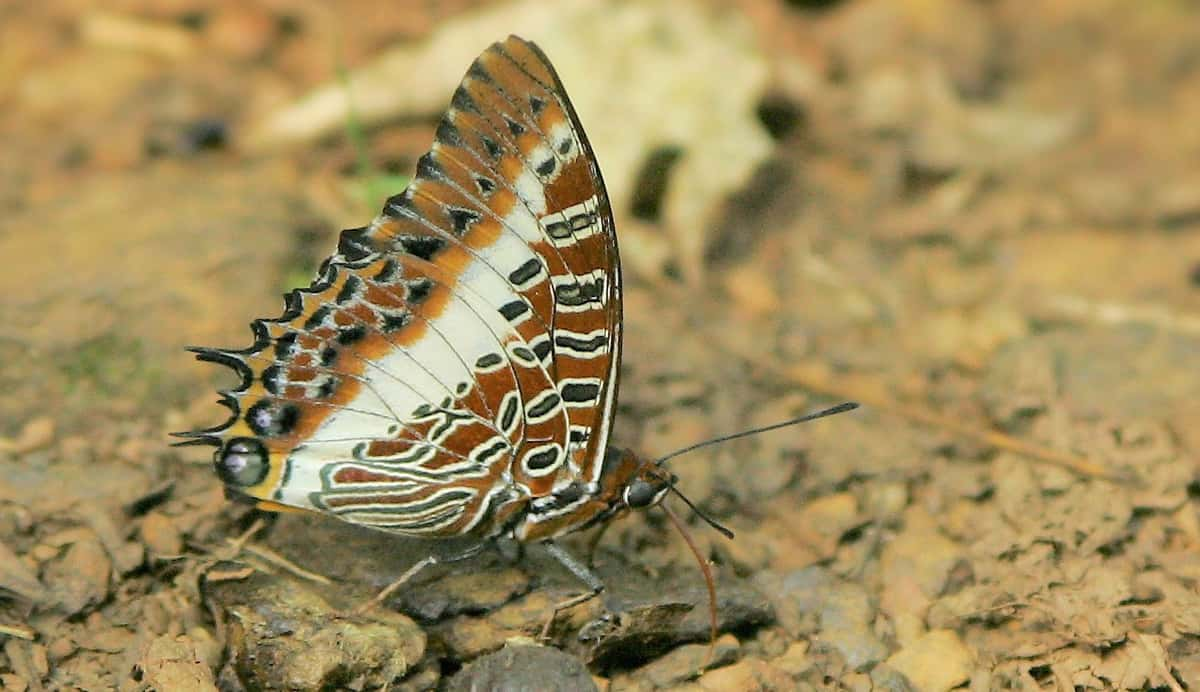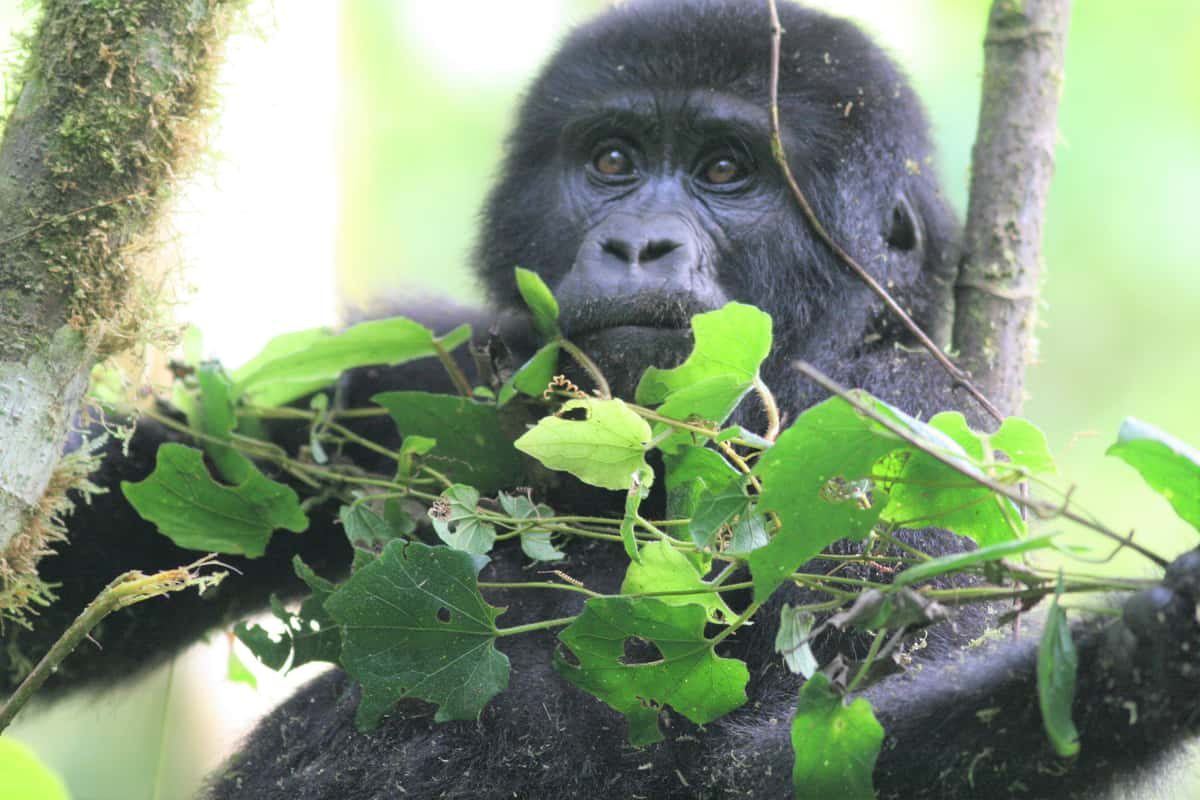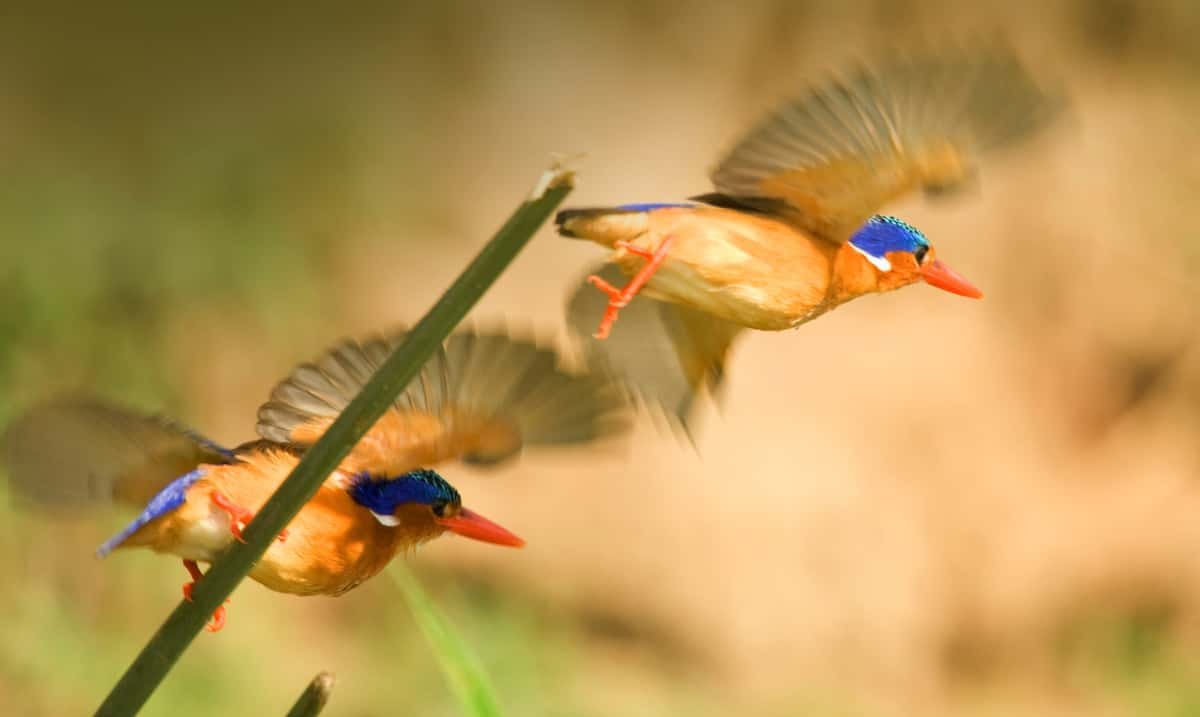 Urth Caffé heirloom, organic coffee farmers are on the front lines preserving some of the densest tropical jungles and protecting habitats for birds, endangered primates, and other species for future generations.
Urth Caffé heirloom, organic coffee farmers are on the front lines preserving some of the densest tropical jungles in the best coffee-producing countries. They are protecting the habitat for birds, endangered primates, and other species for future generations all while providing a better life for their families and producing the finest, and healthiest coffee in the world.
Urth Caffé invests in solar panel systems, rainwater collection systems, livestock, and other tools in the farming villages we visit. We want to know that the passion and hard work that goes into growing Urth coffees will result in better living conditions and fair wages.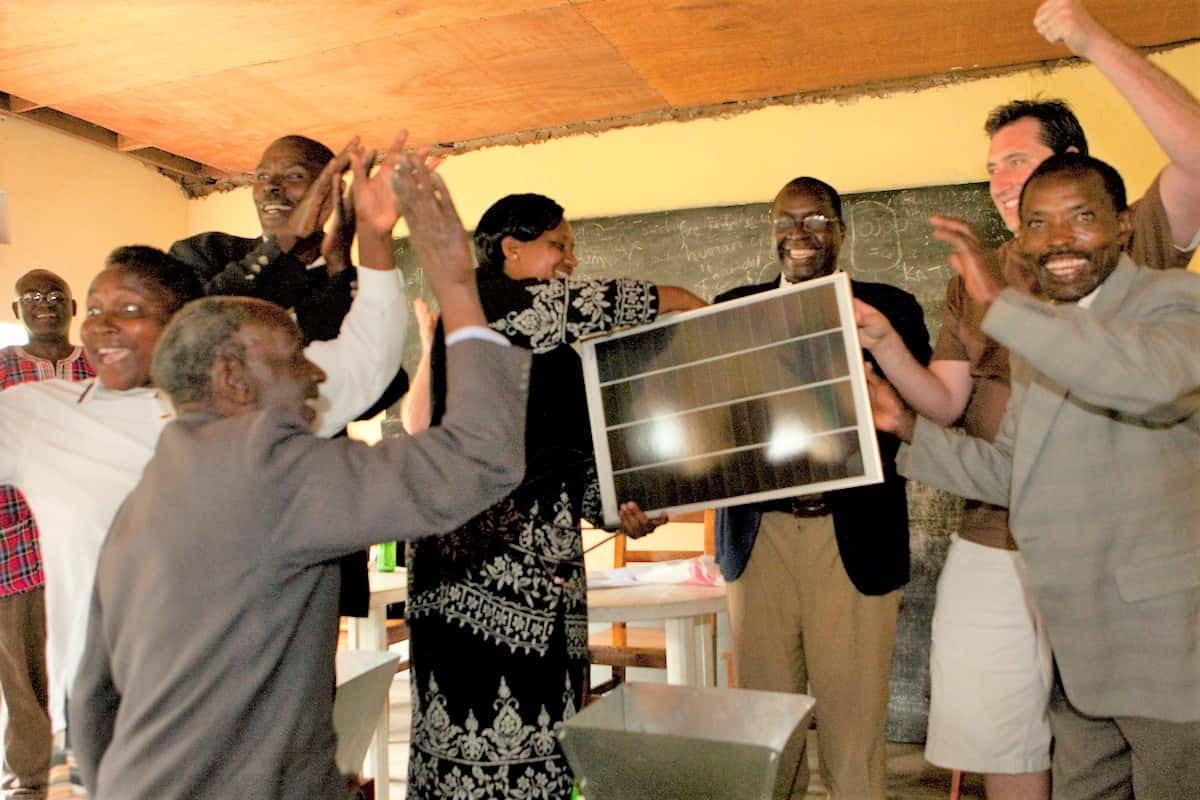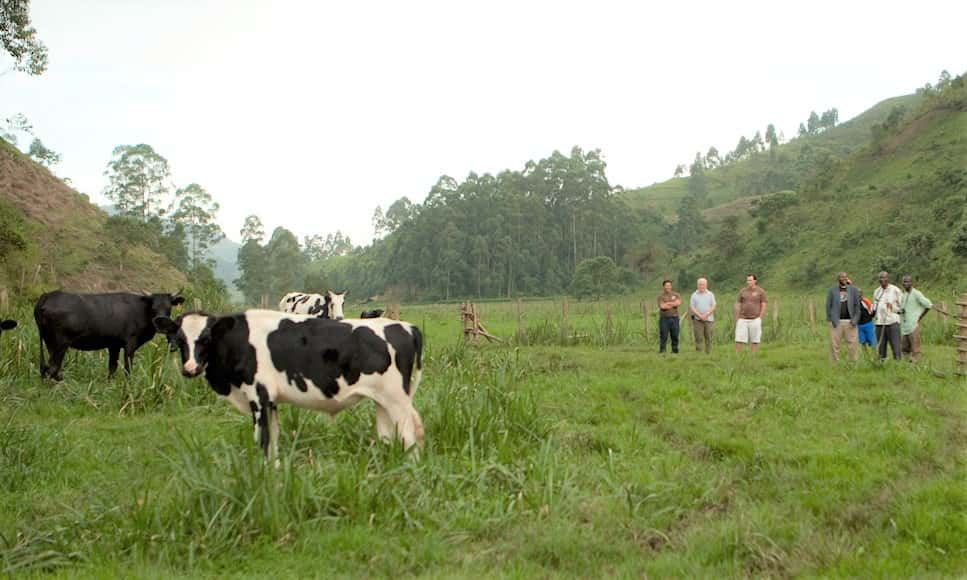 At left: Urth Caffé installs solar panels on the homes of their organic coffee farmers to improve the quality of their lives. At right: Urth Caffé purchases
livestock such as dairy cows, goats and pigs to provide Urth coffee farmers with nutritious milk for their families and the finest organic fertilizer around.
Just as with our high environmental standards with coffee, Urth Caffé fine teas have been carefully sourced from tea gardens using the finest organic, sustainable, and renewable practices. Many of our ancient tea sources have been cultivating tea in harmony with nature for hundreds of years. Urth Caffé visits the tea gardens, helping to harvest the spring tea and helping farmers obtain their organic certifications.
We choose exclusive family farms dedicated to sustainable practices that are located at a high altitude, away from chemical usage on lower grown tea gardens. Urth tea farmers have great pride in the purity of their teas and are great stewards of the land. We support sustainable practices such as creating the most nutrient rich fertilizer from local river herring and tree trimmings. We support fair trade by purchasing livestock and paying premium wages that improve the lives of the farmers and their families.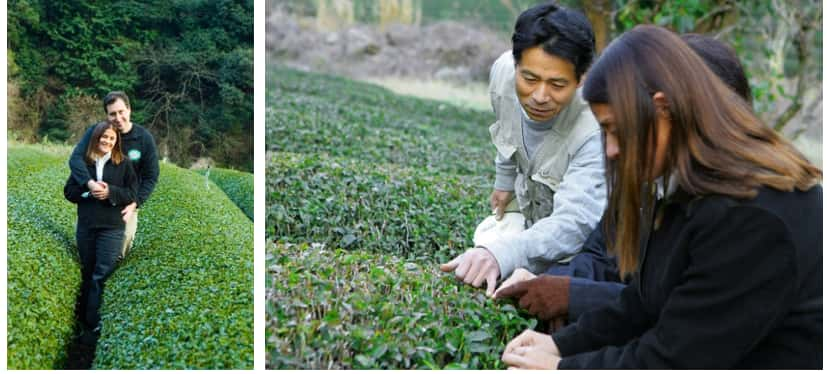 At left: Shallom and Jilla Berkman during a visit to organic Matcha tea farm in Japan. At right, Jilla
examines plants with tea plantation owner.
Urth's herbal infusions are all our own developed recipes from fresh, hand-picked, 100% certified organic herbs from the Pacific Northwest. Still today, less than 10% of the world's tea production is certified organically grown. We are proud to represent the finest and most sustainable, organic teas to our loyal patrons.
Sustainable practices for produce in Southern California are a passion at Urth Caffé. We believe that is of the utmost importance to support the growing of sustainable, organic produce locally. We have developed many direct relationships with local, organic family farms in Calabasas, Ojai, Ventura, San Bernardino, Riverside and San Diego. These farmers are on the forefront of preserving and sustaining our local environment.
Organic farming in Southern California is filled with great examples of sustainable lifestyles including families that live off the grid and keep the land free of chemicals. But most importantly, these dedicated farmers are preserving land that is considered prime real estate and highly sought after by Southern Californian developers. Keeping Southern California's beautiful land in a natural state instead of losing it to another tract home development is a big deal and should be considered quite environmentally heroic. We enjoy visiting these family farms often and are very proud to support the incredible quality, purity, sustainability, and efforts to preserve open Southern California's land.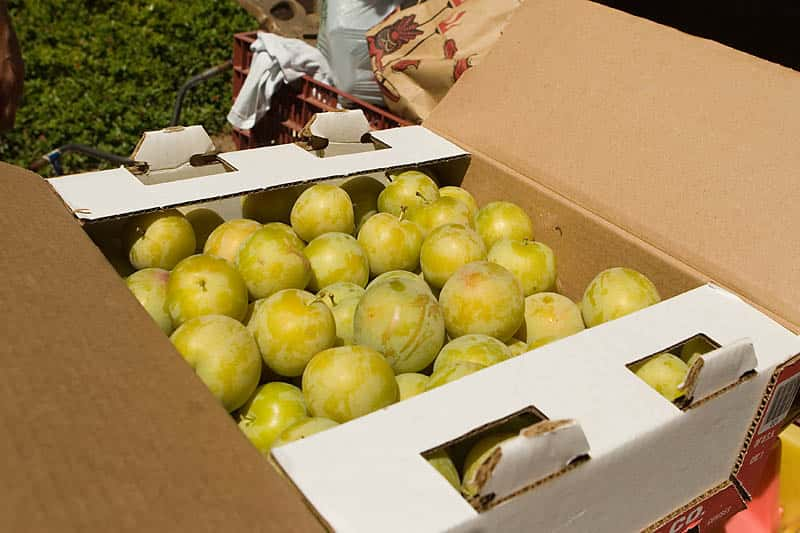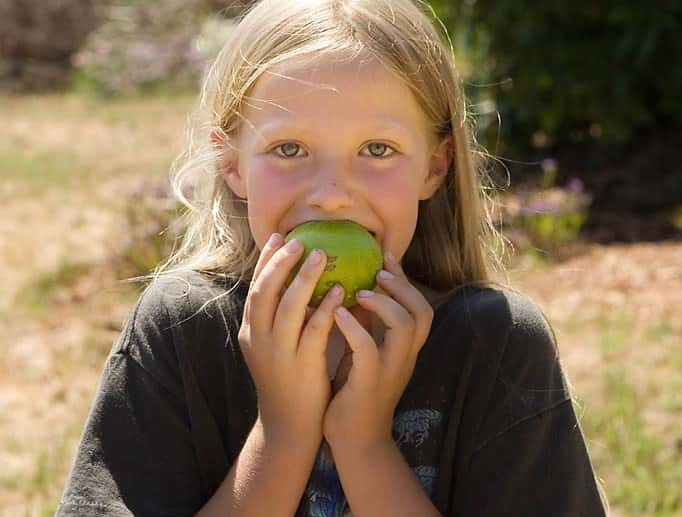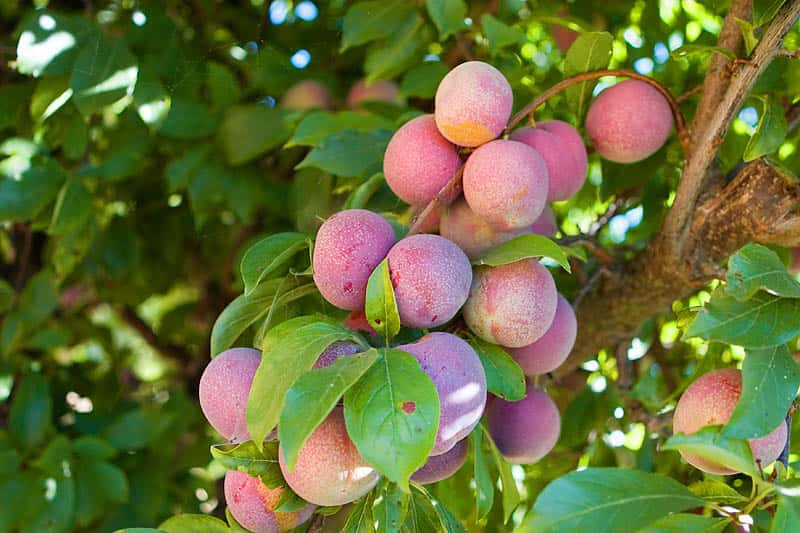 Photos above were taken on an organic family farm producing stone fruit like peaches and nectarines in Ojai, California.
Finally, Urth Caffé is a pioneer with sustainable take-out packaging in our stores. Urth Caffé is one of the first cafés in California to offer only corn-based, non-plastic take-out cups and straws. Our cold cups and straws are 100% compostable, biodegradable, and renewable because they are made completely from corn. An Urth to-go cup need only to be put in hot water to reduce it for a home compost bin. For food take-out containers we use a combination of marine bio-gradable containers and packaging made from 100% recycled plastic. So long as plastic bottles are being manufactured, we must help provide a market for this resource – otherwise it is solely destined for the landfill.
All in all, Urth Caffé's standards for sustainability and renewability are all part of a Southern Californian lifestyle that is healthier for the farmers, the land and our loyal patrons.
¤
Earth Day is Thursday, April 22
¤