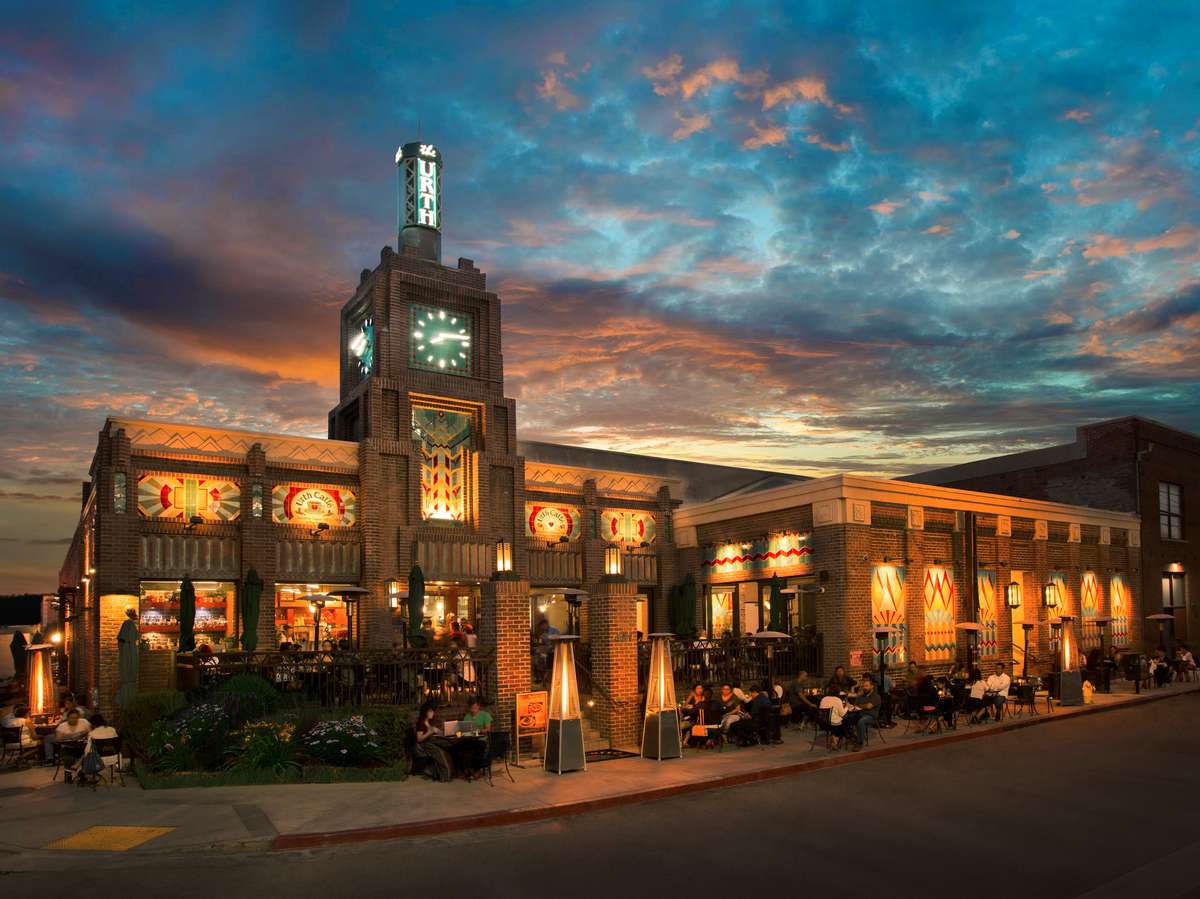 Spotlight on Urth Caffé Downtown Los Angeles
Spotlight on Urth Caffé Downtown Los Angeles
Established November 19, 2008, Urth Caffé Downtown Los Angeles is a hidden gem and pioneering part of the Arts District.
Let's begin with the history on how Urth Caffé Downtown Arts District flagship came to be. In 2005, our founders Jilla and Shallom Berkman had outgrown their central kitchen, bakery and coffee roasting facility located near the Staples Center in Downtown Los Angeles. The couple began their search for industrial warehouse space to expand Urth Caffé's production. The couple initially centered their search primarily in Vernon, California. But that was not to be – this is the story of how it all happened:
The Art Districts prior to 2008 was abandoned and disheveled. There were no sidewalks, no retail or restaurants on 5th Street and Hewitt Street.
KOR, a local developer, began buying and revitalizing old warehouses including the Barker Bros. building and turned these old properties into live/work condominiums and lofts with interlocking pathways, beautiful landscaping, water features, secret gardens and roof-top pools – beautifying the neighborhood while preserving the street art and history.
In 2005, KOR Development purchased the egg factory called "Holland Egg Products" on 5th and Hewitt Street – a 13,000-square-foot warehouse and facility for processing, packaging, and storing egg products built in the early 1920s. KOR offered the Holland Egg Product warehouse to Urth Caffé with hopes of creating a neighborhood amenity for the Barker Block condominiums and lofts. The property was offered to Urth at below market price as an incentive and on the condition that a beautiful new Urth Caffé location would be opened in the former egg factory warehouse for 5 years minimum.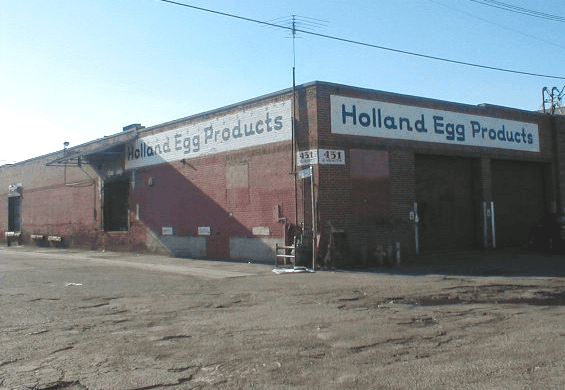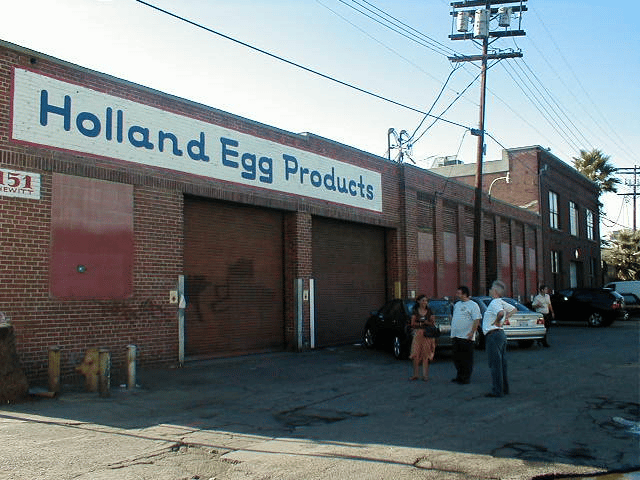 Holland Egg Products building at the corner of 5th and Hewitt Street – a 13,000-square-foot warehouse and facility for processing, packaging, and storing egg products built in the early 1920s.
Urth Caffé needed the industrial space to expand coffee roasting, baking and the central kitchen, but thought it was crazy to have a café in an area that appeared to be part of Skid Row. The initial strategy was to take the space, but to only to open a scaled-down training café with limited hours, menu, and staff with minimal capital investment.
When Co-Founder Jilla Berkman saw the property for the first time and the Arts District neighborhood with its old brick warehouses, alleyways, and street art, she became very excited about the property. Jilla developed a grand, pioneering vision for Urth Caffé. She explained "We must make this our flagship, and that we must invest whatever it takes to make it a truly special destination for Angelenos."
Jilla believed it was essential to give people a reason to travel to the Arts District. She set out to make Urth Caffé Downtown our very best location by envisioning a clock tower, raised outdoor patio, and unique Art Deco tile details. Urth Caffé became the first café on 5th and Hewitt Street in the Arts District to open early morning to late night every day proudly serving the community our own roasted heirloom, organic coffee, fine tea, exquisite bakery, and healthy cuisine prepared with a focus on sustainable, organic ingredients – many coming direct from local, family-farms.
For the design and architecture, Jilla and Urth Caffé's one and only architect Victor Corona committed to preserving and restoring all the historical elements of the original Holland Egg Product factory warehouse built in the 1920s and incorporated an Art Deco theme to breathe their creative vision into the old building. The original bow truss ceiling and skylights were restored, and the historic architecture was fully exposed for the public to enjoy. Only a small portion of the southeast corner of the building was removed to build the Urth Caffé clock tower and signature raised outdoor patio. All the old bricks and beams were saved, harvested and repurposed into the café's interior design.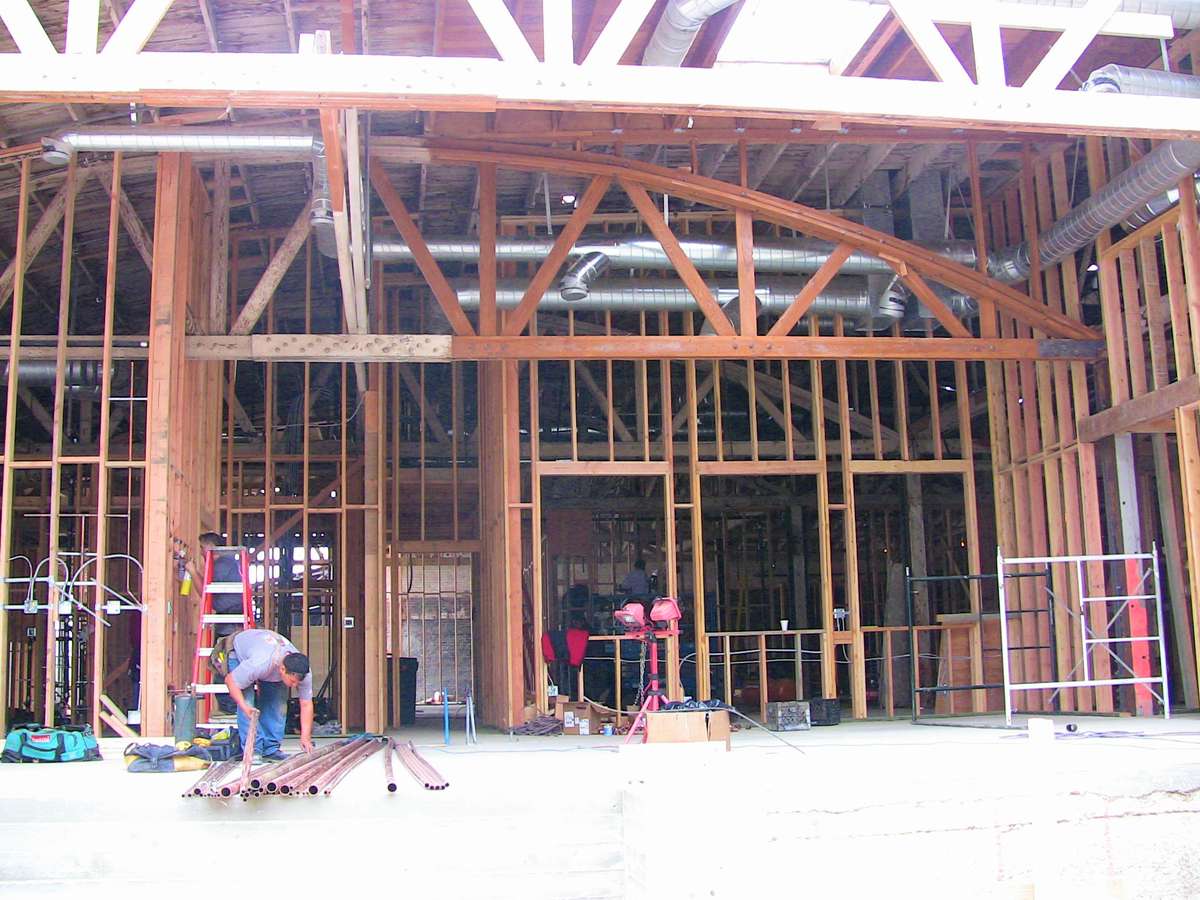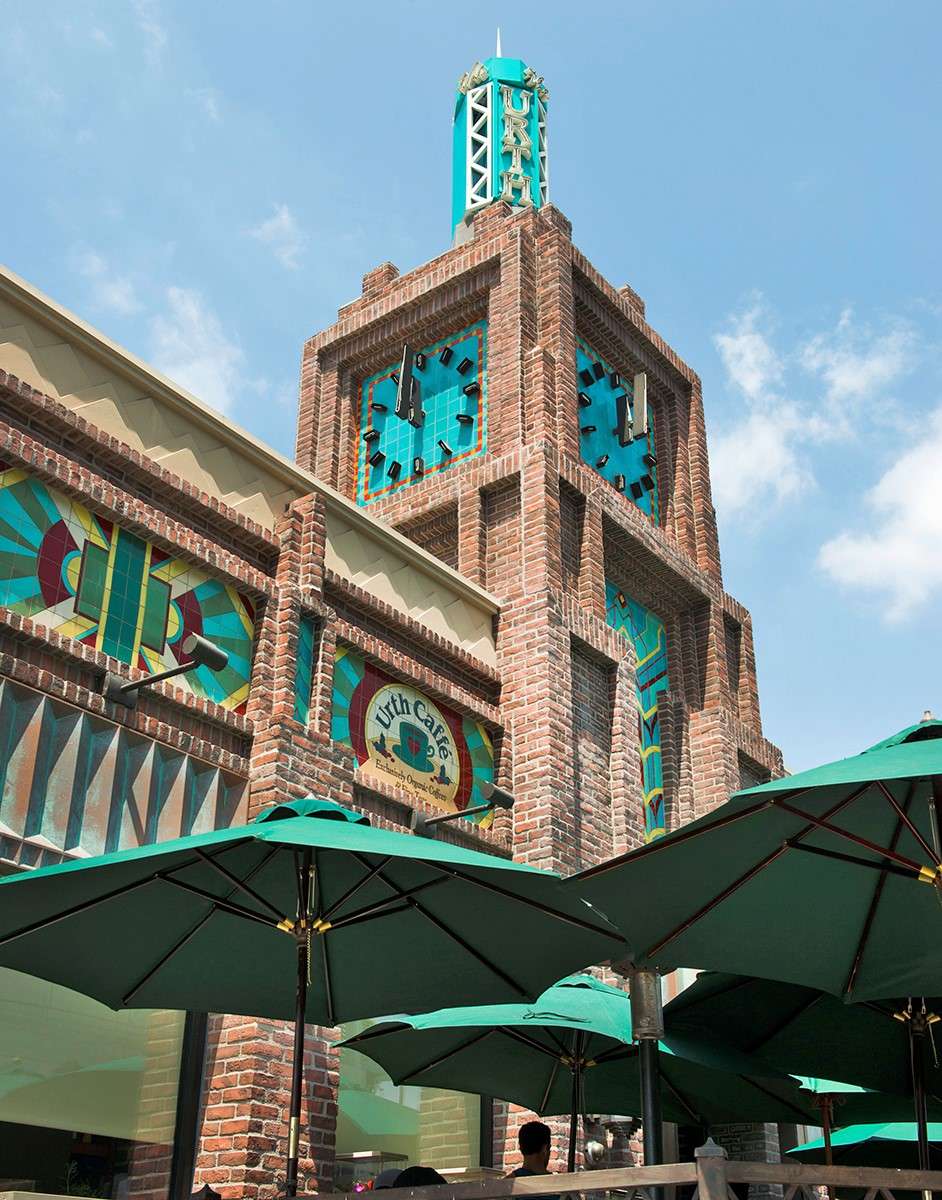 The warehouse's original bow truss ceiling and skylights were restored and a new Art Deco clock tower was added.


Jilla designed the Art Deco-themed tile murals that were hand-painted locally and adorn exterior and interior brick facades, the clock tower, and the grand interior fireplace. Large showcase windows were built to give café patrons a view into Urth Caffé's artisan bread, exquisite dessert, and pastry baking department, as well as the state-of-the-art culinary kitchen. The Urth Caffé heirloom, organic coffee roasting department and tea blending room were also an integral part of Urth Caffé Downtown property.
In fact, it was the tremendous amount of coffee roasting done in-house on our vintage 1957 German Probat UG22 coffee roasting machine that caused a massive roof fire in 2018. The entire building including the café, bakery, kitchen, and coffee roasting department had to be vacated and remodeled during a three-month period. Since the renovation, Urth Caffé's culinary center – kitchen, bakery, tea blending and coffee roasting – has been moved permanently to Urth Caffé South Bay in Hawthorne. The huge warehouse space behind the café at Urth Caffé Downtown has now become the Urth Caffé company headquarters and offices.
Urth Caffé Downtown continues to thrive with the Los Angeles Times naming this beautiful, historic branch one of the "most visited" café destinations in Los Angeles for visitors from all over the world. Every year for the past five years, Urth Caffé has been voted "Best Coffee" in Downtown LA.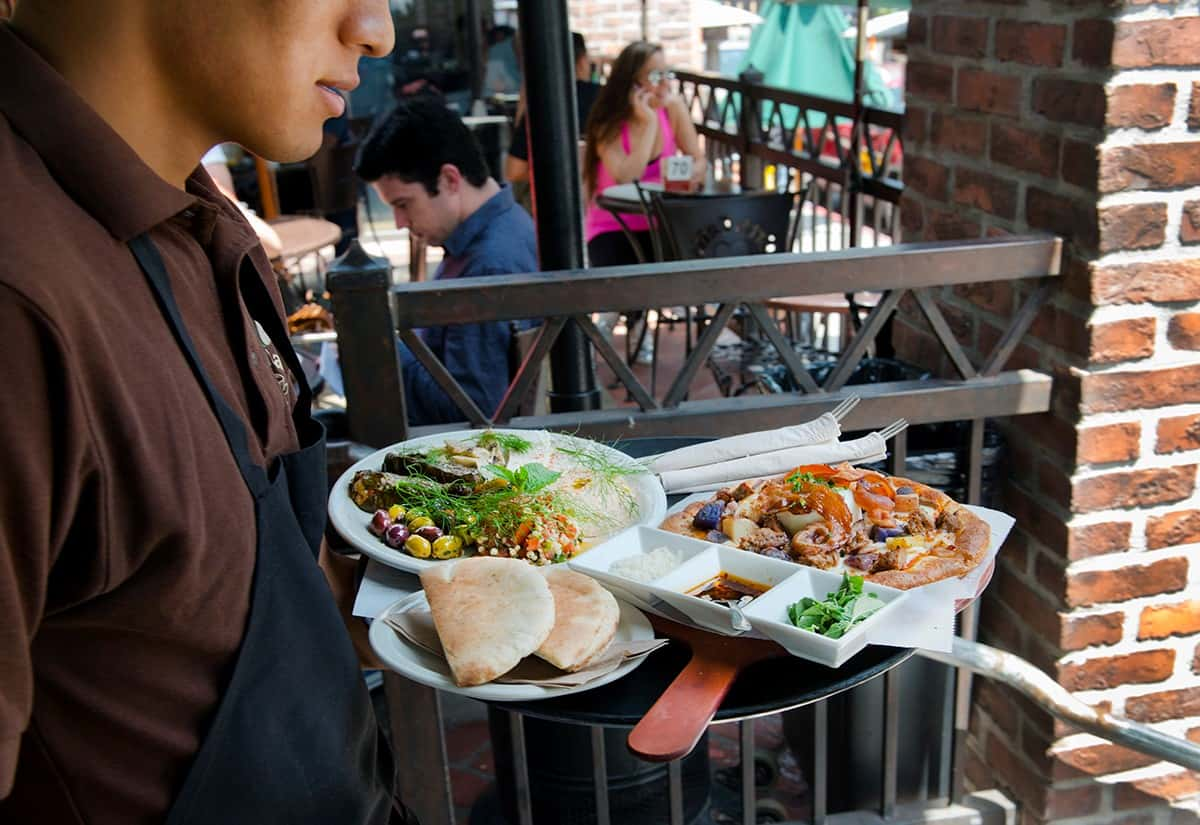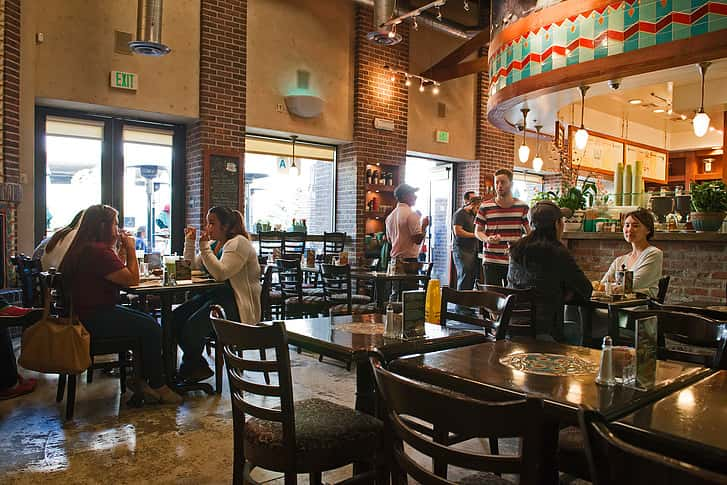 "The Arts District has become one of the most beautiful, truly unique and exciting destinations for a day trip with street art everywhere, the LA river, boutiques, and pop-up museums. Of course, a trip to the Arts District would not be complete without visiting the most beautiful and unique Urth Caffé Downtown! I am so proud of Jilla's pioneering vision for the Arts District. It is so great to be a small part of the revitalization of this special part of Los Angeles," said Co-founder Shallom Berkman, who was born nearby in the Boyle Heights/El Sereno neighborhood of Los Angeles.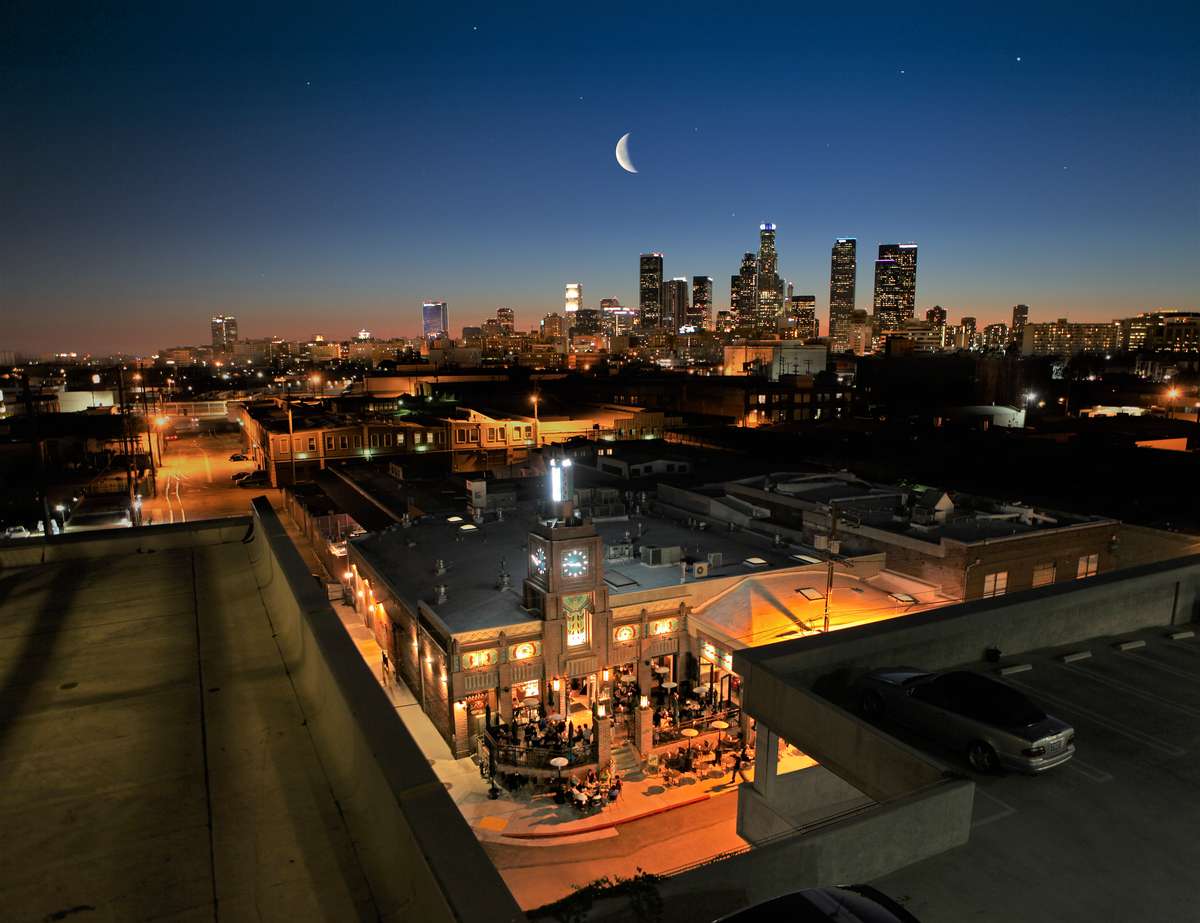 Urth Caffé Downtown Los Angeles
459 S. Hewitt Street
Los Angeles, CA 90013
(213) 797-4534