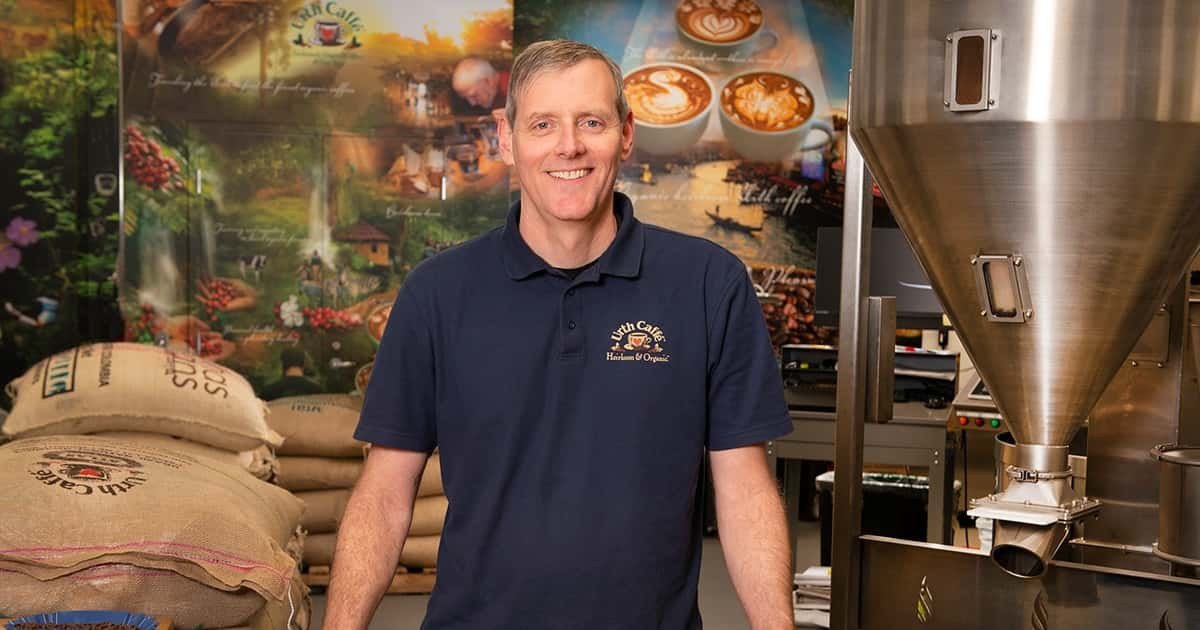 Zachary Fogel, Urth Caffe's Head Coffee Roast Master smiling in front of large burlap bags of coffee beans and a large silver roasting machine.
Meet Urth Caffé's Head Coffee Roast Master Zachary Fogel
Urth Caffé's Head Coffee Roast Master Zachary Fogel remembers his first cup of coffee – in some ways what many coffee drinkers, lovers, aficionados may have experienced:
"I had my first cup of coffee at my grandmother's kitchen table, with milk and sugar. It seems like the smell of coffee was a constant in my grandparent's house, from before dawn until after dinner – coffee was served all day.
"I've always loved that about coffee – it has the power to be a common denominator – it brings people together to share a moment of rest and reset, to prepare for a task to come, or simply to enjoy a cup of social tonic" – which may be reasons why many guests come to Urth Caffé.
He brings impressive experience to his job, including working for Stumptown in Portland, Seattle and New York. At Stumptown New York he "roasted literally thousands of batches of coffee in Red Hook, Brooklyn." He handled the Quality Control Lab of importer Volcafe Specialty Coffee in New York City.
"When I began working in coffee, I started to see that every person that handles the coffee is stewarding the labor that came before just a little bit further down the line, from grower to roaster to barista to the final product served in the café," he said.
"It goes without saying that it starts where the coffee is grown and processed in the country of origin. It started to dawn on me just how important it is that the connections in the coffee supply chain be strong and mutually beneficial," he continued.
"Coffee is more than just the beverage that we love for its taste and smell and stimulating effect– for those who grow coffee, it is a way of life."
Founded in 1989, Urth Caffé is widely considered the first coffee roasting company in America to offer organically grown, heirloom coffees exclusively. Many people ask, "What is heirloom coffee?" Heirloom coffee comes from a variety of trees that have never been genetically modified and are like their ancient ancestors found growing wild in the rainforests. Heirloom species such as Bourbon, Geisha, Heirloom Cultivar, Typica (to name a few) can grow up to 20 feet tall, require deep shade, and produce less coffee yield than hybridized trees.
Agronomists, soil management and crop production experts tell us the coffee from Urth's heirloom, organic coffee trees grown at very high altitudes have the lowest acid when compared to conventionally grown coffee. Heirloom coffee has superior flavor, a more distinctive aroma, and is naturally lower in acid for easier digestion – making Urth's coffee the healthiest coffee in the world.
"As I learned a bit about how coffee is traded, I started to get a sense of how precarious a life that depends on the price that coffee trades at can be. Relationships are incredibly important to sustaining a resilient supply network that can support farmers and give them the resources to continue producing this amazing agricultural product.
"The truly great examples of this internationally traded agricultural product are what gives the coffee roaster the raw material to work with and transform from green coffee beans to roasted coffee, from roasted coffee to the drink that we all love."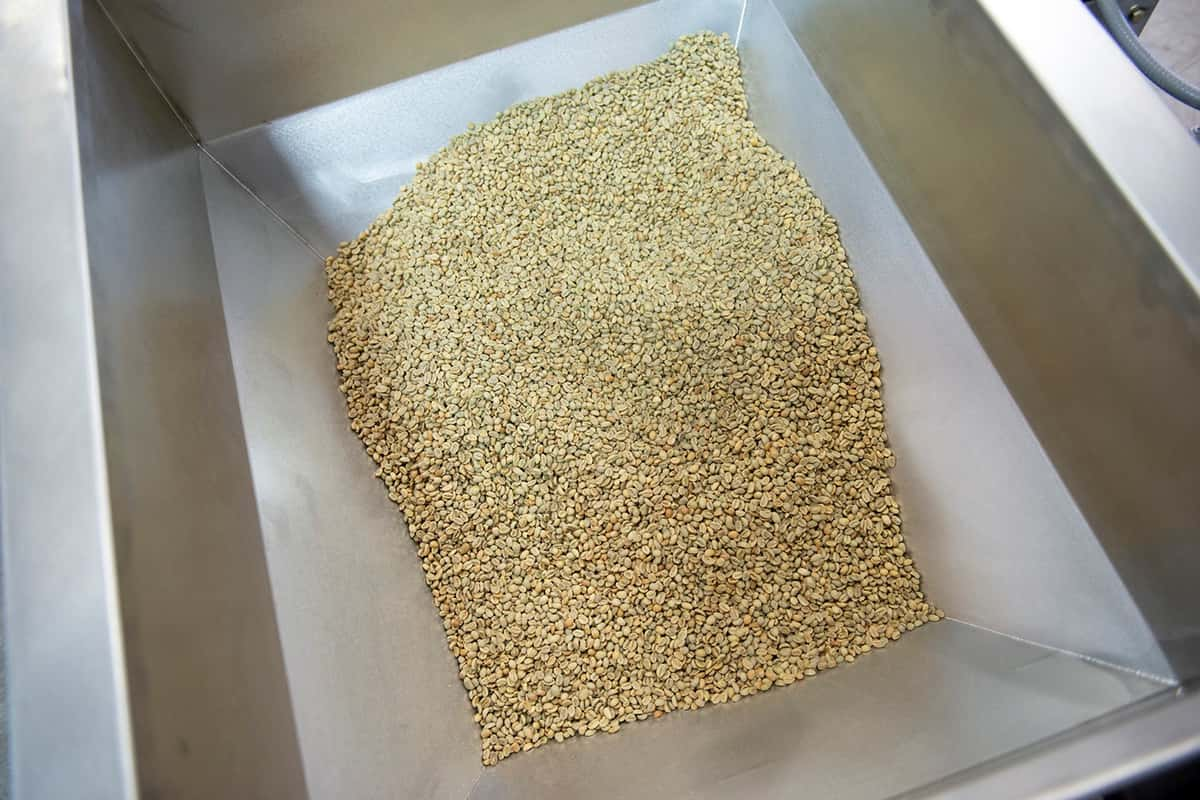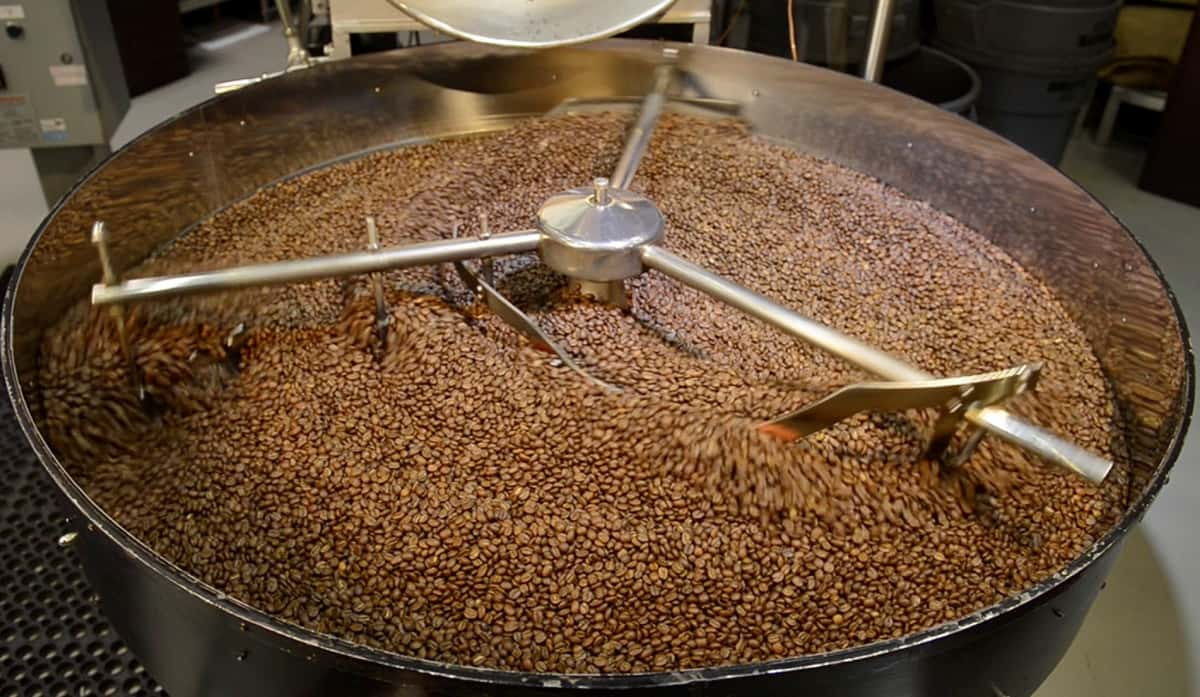 Left, green coffee beans before roasting. Right, Urth Caffé heirloom and organic coffee cooling down after the roasting process in the coffee pan of our vintage Probat UG 22 1957.
"After a trip to Colombia to learn about coffee growing and processing, I decided to become a Q Grader, which is a certificate program from the Coffee Quality Institute, sort of the gold standard for specialty coffee evaluation," Zachary explained. "I eventually made the move from the production roasting floor to the Quality Control lab. I learned a lot, but I missed roasting coffee, so when the chance arrived to work for Urth Caffé, I jumped at it."
Working directly with many of Urth's own exclusive sources in Africa and South America, Zachary roasts heirloom, organic, award-winning quality coffees carefully every day at Urth Caffé South Bay in Hawthorne, California.
"I was fortunate enough to meet Shallom and Jilla and learn more about Urth Caffé and its long history as a pioneer of Organic Specialty Coffee," he said. "I'm grateful to have the opportunity to work with the best green coffees out there, to have the chance to give our baristas a roasted coffee from which to make the best drinks and continue to give our guests amazing coffee experiences."
Urth Caffé South Bay guests can watch Zachary and the Roasting Department in action through large glass partitions as the team uses our vintage 1957 Probat UG 22 coffee roasting machine and the state-of-the-art, low-emission Loring Coffee Roaster manufactured in San Jose, California. All Urth Caffé famous, signature heirloom and organic coffee blends and exclusive single origins are roasted onsite and shipped all over the world.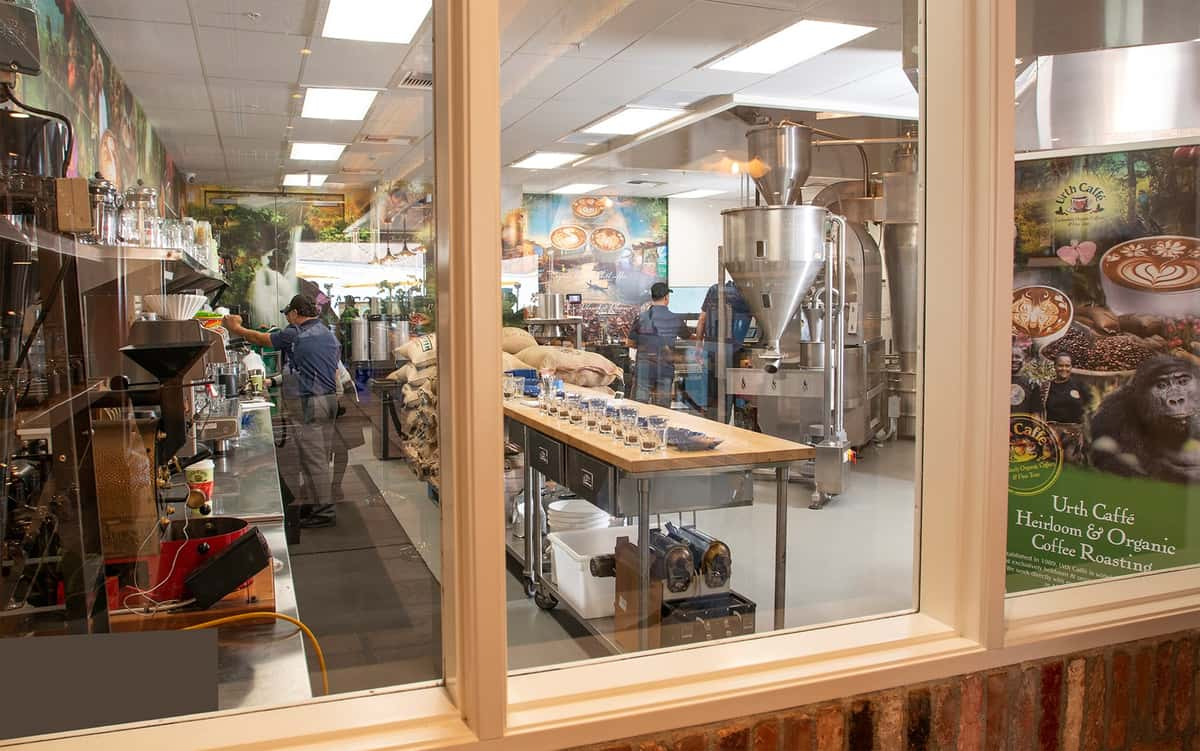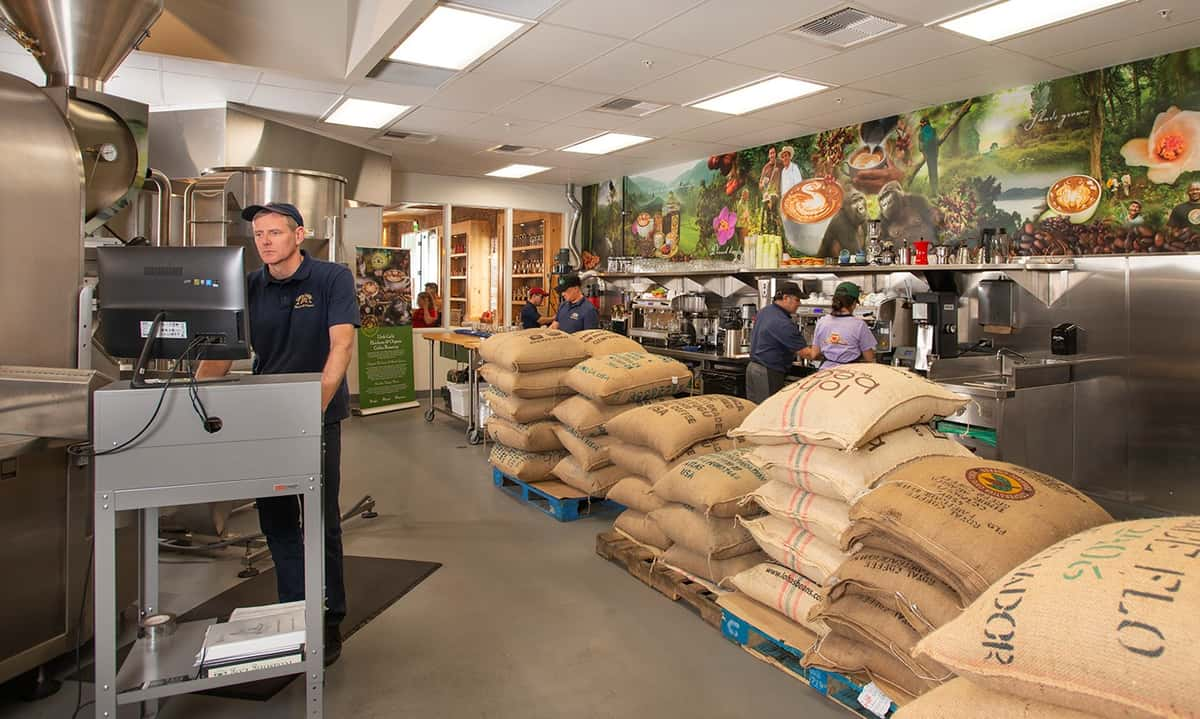 At left, view into Urth Caffé's state-of-the-art heirloom and organic coffee roasting facility from inside Urth Caffé South Bay. At right, team members working in the Roasting Room.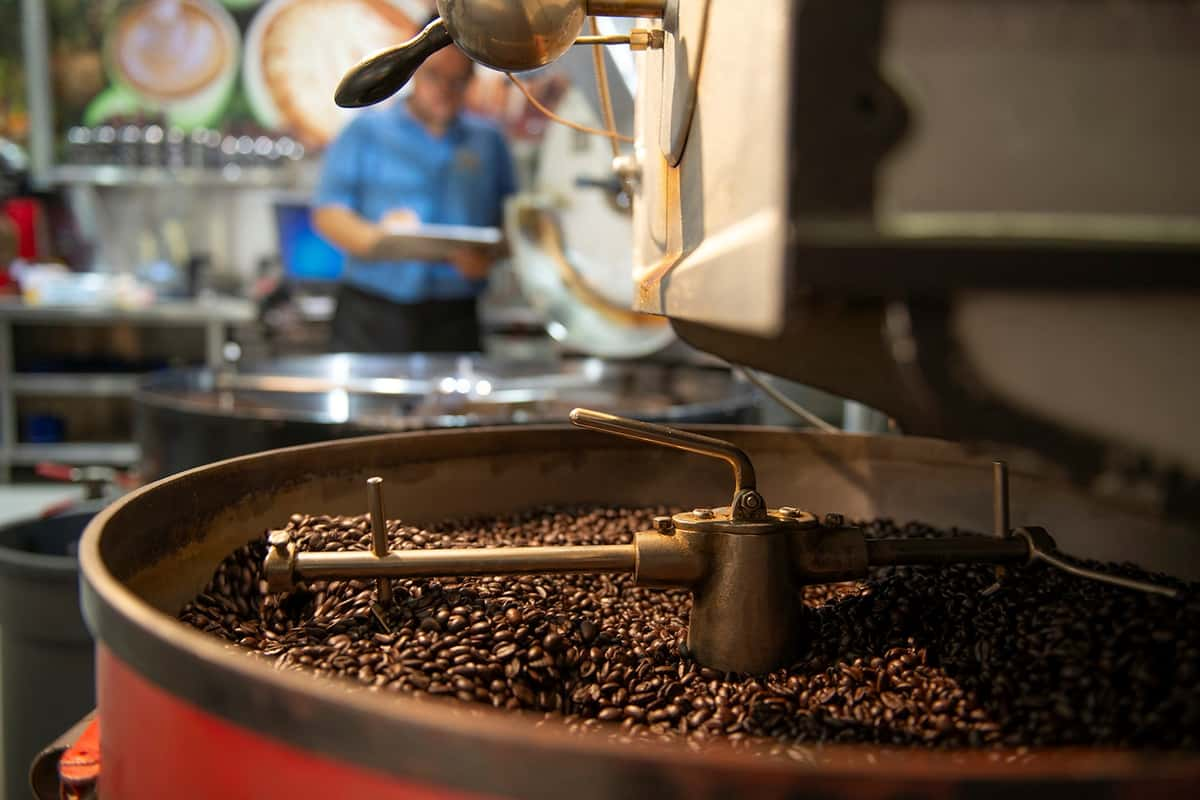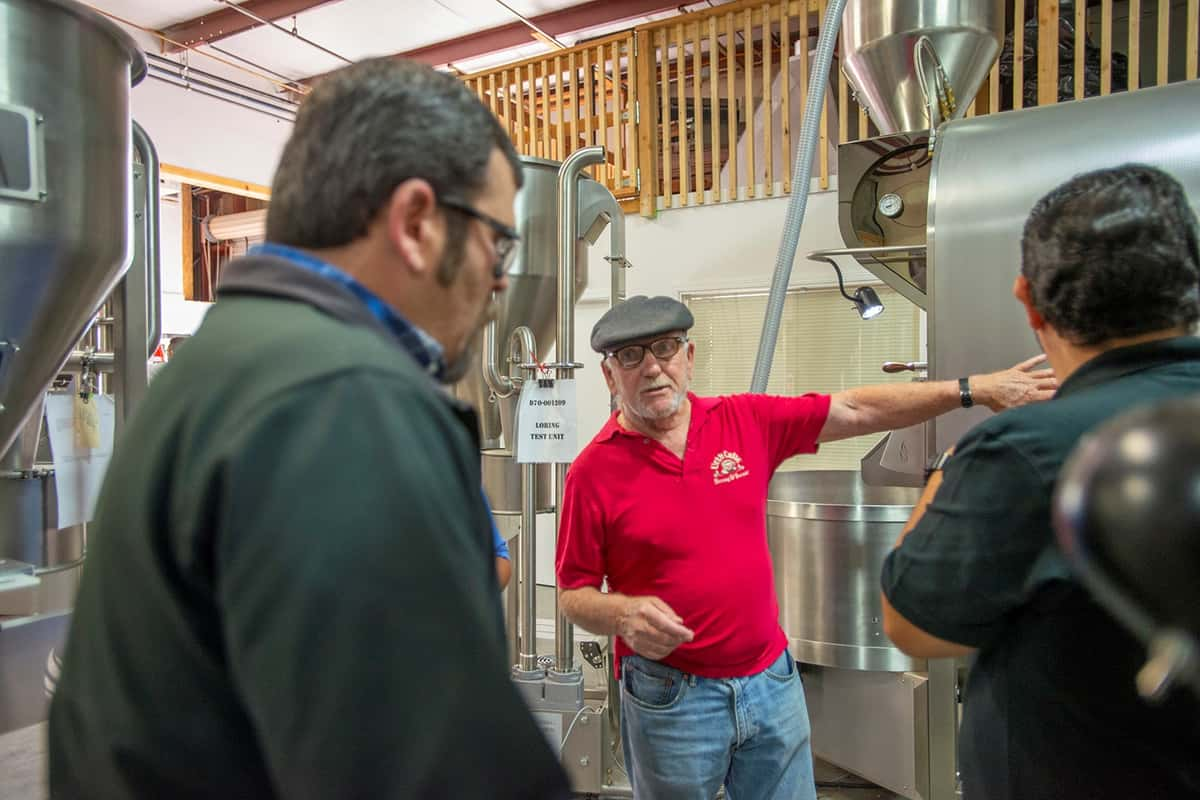 Left: The original Urth coffee roasting machine – a vintage Probate L5 1964 (now retired) – and behind it our Probat UG 22 1957; both achieve superior coffee flavor with their cast iron roasting drums. Right: Jan Eno, senior Urth coffee buyer, at the Loring Factory, Santa Rosa, California.
It is Zachary's job to carefully choose each new micro-lot crop of heirloom, organic coffee from our source farms, to uphold Urth's unmatched standards and tirelessly compare Urth coffee to hundreds of other samples from around the world to make sure our beans are second to none and, of course, nothing less than "Urth Worthy."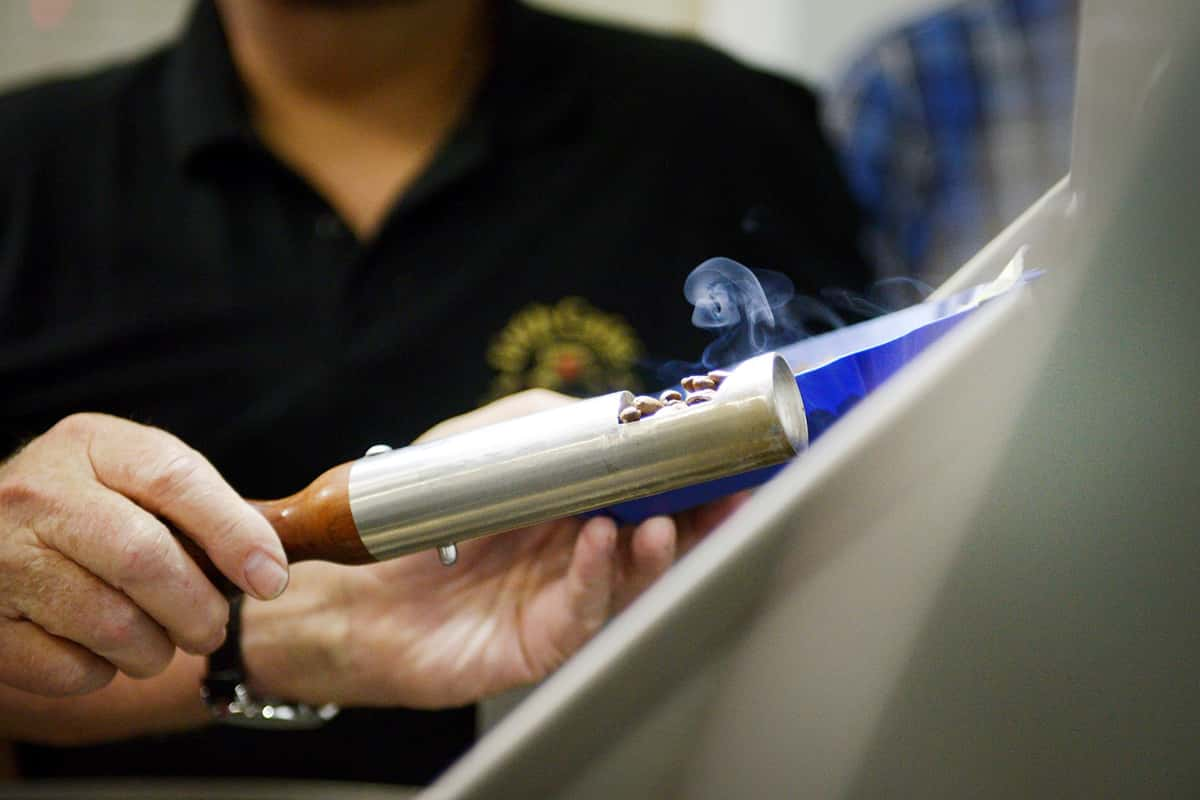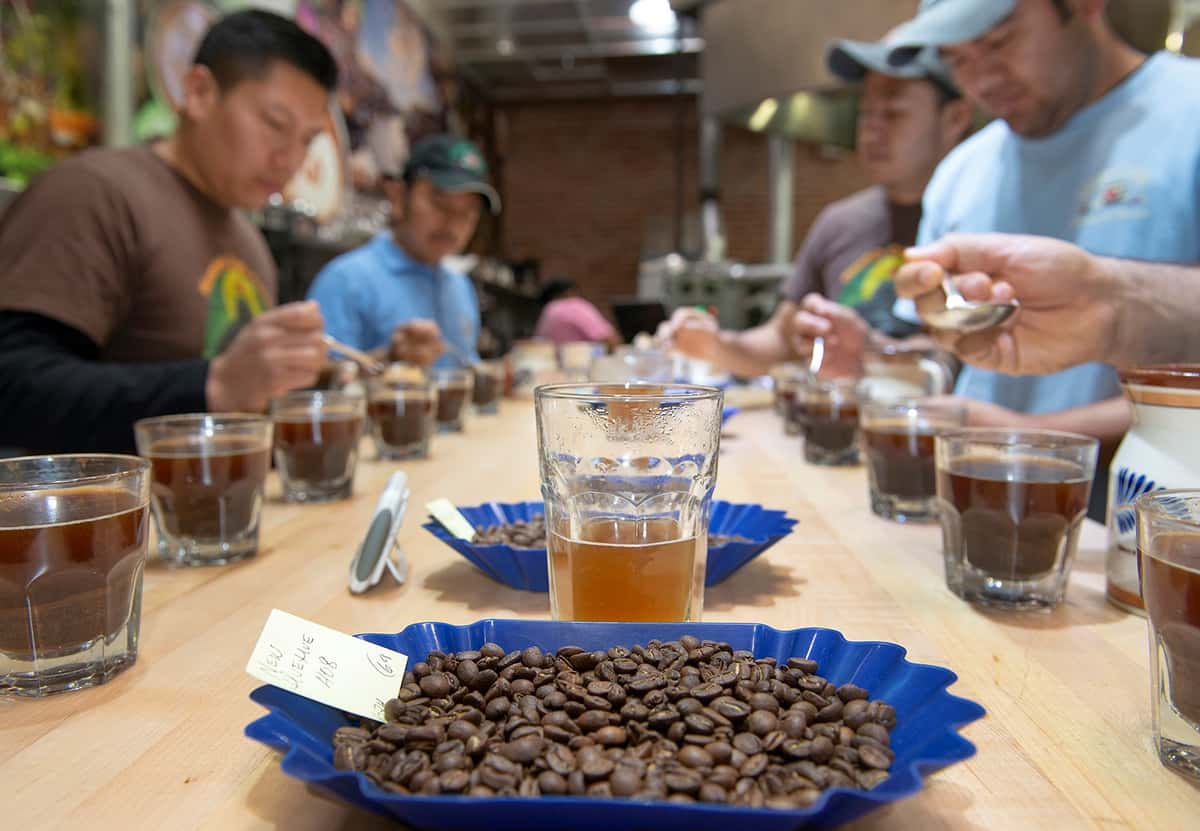 Left: Zachary must carefully check the color of the coffee beans throughout the roasting on our new Loring coffee roasting machine. Right: The Urth Caffé "Cupping Table" tasting new crops of heirloom and organic coffee.
"I get to wear a few different hats so every day can be different. Quality control (sample roasting and green coffee selection), green coffee selection and purchasing, profile roasting, production roasting and blending, quality assurance of roasted coffee, taking care of the roastery in our South Bay production facility, and managing our Roastery Team keeps me busy," he said.
"I love to roast coffee, and it is gratifying to work with our importing and producing partners to find the best green coffees for Urth Caffé, the ones that have varietal character and quality with the potential to be delicious coffees of depth and complexity."
¤
"I'm grateful to have the opportunity to work with the best green coffees out there, to have the chance to give our baristas a roasted coffee from which to make the best drinks and continue to give our guests amazing coffee experiences."
~ Zachary Fogel, Urth Caffé Head Coffee Roast Master ~
¤