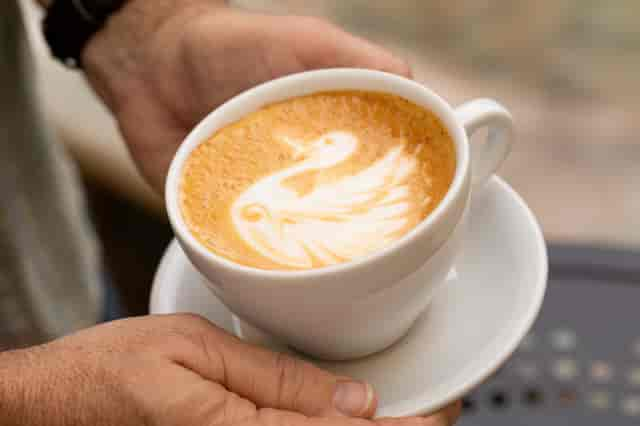 About Urth Coffee
Urth Heirloom & Organic Coffee
Urth Caffé is widely considered to be the first exclusively heirloom & organic coffee roaster in America. Working directly with many of our own exclusive sources in Africa, and South America, Urth Caffé produces heirloom, organic, award-winning coffees roasted in our Hawthorne, California coffee roasting facility utilizing vintage German roasting machines and a green-technology dream machine Loring Roaster manufactured in Santa Rosa, California. 

Urth Caffé brand coffee is 100% pesticide-free and is grown in the natural shade of fruit trees and rainforest canopy utilizing organic, sustainable, and biodynamic agriculture that promotes the health and longevity of soil and ecosystems while ensuring the protection of animal and human habitats. Triple-sorted by hand, only the finest, ripe cherries are used. 

Urth coffee is organically grown at the highest altitudes with old stock heirloom trees. Heirloom trees produce some of the richest, smoothest, and lowest acid coffees in the world – coffees that are naturally gentler and easier to digest.
Light Roast
Roasting coffee light preserves the coffee origin's character – the superb flavors of a light roast will be sparkling liveliness, fruitiness and citrus. Flavor characteristics may include cherry, blueberry, citrus, honey & more! Urth's light roasts: Urth Dolcé Espresso & Rainforest
Medium Roast
In the medium roast, coffee develops a lot of body, thickness and flavors balance out to create a wonderful smoothness. Medium roast drinkers enjoy the aroma, full body and flavors of chocolate, caramel, cloves and spices, with a smooth finish. Urth's medium roasts: Milano, World Peace, Urth Italia Espresso, Scandinavian Cupp
Dark Roast
Only superb, extra dense coffee beans can stand up to dark roasting to make an excellent cup of strong coffee. Dark roasting creates an intoxicating aroma, syrup body, and flavors of licorice, dark chocolate and oak wood. Urth's dark roasts: Masterpiece Vienna, Manhattan Mudd, Classic French Roast & Old Grandpa!
Single Origins
At Urth we offer a few exceptional regional or single origin coffees that we believe have an exciting flavor and unique character that we want you to experience. Our origin coffees are always roasted light to medium in order to highlight the coffees character and distinct flavor of their microclimate. Sometimes we offer very rare, limited offering coffees in which the grower only produce a handful of bags (such as Mountain Gorilla Coffee from Uganda) – please ask for details and availability. Urth varietals: Guatemalan Four Estates, Hawaiian Kona Extra Fancy, Antigua Sumatra Java, Colombian Paraiso, Honduras, & Peru Honey.
Signature House Blends
Each of Urth Caffé's signature blends represent our finest coffees of each seasons crop highlighted by a distinct & specific roast color. We believe that superb coffee tastes superb whether it is roasted light, medium or dark. The Signature blends require the best coffees roasted individually in the Italian tradition and artfully combined to maximize the flavor potential of the bean, the flavor of the roast color, and bring the most satisfying unique experience to our customers.
Swiss Water Decaffeinated Organic Coffee
Urth Caffé uses the Swiss Water Process for 100% chemical-free decaffeination. This process removes 99.9% of the caffeine with purified water. Swiss Water Process Decaf organic coffees offers the most true, rich flavor, with the least caffeine (.01%) of any other decaf method.
Urth Extreme Freshness Guarantee
Coffees are roasted fresh daily from our Downtown Los Angeles Roasting Plant and packaged using the finest technology – nitrogen flushed packaging with one way vacuum seal. This method pushes all oxygen molecules out of the one way valve and seals in the coffee's freshness. We guarantee the freshness and quality of all Urth coffees. Urth Caffé's organic coffee is distinguishable unique, rich, aromatic, and unbelievably smooth with less oils and acids than any other coffee in the world!